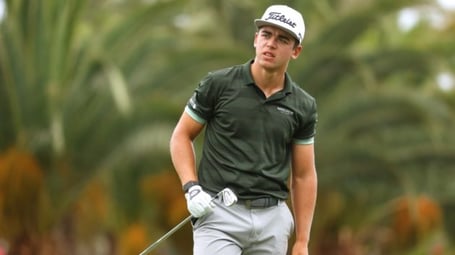 Image Source: Golf Monthly
A few weeks ago, I entered a PGA Championship pool and one of the players, Andy Bankuti, picked Garrick Higgo (Titleist Pro V1x). I thought it was either a mistake – maybe he meant Harry Higgs (TaylorMade TP5x) – or it was a joke.
I now know it was neither and I curse myself for not picking Higgo as one of my two choices in the weekly PG Golf pool last week for the Palmetto Championship and then dropping him at the last second. I won't mention my two choices, but both ended up missing the cut and Higgo won the event. Only one person in the PG Golf Pool selected Higgo. Great selection, but it should have been two.
As an aside, Andy placed a few bucks on Higgo in the Palmetto Championship and cashed at a juicy 40-1. On the basis of that win, Higgo went from 150-1 to 50-1 for the U.S. Open this week at Torrey Pines in San Diego.
As another aside, Andy used to work around the racetrack and had to be at work way before sunrise. He still has that early-morning habit, even though he's moved on from the track, and likes to watch the European Tour on The Golf Channel. I guess it's true, the early bird does get the worm.
Higgo is the real deal, winning a PGA Tour event in the U.S. in only his second event on American soil. Higgo tied for 64th in the PGA Championship, then followed up his second start in the United States winning the Palmetto Championship. Wowza!
He is only 22 and is the latest protégé from South Africa, which has produced a litany of great players, beginning with Gary Player – The Black Knight. Others include Louis Oosthuizen, Ernie Els (Srixon Z Star XV), Charl Schwartzel (Clear), Rory Sabbatini (Titleist Pro V1x), Retief Goosen (Callaway Chrome Soft X) and Trevor Immelman (Volvik), to name a few.
There are some solid South African on the PGA Tour now beside Higgo such as Erik van Rooyen (Titleist Pro V1), Dylan Frittelli (Callaway Chrome Soft X), Christian Bezuidenhout (Titleist Pro V1) and Branden Grace (Titleist Pro V1x).
Higgo fits in with the current trend on the PGA Tour – tournament-winning players who are 30 and under. There could be a variety of factors for this – better coaching at home or, more likely, in the U.S. at big-time university or college programs.
It could also be training and practicing with the same equipment, rather than having to make changes because of rules, such as the elimination of the belly putter.
And maybe it's even more simple than that: peaking early.
Either or all could be the answer, along with younger players taking greater care of their bodies. You don't see too many carrying extra weight, not there is anything wrong with that. It's just that the game has become more about fitness and less about fatness.
Anyhow, if Higgo is indeed a player who has emerged without great fanfare – aside from what Europeans and my Canadian friend Andy already know – it's great for the sport. Golf is an international game at the elite level, so a young player such as Higgo doing this well so early makes him more relatable to a younger generation.
Not there's anything wrong with players 30 and over.
THE PHIL SHOW: After his stunning win in the PGA Championship, Phil Mickelson (Callaway Chrome Soft X) goes into the U.S. Open playing in front of hometown family and friends. He was born and raised in San Diego, so he will draw a lot of interest trying to win the one major that has eluded him. Six times he's finished second and he's also been critical of the way the United States Golf Association has set up the courses for past editions. Maybe he will put all of his frustrations and anger with the USGA behind him and simply put his newfound meditation to use and block out everything else.
It was absolute bedlam what happened at the PGA Championship when he won at age 50, the oldest winner in tournament history. Could winning the U.S. Open be in the cards? Look, he made history at the PGA Championship and the sure likelihood is the event will not be coming back any time soon to Torrey Pines. So it might be now or never for Phil, especially with the young guns taking aim at winning arguably the toughest major ever.