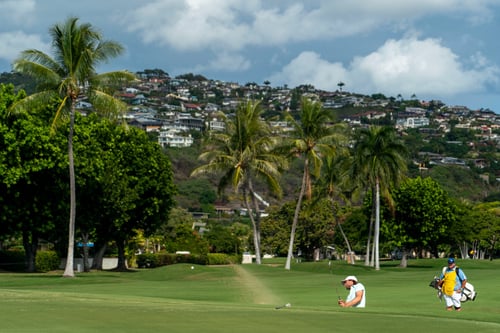 Image Source: Kyle Terada
I've often believed sports is the greatest reality show of all, and all you had to do was watch the final round of the Sony Open to provide an example of that.
Notwithstanding the victory by Kevin Na (Pro V1x), the runner up finish by Chris Kirk (Titleist Pro V1x) was, in my opinion, a way better story. The 35-year-old had been a promising player on the PGA Tour with four victories, a member of the 2015 American Presidents Cup team and ranked 16th overall in the world. But midway into 2019, he took a six-month leave from the Tour to deal with alcoholism, anxiety and depression. Married and the father of three sons under the age of 10, he knew he had to find a way to quit alcoholism and turn around his life around.
"I have gone from this perfect scenario that I had always dreamed of to now close to 30 weeks a year on the road by myself," he said in an interview with Helen Ross of PGATour.com in November, 2019 following his return from his self-imposed departure from the game. "This was not part of the plan. This was not what I ever wanted. I think my drinking was accelerated by that and maybe my fitness level and my mental capacity were probably brought down as my drinking went up. I still was playing reasonably well, but not to the level I was a few years before that."
Back on tour following the break, he said: "I have my health. I have my family. We are happy. It is just awesome to feel that way. To have gone from this overwhelming fear and anxiety of the future to now just pure excitement and embracing that I do not know what is going to happen because nobody knows what is doing to going to happen. You spend all this time trying to control things and control what is going to happen next and the more I have let go of that and the more that I have embraced that uncertainty, the happier I can be every day.
"I do not know what I am going to do tomorrow. I do not know what I am going to do the day after that, but it is all good. I know that I am going to come back and play some golf, and if I enjoy it and if I am successful at it, then great. If not, then that is all right, too."
Fast forward to last week when he approached the final hole and made a birdie to finish tied for second.
"I would never have guessed it would work out this way," he told the media afterward. "You kinda see how much things are out of your control. I went and played well and things worked out, thankfully. I'm just so thankful to have the support of my family these last few years."
It doesn't get any more real than that.
But there were other examples of this human drama, albeit not as profound. Consider Joaquin Niemann (Titleist Pro V1x). The 22-year-old Chilean suffered a tough beat the week before in the Sentry Tournament of Champions finishing second in a playoff to Harris English (Titleist Pro V1). In the Sony Open, he finished tied for second with Kirk and suddenly vaulted to number three in the FedExCup standings. A couple of nice checks may help him overcome the tough beats, especially the one the week before, because it will matter if and likely when he qualifies for the FedExCup playoffs.
Marc Leishman (Callaway Chrome Soft X) finished tied for fourth in his best outing in some time. The big Aussie is best remembered for having to withdraw from the 2015 Masters to be with his ailing wife Audrey, who was in hospital suffering from acute respiratory distress syndrome. She was put in an induced coma and suffered toxic shock and given a five percent chance of recovery. She made it through the ordeal. Meanwhile, Marc won four PGA Tour events from 2017-2020. Though he won the Farmers Open in January and finished second in the Arnold Palmer Invitational six weeks later, he really struggled for a five-month stretch between June and October, missing the cut several times. He bounced back tying for 13th in the Masters.
Each PGA player has his own story. It could change from week to week, month to month or year to year. It could be a remarkable shot that leads to success or a terrible miss that ends in failure. But realistically, it isn't always about winning. Sometimes, it seems, it is about survival, battling the rigors of the sport.