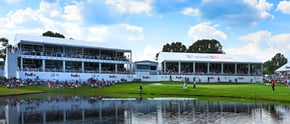 Some time on Sunday night, the 2020-21 PGA season will end with the final FedEx Cup playoff event in the Tour Championship.
I'm not crazy about the FedEx Cup format, and if you try explaining it to people who don't follow the sport it might require the mindset of Bryson DeChambeau (Bridgestone Tour B X) to explain the arithmetic.
Rory McIlroy (TaylorMade TP5x) summed it up for a lot of the Tour players saying it's not an ideal system when weight is placed on results in the season-long FedEx Cup events.
I had no issue three years ago when Tiger Woods (Bridgestone Tour B XS) won the Tour Championship and Justin Rose (TaylorMade TP5) collected the $10 million first-place cheque for points earned in the Fed Ex Cup playoffs. How interesting that three years later neither were in this year's final event – Woods because he is recovering from injuries suffered in a car accident in June, and Rose failing to qualify of the final playoff.
All things being equal, Patrick Cantlay (Titleist Pro V1x), who started out at 10-under par this week, two ahead of runnerup Tony Finau (Titleist Pro V1), looks solid. Through the first two rounds, the course at East Lake Golf Club in Atlanta wasn't playing nearly as easily as the first two playoff tournaments. I'd rather the scores be a few under par in each round compared to close to double digits.
I would expect Jon Rahm (Callaway Chrome Soft X) to be in the final pair or close to it on Sunday. Honestly, I think he has been the PGA Tour Player Of The Year. Though he's only won once this year with a sublime effort in the U.S. Open, he has been a factor in many tournaments. Were it not for having to withdraw after testing positive for COVID after the third round of the Memorial Tournament in which he was headed for a record score, Rahm would have had at least two wins. He was a factor in all four majors.
Cantlay won three tournaments in what could best be described as a breakout season, and if he wins the final event that could amount to more consideration for top player honors.
If McIlroy has a stunning final 36 holes, he could emerge as the winner on Sunday. McIlroy has finished strongly in recent weeks, but starting out at minus-two meant he had a lot of ground to make up to be a factor.
And what are we to make of Louis Oosthuizen (Titleist Pro V1), who went into the event searching for his first Tour win of the season? He has battled exceptionally all season, in particular in the majors, and wouldn't it be great if somehow he won on Sunday? It would certainly be a popular decision.
As for DeChambeau, wouldn't it be something if he won? It would be apropos, putting a bouquet on The Season Of Bryson. The bottom line is he needs to finish more strongly. Regardless of the side shows that he has provided all season, it all comes down to how did you finish.
And what better way to do it than on Sunday!