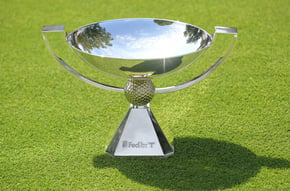 So it all comes down to this: One event to determine the winner of the FedEx Cup Playoffs. Is there any reason to think it won't be the perfect ending for a season that has had it all? The field is comprised of new and proven stars.
If the recent spate of playoffs on the PGA Tour, including the thrilling six-hole battle that saw Patrick Cantlay (Titleist Pro V1x) edge out Bryson DeChambeau (Bridgestone Tour B X) last week at the BMW Championship, I wouldn't be totally surprised if this week's Tour Championship goes beyond 72 holes.
Golf fans have been treated to some exceptional play as the PGA Tour winds to the conclusion of the 2020-21 season, none more so than what happened at the BMW Championship. Whether or not you think the temperamental DeChambeau ignited the competitive juices of the stoic Cantlay on the 14th hole when he said, "Patrick, can you stop walking" prior to his approach shot, it added to what was already an interesting battle. Cantlay told the media after the tournament ended that DeChambeau's comments were a non-issue.
"He just wanted me to stop walking," Cantlay said. "We had just been told by the rules officials to kind of speed up and I'm not always the fastest walker, so I was trying to get ahead and do my part. No big deal. That stuff kind of happens every once in a while out there."
DeChambeau did not make himself available to the media afterward, which has become normal for him when he has had a bad or disappointing round. During the playoff round, DeChambeau engaged with the fans touching their outstretched hands. As he walked off the course, he gave his cap to a young fan, who wore it with pride. But a few steps later, DeChambeau was heckled by a spectator, which caused the golfer to curse and asked security to have the patron removed. At various times during the tournament, including the last round, DeChambeau felt the wrath of some people, who clearly are not enamored with him. He certainly is mercurial, and if he could ever truly put it all together physically, mentally and emotionally, he could be a force. But maximizing all those facets of the game are what separates the good ones from the greats. Maybe he just needs more time to realize what is trying to do for the game and what he needs to do simplify his own game.
There is no question DeChambeau is a superior striker and he proved that repeatedly during the BMW Championship, especially the final round, but let's be honest it doesn't mean anything if you can't convert putts. Moreover, it wasn't like Cantlay was disgracing himself with his driving. Collectively they weren't as long, but overall he did a good job of keeping his drives in the fairway.
DeChambeau is clearly the most polarizing figure in the sport. He creates his own negative vibes, and yet he's good for the game because he creates discussion. I'm sure purists think his behaviour is unprofessional, but he can be popular just by being unpopular. In pro wrestling, he'd be called a heel.
Cantlay goes into this week's Tour Championship starting at 10-under par, having accumulated more FedEx Cup points than anyone else. He is followed at eight-under by Northern Trust winner Tony Finau (Titleist Pro V1), who ended a five-year drought since winning his last PGA Tour tournament. DeChambeau is next at seven-under. Jon Rahm (Callaway Chrome Soft X) is six-under, followed by Cameron Smith (Titleist Pro V1x) at five-under; Justin Thomas (Titleist Pro V1x), Harris English (Titleist Pro V1), Abraham Ancer (Titleist Pro V1x), Jordan Spieth (Titleist Pro V1x) and Sam Burns (Callaway Chrome Soft X) at four-under; Collin Morikawa (TaylorMade TP5), Sungjae Im (Titleist Pro V1x), Viktor Hovland (Titleist Pro V1), Louis Oosthuizen (Titleist Pro V1), Dustin Johnson (TaylorMade TP5x) at three-under; Rory McIlroy (TaylorMade TP5x), Xander Schauffele (Callaway Chrome Soft X), Jason Kokrak (Titleist Pro V1), Kevin Na (Titleist Pro V1x), Brooks Koepka (Titleist Pro V1x) at two-under; Corey Conners (Titleist Pro V1), Hideki Matsuyama (Srixon Z Star XV), Stewart Cink (Titleist Pro V1x), Joaquin Niemann (Titleist Pro V1x), Scottie Scheffler (Titleist Pro V1) at one-under; and Daniel Berger (Titleist Pro V1), Erik van Rooyen (Titleist Pro V1), Sergio Garcia (TaylorMade TP5x), Billy Horschel (Titleist Pro V1), Patrick Reed (Titleist Pro V1) at even-par.
So how do you handicap this? I like McIlroy, who has won the event two of the last five years, but he is giving up eight strokes to begin with, so it will take a really solid start to make up that ground. I also think Johnson, who has been in somewhat of a slumber all season long but has shown signs in recent weeks he could be ready to do something big. He won it last year.
The likely choice is Rahm because he's only four back and has been fairly consistent, with a win, two thirds and two top-10 finishes in his last five tournaments. He was well on his way to winning the Memorial Tournament until having to withdraw after the third round with COVID.
But I'm going to go with Louis Oosthuizen, who started off sluggishly last week after missing a week with a neck injury, but finished strongly in the final 36 holes. I wrestled with using him last week in the PG Golf season-long competition or save him for the final event. I used him and now I regret it. Clearly, he didn't have to expend all his energy last week. I think he wanted to do his best, but not risk re-injuring himself. After all he has done this season, making the cut in 19 of 20 tournaments and posting four seconds and two thirds, along with eight top-10 finishes, I think the golfing gods need to reward him.