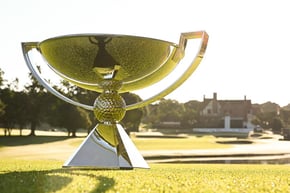 Image Source: Getty Images
Did you hear the line that if it weren't for bad luck, I wouldn't have any luck at all?
I don't know who coined that, but I own it now.
Foe those of you who didn't see my blog last week, I picked Hideki Matsuyama (Srixon Z Star XV) and Louie Oosthuizen (Titleist Pro V1) as my two picks in the PG Golf pool for the Wyndham Championship. I needed a solid finish as much as Justin Rose (TaylorMade TP5) and Rickie Fowler (TaylorMade TP5x) did just to qualify for the FedEx Cup playoffs. Well, I had as much luck as Justin and Rickie.
Matsuyama didn't even make the cut after some solid outings in recent weeks, while Oosthuizen bowed out before the tournament began with a neck injury. Turns out when I made my picks I took Matthew Woolf (TaylorMade TP5) instead of Louie. Well, I was crying Woolf when he also didn't make it for the weekend play.
It's going to take a miracle for me to finish on top – I feel like I'm scrambling and consistently hitting bunkers – so I'm going to take a shot on Rory McIlroy (TaylorMade TP5x) and Sam Burns (Callaway Chrome Soft X) this week in the (Callaway Chrome Soft X) Northern Trust. You can only take a player twice all year and I've used up all the favorites.
So I'm looking for Rory to turn back the clock. He tied for sixth two years ago in this tournament and went to win the FedEx Cup. He tied for 12th in the WGC FedEx St. Jude Invitational in his most recent start after tying for fourth in the Olympics. And here's where I make my case for him to win: He's had six top-10 finishes this season. He's won once this season, maybe – hopefully – he can make it two.
I have yet to pick Burns this season and I'm hoping I don't jinx him. But he has been ultra consistent this season with a win, two seconds, a third and seven top-10 finishes. He tied for second in the WGC FedEx St. Jude Invitational. He's 10th in the FedEx Cup rankings and 24th on the Official World Golf Rankings.
OH CANADA, OH YEAH: Being a Canadian, I always hope for good things for my countrymen in the PGA Tour and last week was special. Roger Sloan (Titleist Pro V1x) tied for second, Nick Taylor (TaylorMade TP5x) tied for 10th along with Adam Hadwin (Callaway Chrome Soft X). Mackenzie Hughes (Titleist Pro V1) tied for 37th and Michael Glicic (TaylorMade TP5x) tied for 65th.
Corey Conners (Titleist Pro V1), who may be the best of all the Canadians right now, will be in the field this week with Hughes and Hadwin.
Go, Canada.
And if you want to know why I'm not picking any of the Canadians, it's simple: I can't afford to be the reason if they perform poorly. I do not wish for them to have the same luck, or lack thereof, as me.