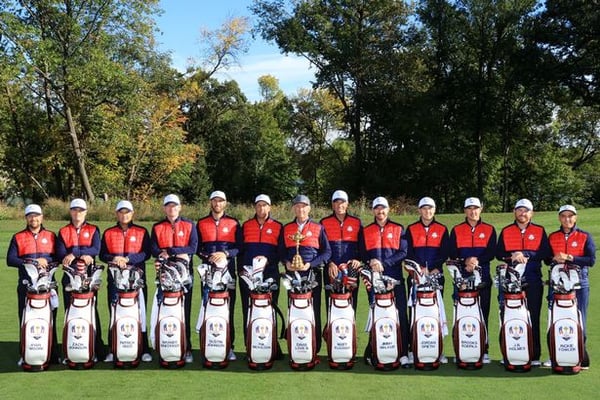 Before, during and after the tournament, American golf fans became the big story about the 41st edition of the Ryder Cup – perhaps even bigger than the victory by the team they supported – because of their behavior.
Pete Willett, brother of 2016 Masters champion Danny Willett, took a broadsided swipe at American golf fans in a column written in the National Club Golfer before the competition commenced. He called them a "baying mob of imbeciles" and put his support behind the European squad.
"They need to silence the pudgy, basement-dwelling, irritants, stuffed on cookie dough and pissy beer, pausing between mouthfuls of hotdog so they can scream 'Baba booey' until their jelly faces turn red.
"They need to stun the angry, unwashed, Make America Great Again swarm, desperately gripping their concealed-carry compensators and belting out a mini-erection inducing 'mashed potato,' hoping to impress their cousin.
"They need to smash the obnoxious dads, with their shiny teeth, Lego man hair, medicated ex-wives, and resentful children. Squeezed into their cargo shorts and boating shoes, they'll bellow 'get in the hole' whilst high-fiving all the other members of the Dentists' Big Game Hunt Society."
If there is such a thing as bulletin-board material, this was it, but normally this is created by one or more members of one team saying something untoward about the other team – trash talking, if you will – perhaps instigated by the media or merely conveyed through it. Pete Willett created a controversy of a different sort. He prodded the American supporters attending the event, stoking them with anger and bitterness and giving them every opportunity to vent their feelings toward the European side.
If nothing else, Pete Willett put his brother into a very uncomfortable situation. Danny Willett did something special winning the Masters in April, a virtual unknown from Britain coming into the event. It was a feel-good story because Willett almost missed the tournament because his wife was pregnant with the couple's first child. That she delivered a healthy baby boy before the tournament started and Willett ended up winning it, well, you couldn't script a more dramatic finish.
And who could have ever imagined a few months later he'd be playing in America and cast as a villain because of his brother's explosive remarks?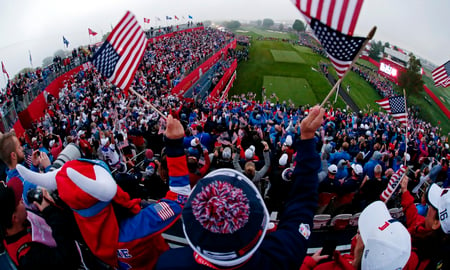 Photo cred: http://ftw.usatoday.com/
The crowd wanted to give the home side every opportunity to win with unabashed support. The chants of "USA, USA" never wavered.
The vocal support became that added element that provided the 12 American players with a badly-needed intangible and they were rewarded.
When the American team stood on a platform following the tournament and showered their rabid supporters with champagne, this symbolized how much this victory meant. The Americans didn't just win it for themselves and their country; they also won it for their fans.
For the most part, the patrons acted with class and respect. There was an incident on Saturday when a fan said something vulgar to Rory McIlroy, who immediately had security remove the individual.
And rightfully so. There is simply no place in the sport for that type of behavior. But that was just an isolated incident. You can't paint everyone who attended the event with the same brush just because of the obnoxious behavior of one individual. That said, the PGA of America took an appropriate measure when it issued a statement prior to the start of Sunday's matches that any patrons who were "disruptive in any way, including the use of vulgar or profane language directed at the players," would be removed by security. This was absolutely the right thing to do to ensure decorum and safety.
The American fans jeered the Europeans on the final day, McIlroy in particular, and he had fun with it in his match against Patrick Reed. They both made some amazing shots, setting the stage for some fantastic play. Europeans received crowd support when a big shot was made, serenaded by "Ole, Ole, Ole." So even though the majority of those in attendance were Star Spangled Banner supporters, they also acknowledged good play by both teams.
When the teams gathered on stage, the crowd applauded the remarks by European captain Darren Clarke, who spoke eloquently about the event and how special it is, unlike any other in golf. The players are in it to represent their country; it's about patriotism, pride and respect.
When Clarke made mention of Arnold Palmer, who passed away last week, the crowd chanted "Arnold Palmer, Arnold Palmer" with rhythmic clapping that both teams embraced.
This literally spoke volumes about the classiness of the crowd.
Pete Willett couldn't have been more wrong in what he had expressed. Look, he is entitled to his opinion, even if it happened to be way over the top. The American team and its supporters had the final say.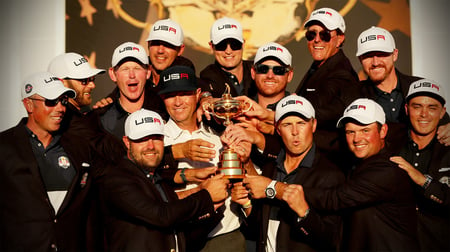 Photo cred: http://www.rydercup.com/
The Americans ended an eight-year drought in the Ryder Cup, and it was understandably emotional. Bubba Watson, one of the five co-captains, said winning the Ryder Cup was the biggest thing that happened to him in his career – far more significant than his two Masters' victories. That says a lot. He parked his pride at the gate, refusing to sulk because captain Davis Love III didn't pick him to be part of the 12-man squad. This was about something bigger than any one individual on the team. So much thought and consideration went into selecting this squad, to the point a committee had been assembled to analyze what had gone wrong in the past three tournaments and what needed to be done to finally win again.
That's why this Ryder Cup was perhaps different than any other one in recent memory. The pent-up emotion of the players was felt by the fans and they felt a vicarious thrill of victory.
The game of golf has changed and the crowds that come to watch events such as these like to express themselves, and there's nothing wrong with that. Cheering and jeering are par for the course.
---
This post was originally published by Knetgolf on October 4, 2016. Knetgolf was acquired by LostGolfBalls.