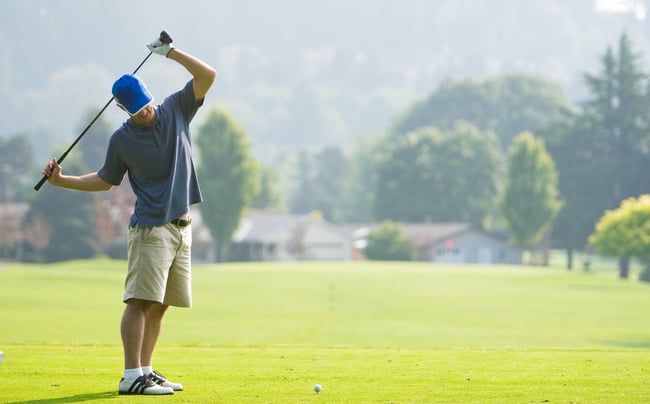 Every time I go to the gym, I do a light warmup riding the stationary bike for about 10 minutes at moderate speed and then do some easy stretching before I increase the intensity of the workout with weights and other apparatus.
The reason I do all this is because I'm trying to easy my body into something more extreme.
It's the same with golf.
Before I begin a round, I try to do something to get my heart rate going – aside from the fact I'm generally racing a few beats because I'm excited to play.
I'll go to the putting green and just practice a little bit. I'm not really trying to see if I can drain putts; it's more about getting some light exercise. I'll vary the length of the putt, beginning with something very short and extending it throughout the exercise. By starting off with say a two- or three-foot putt and increasing it to about 20-30 feet, I'm lengthening the distance I will walk to and from the hole. Again, I'm working more on my physical conditioning then my mental approach because all I want to do at this point is get loose. If you start out trying a mid- to long-range putt, you are more likely not to make it and become frustrated. So starting off with something simple will increase your confidence and give you a very easy physical exercise.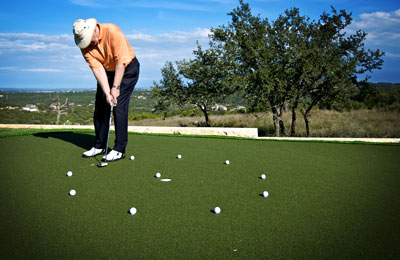 Image Credit: SYNLawn Golf
If I have time, I'll go over to the driving range and hit a few balls. Similar to putting, I'm going to ease into it. Rather than pull out the driver, I'll start out with some short irons. Because I've already had a chance to loosen up my body with some very easy twists and turns on the putting surface, now I'm extending the intensity of the torque. If I immediately begin driving, I'll be so amped up I could potentially injure myself or get extremely frustrated if I start off with a bad shot.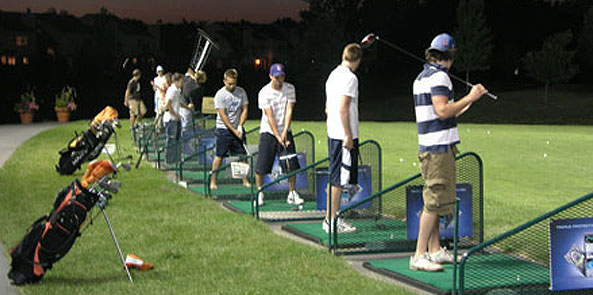 Image Credit: Addison Park District
In some ways I apply this to driving a car on a very cold, wintery day. I allow the car to warm up for a brief period rather than just turn on the engine, back out and begin driving. It's simply not good for the operation of the car.
The body is no different. Yes, when you begin your round of golf, you can do some light stretching, twisting and turning your body to replicate your swing. But I find it's far easier to do some of that physical movement well before you are about to hit your first ball.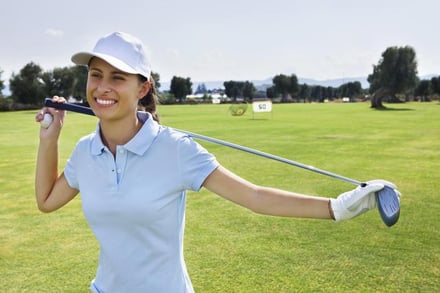 Image Credit: About.com
So what I'm doing is giving myself plenty of time to process my body for the exercise that is about to begin. Make no mistake: golfing is an exercise, and even though you might not break into a sweat similar to what you would experience in the gym, you are spending far more time on the course than at the fitness facility. Who actually works out for four or five hours?
All of this is about understanding body mechanics. You can learn the finer points of swinging a club by taking lessons, watching videos, reading books or simply by replication. All of these can help to perfect the essential aspect of golf, but physical conditioning is vital.
Go back to the days of Gary Player, who was probably the first golfer to spend time on conditioning, and see how the sport has changed in terms of how players take care of their bodies. Some players such as Tiger Woods and Rory McIlroy have taken weight training to an extreme, but you don't need to be as muscle bound to help your golf game.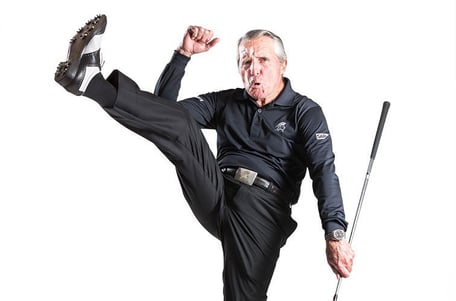 Image Credit: Australian Gold Digest
So spend a little time loosening up your body before you start your round rather than doing a few twists and turns with your club or iron before your first shot. Even though golf is more mental than physical, don't neglect the body mechanics.
And if you're only golfing occasionally, take some time after the round to do some light exercise. Unless you are in decent shape, you're likely going to be stiff and sore the next day. When you've contorted the body in various ways, the muscles will contract because they have been stretched. Always be aware that the body is not an inanimate machine. You need to take care of it to help improve your game.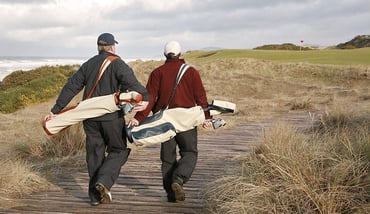 Image Credit: Intothegrain.com