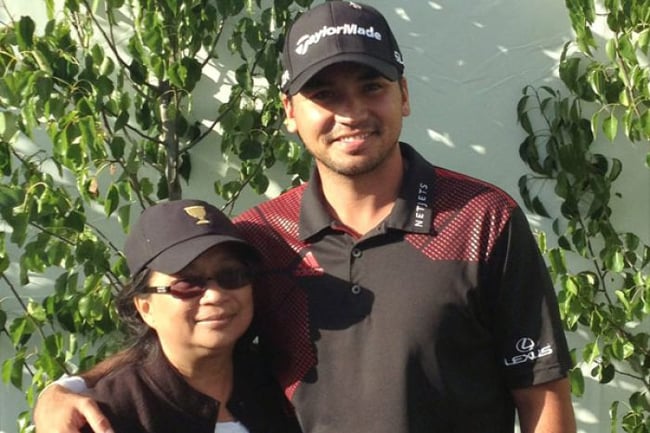 Jason and his mom, Dening. Image Credit: ABC
Sometimes the game of golf is more than just wins and losses. It's about people, and at the professional level it is sometimes easy to forget the players are chasing glory but they are subject to every day experiences that test their resolve beyond just their ability.
A good example of that happened last week at the WGC-Dell Technologies Match Play when defending champion Jason Day withdrew during his match and indicated in a teary-eyed media conference that his mother Dening is battling lung cancer. He said she was diagnosed in January, 2017 and given only a year to live.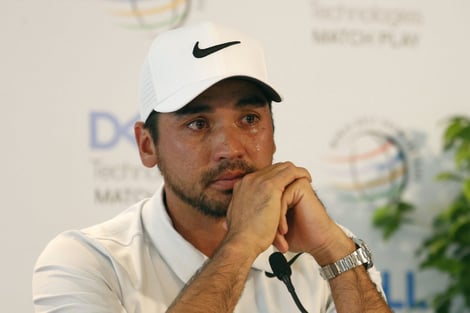 Image Credit: Toronto Star
Day began the year ranked number one in the world and announced on January 1 a multi-year deal with Nike to wear its apparel and shoes for what was believed to be $10 million a year. He has struggled with only one top-10 finish in six tournaments this year and is now ranked third overall.
While he indicated his mother's illness is not an excuse for the dropoff in his play this year, you have to think it certainly had an effect. He is only human. He lost his father to stomach cancer at age 12.
"Emotionally it's been wearing on me for a while, and I know my mum says not to let it get to me, but it really has," he said during the emotional post-match interview. "So I just need some time away with her to make sure that everything goes well because this has been very, very tough for me. I'm going to do my best and try and be there the best I can for her because she is the reason that I'm playing golf today. Family is first and it's just a hard time. I'm hoping for a speedy recovery for her, and we can get this behind us and she can live a long, long life."
The good news is his mother came through surgery successfully and doctors are optimistic about recovery.
For all the riches and fame he has accrued, the classy native of Australia is still as capable as you and I to be affected by circumstances that can play on our emotions. The difference is, we are not under the glaring spotlight of these high-profile athletes.
Day has had back issues, but said that is not an issue behind his subpar play this season. However, in the absence of knowing his physical status and as it turned out his mental and emotional status, all that is left is speculation.
As difficult and painful as it was to watch Day break down in front of golf media and by extension anyone who watched the video of his emotional announcement, he allowed himself to unburden the secret he had kept to himself. The fact that countless numbers of people have voiced support is indicative that there is empathy for these athletes, who are not machines.
Sometimes we as fans of golf and even of sports in general need to be reminded of that. It is great to watch golfers make spectacular shots following hours and hours of practice, but they also need to be incredibly strong-minded to block out either the white noise of fans and the media, or their own personal struggles.
But sports also have a way of creating story lines based on the struggles of the athletes that have nothing to do with the athletics. Think of Phil Mickelson and how he took a leave of absence to be with his wife, Amy, who was battling breast cancer in 2009, and then took another leave when his mother, Mary, was also stricken with breast cancer. It was especially poignant when Lefty won the 2010 Masters after what he and his family had endured the previous season.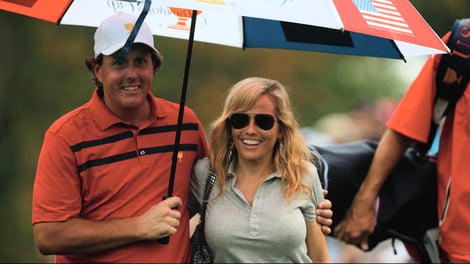 Phil and his wife, Amy. Image Credit: Heavy.com
Marc Leishman, who was voted the PGA Rookie of the Year in 2009, won the Arnold Palmer Invitational in March, only his second Tour win in five years. Beyond just the win and the long stretch between this one and the last, it was about seeing his wife, Audrey, and two children celebrating with him. Back in March, 2015, Audrey was battling Acute Respiratory Distress Syndrome. Leishman had to bow out of the Masters while his wife went into a toxic shock that affected her organs and was given only a five percent chance of survival. Now she is healthy and her husband is headed to the Masters.
"It makes golf less important," he said of what he went through with his wife and kids, Harvey age 5 and Ollie age 3. "We've been in life-and-death situations."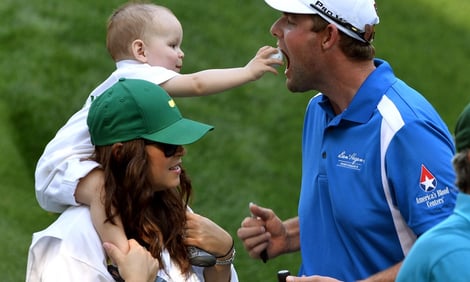 Marc with family. Image Credit: USA Today
"For the past year, Harvey has been asking Marc, 'Daddy, why don't you ever win a trophy?'" Audrey Leishman said in an interview with the media after the win. "So it's been a real dream and a real motivation to win a trophy for Harvey and Ollie, and the fact that we're all here together is a dream come true."
And what of D.A. Points, who won the Puerto Rico Open last week? He was overjoyed after losing his Tour card a year ago.
"To be able to hang in there and win today is something that I wasn't sure if I had in me," he said. "And I'm really proud of myself."
These are the kinds of stories that make us appreciate athletes for more than just their sheer talent. Sometimes, that alone isn't enough, which makes it that much more interesting when they are able to overcome adversity to succeed. Sometimes they can't recover from either a personal matter or something to do with their ability, but that just makes them human.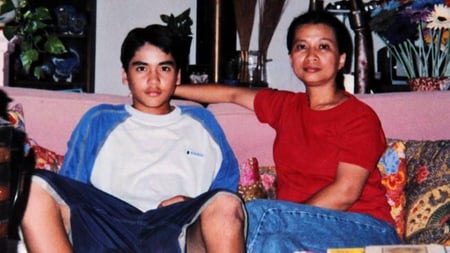 Image Credit: Courier Mail