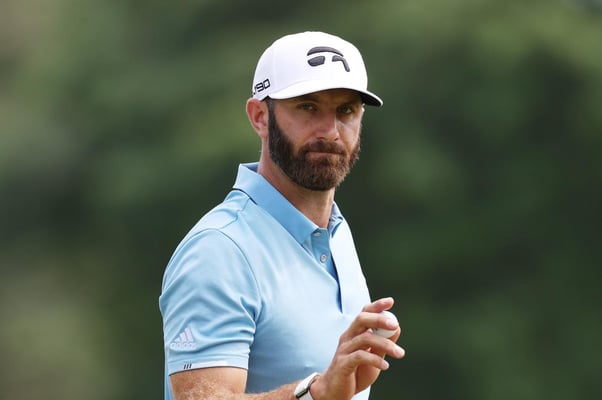 Image Source: Getty Images
When I think about Dustin Johnson (TaylorMade TP5x) and his reclaiming the status as the number one ranked golfer in the world, I recall the 2017 Masters. After suffering a back injury following down the stairs the night before the opening round, he woke up feeling tight. Though he tried to loosen up he simply couldn't physically couldn't do. So rather than start and perhaps suffer more damage, he withdrew from the tournament he was favored to win.
Johnson was the world's top-ranked player at the time and it's been an interesting climb back to the top for him.
Johnson has won a PGA Tour event the last 13 years, but the way he is playing now is reminiscent of the form he displayed prior to the injury.
With the Masters rescheduled this year to November due to COVID19, maybe Johnson will finally have his turn to wear the green jacket while he is on top of the world.
For some reason – and this is purely my opinion – Johnson doesn't receive the same accolades as Rory McIlory (TaylorMade TP5x). Maybe it's because McIlroy has won more majors. It is also interesting that while Johnson has found his stride again – be it the confidence he has found using a putter from the past or the straight and long tee shots that set up his short game – McIlroy is in a slump. He suggested the absence of fans has made it to hard to find the emotion with which he plays. He feeds of the fans, which is usually displayed with a swagger, which is definitely not there.
But back to Johnson, he has won slightly less than 10% of the PGA Tour events he's competed in, which is a phenomenal statistic. So why isn't he given more respect? Brooks Koepka (Titleist Pro V1X) criticized Johnson after the third round of the PGA Championship pointing to his inability to win a major when he had the lead. He had a one-stroke lead going into the final day of the 2020 PGA Championship and finished tied for second. He didn't do anything wrong per se; it was more about Collin Morikawa (TaylorMade TP5x) making an incredible shot on the 16th hole on route to recording an eagle, separating himself from a logjam of seven players. He went on to win the PGA Championship by two strokes. Johnson finished in a tie for second with Paul Casey (Titleist Pro V1X), shooting two-under par in the final round. Morikawa shot a six-under par. But two weeks later, Morikawa failed to make the cut in the Northern Trust and Johnson torched the course.
I wondered after the PGA Championship if Koepka was playing mind games with Johnson. I'm not sure if it is motivation Johnson will use to prove Koepka wrong, but sports psychology is an interesting thing.
The fact Koepka played poorly in the final round in his quest for his third consecutive PGA Championship win may have been the golf gods teaching him a lesson for his hubris. Anyway, Koepka is sidelined for the season with an injury, believed to be his left knee and Johnson is trending in a great direction.
WATCH OUT FOR BERGER: I often make predictions for who I think will win PGA Tour events. Recently, I have been picking Xander Schauffele (Callaway Chrome Soft X), who hasn't lived up to my expectations, though he has played well, sitting 11th on the FedExCup standings. The second playoff takes place this week with the BMW Championship at the Olympia Fields North Course in Chicago and I'm moving off of Schauffele. I should take Johnson the way he is playing, but I'm leaning toward Daniel Berger (Titleist Pro V1). He has a win, a second and two thirds since the tour restarted. I like his consistency, so I'll be looking for him to do something big this week.
Having said that, I think Justin Thomas (Titleist Pro V1x) is showing strong signs he is pivoting for another tournament win.
MICKELSON IN CHAMPIONS: Having turned 50 earlier this year and no longer eligible for the FedExCup playoffs, Phil Mickelson (Callaway Chrome Soft X) is playing this week for the first time on the Champions tour.
It makes a lot of sense. With two majors still to be played, Mickelson can get some playing time and confidence against a field he should easily beat simply based on his driving. He had the lead after the opening round. I liken what he is doing to a player getting sent down to the minors to work on his game. The difference in this case is Mickelson is doing this without anyone telling him to do it. Will it be a precursor of his future? I don't see him playing regularly on the Champions Tour. The money isn't as great – not that he needs it – but he can always transition to broadcasting for a solid paycheck. He can also develop some more ideas to promote the game with his Match exhibitions featuring golf stars and athletes from other sports.