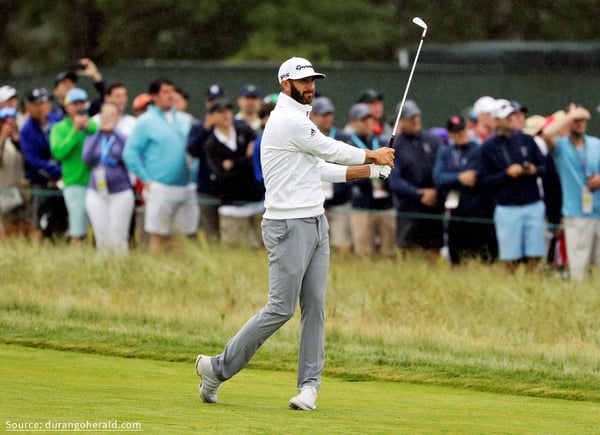 It will be interesting to see if Dustin Johnson (TaylorMade TP5x) can break the U.S. Open curse, in which no winner of a tournament the previous week has gone on to prevail in what is considered the toughest of the four Majors.
Johnson entered the U.S. Open this week at Shinnecock Hills in New York fresh of a facile win the week before at the St. Jude Classic. He registered a six-shot victory with a 19-under par and in the process reclaimed the world's number one ranking that he had lost recently when Justin Thomas moved ahead of him.
At the halfway point of the U.S. Open, Johnson leads with a four-under par. He finished under par in both the opening and second-round action.
So can Johnson, who has previously won this tournament, repeat?
Purely based on the history of this tournament the answer is no. But perhaps sports history is working in his favor.
Justify won the Kentucky Derby this year, even though he hadn't raced as a two-year-old. Prior to Justify, no horse that hadn't run as a two-year-old had won the Run for the Roses since Apollo in 1882.
And the Washington Capitals won the Stanley Cup this year for the first time in the franchise's 44-yeasr history.
And this year was the first time in the history of the National Basketball Association that the same two teams played one another in the final in four consecutive years.
So maybe Johnson can be part of this interesting run in sports history. He is simply making great shots and appears to be in the same form prior to his unfortunate back accident that forced him out of the 2017 Masters on the eve of the tournament, and which required several months of rehab and numerous rounds to feel good about him game, physically and mentally.
He is playing so calmly in his last six rounds that it doesn't seem anything can faze him.
To be sure, while rain helped to soften the course on Friday and there was a significant difference in the afternoon play in which players had a reasonable chance to make birdies, you just know the United States Amateur Association will find a way to make the final 36 holes extremely difficult.
The casualties of the first 36 holes included previous champions Jordan Spieth (Titleist Pro V1x), Graeme McDowell (Srixon Z-Star XV), Tiger Woods (Bridgestone TourB XS), Ernie Els (Srixon Z-Star XV) , Martin Kaymer (Titleist Pro V1x), Rory McIlroy (TaylorMade TP5x) and Lucas Glover (Titleist Pro V1x).
What's interesting is Brooke Koepka (Titleist Pro V1X), last year's surprise winner, is in the hunt with one-over par. He is healthy from wrist problems and could be poised to repeat.
As they say there is still plenty of golf left to be played.
I'm still hoping Rickie Fowler (Titleist Pro V1) and Tommy Fleetwood (Titleist Pro V1x), whom I touted going into the tournament, can finish strongly. Fleetwood was one-over par after 36 holes, while Fowler was two-over par. Fleetwood had a four-under par on the second day of the tournament.
Ian Poulter (Titleist Pro V1x) was making a huge run at Johnson, until he blew up with a triple bogey on the second-last hole on Friday. Still, he is tied with five others and is very much in the thick of things.
Scott Piercy (Titleist Pro V1) and Charley Hoffman (Titleist Pro V1) are tied for second at even par. One of these days Hoffman is going to win a Major. He keeps shows signs that his turn will come.
Piercy, ranked 181st in the world, would be a huge long shot if he wins. He last won a tournament in 2015.