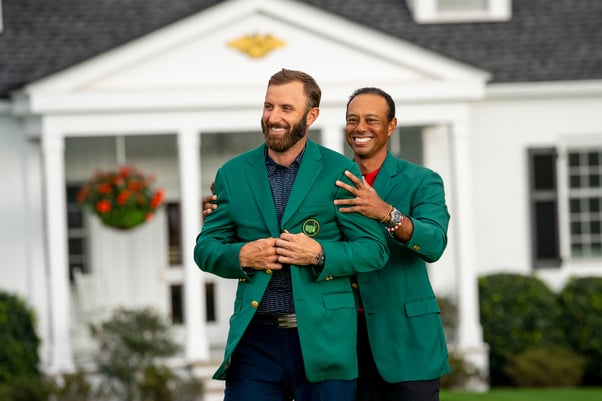 Is it too soon to call Dustin Johnson (TaylorMade TP5x) The Great Son In Law of The Great One?
Johnson has joined his hockey legend father-in-law Wayne Gretzky in the pantheon of greatness. His record-setting 20-under-par at the 2020 Masters put him in an elite group. His victory was not a complete surprise. I had him second behind Jon Rahm (TaylorMade TP5) on my pre-tournament predictions. Most sports book had him second behind Bryson DeChambeau (Bridgestone Tour B X).
But more on Bryson later.
Johnson went into the Masters ranked number one in the world. He had been so consistent when the PGA Tour schedule resumed in June following a 91-day break because of COVID-19. What was particularly evident during this time was the way in which he played – within himself and without any flair. If you consider the odd fist bump, that's about as much drama as you get from Johnson.
But let's go back in time. Three years ago, Johnson was ranked number one in the world heading into the Masters. Then he took a tumble in the house he was renting a couple days before the start of the tournament, suffered back damage and was physically incapable of starting. Aside from the emotional magnitude he had to overcome, it took a long time to physically feel right again.
A lesser person may not have recovered from that mishap three years ago. It is one thing to make it to the top of the golf ranking world. It is quite another to stay there. It is even more to get back to it. There is so much that has to go right – or wrong – for all of this to happen. But Johnson worked on his game and I would say he is better now than three years ago in all aspects of his game. Aside from his driving, approach shots and putting, I really liked his course management, especially in the final round when his four-stroke lead shrunk to one. He stayed true to himself without doing anything drastic and, in particular, he took some safe shots laying up instead of getting greedy. I give him and his brother, Austin, who is his caddie, credit for staying on course – literally.
THOUGHTS ON BRYSON: I was not totally surprised as to what happened to DeChambeau. He is a player who sometimes gets caught up in his own hype. I thought it went way overboard going into the Masters, although there was reason for it. He won the U.S. Open handily and had played fairly consistently. The bookmakers not only had him winning the Masters, but repeating again in April. To me, that was a sucker's bet. After seeing DeChambeau struggle in the first round yet still manage a two-under-par, I thought he was already in a bad spot. He is the type of player who follows a routine from the moment he wakes up. All of that was compromised by the rain-delay in the opening round. His eating schedule, protein schedule and practice schedule were all out of sync. He said he experienced dizziness on the weekend, which means he'll need a medical evaluation to know why. Let's hope it is not serious. But when physically and mentally a person's routine goes against its schedule, the likelihood is something is going to happen. When you factor all of this together in a tournament such as the Masters played in the fall instead of the spring, this could have been just the thing to throw him off.
But I will say that don't be surprised if DeChambeau comes back to Augusta National in April and puts together a solid tournament and potentially wins. I think he will learn so much about himself by what happened at the Masters and use it to his advantage. He is constantly trying to reinvent the game of golf, which some people criticize him for, but more than anything golf is a game of the mind and it needs to be clear of any doubts or uncertainties. I think DeChambeau has a brilliant mind and I am not bothered by what he is doing to improve his game and become a disruptor along the way, but he needs to be more consistent.
Johnson has proven that success and consistency are a proven formula. DeChambeau needs to be way more consistent. He learned from his self-indulgent shotmaking in the Memorial, I think he can learn from the Masters debacle as well.
TIGER'S NIGHTMARE: Posting a seven-under-par on a hole is something you'd expect from a duffer, but not from one of the greatest players in the history of the game. Reigning champion Tiger Woods (Bridgestone Tour B XS) did in in the fourth round on the par-three 12th hole, which has tamed many elite players. It was his highest score in his entire PGA Tour career, which began in 1996. Plunking three balls into the water effectively ended any hope he had of repeating his emotional and historic victory from a year ago, but he finished strongly on the final few holes to card a four-over-par 76. He was clearly playing in discomfort, which has become a common occurrence, but give him credit for having the heart and strong mental mindset to overcome the physical and emotional trauma he was enduring. He finished at one-under-par, tied for 38th, which wasn't too bad considering his game has been off since the PGA Tour resumed. Johnson has been trending upward, but Woods has been doing in the opposite direction.
One other thing about Tiger: He helped make it easy for amateur Andy Ogletree (Srixon Z-Star XV), who idolized him growing up and played with him for the first three rounds. That say something about Woods' class. Ogletree finished at two-under-par. You have to believe a lot of that happened because of Woods' ability to put him at ease starting on the opening day.
THE AMAZING OLD MAN: He has been tearing up the Champions Tour for years, but 63-year-old Bernhard Langer (Titleist Pro V1) figuratively turned back his aging time clock with an amazing overall performance in the Masters. A two-time winner of it, Langer finished at three-under-par, tied for 29th. Let's put this in perspective: he is almost three times older than Ogletree. Man, that is amazing. I'd say it is sick, but I'm 60 and I'm too old to use that terminology.
But I will say this: I was feeling the Bern watching Langer.