What tricks do you have in your golf bag? In the world of golf today, many players look to instructors to help them analyze their swing and to learn new tricks through practice techniques and technology—turning a high handicap golfer into a scratch golfer. While knowledge about the swing is useful, practice is the ultimate key to shaving strokes off of a round! To up your golf game, we've put together some useful tips to help you get the most out of your time at the driving range:
To start, loosen up! Before swinging your first club, always take the time to stretch. Stretching helps you avoid developing tense muscles that can lead to back aches and cramps in your hands or feet. Here are a few suggestions for your stretching routine: rotate your shoulders, flex your joints, stretch your back, and roll your wrists and ankles. For more inspiration, check out this one-of-a-kind warm-up routine from 21-time European Tour winner and stretching enthusiast, Miguel Angel Jiménez.
The next step is one we hope you'll "warm up" to: take 5-10 half swings (below the hip position) to warm up your muscles. We suggest using a wedge or a club you feel very comfortable with, such as a 7 or 9 iron. Keep the swing smooth and easy. Focus on what improvements you'd like to make and your game goals; start imagining the shots you want to hit. Once you are warmed up, it's time to pick your targets!

Take a second to imagine being on the course, playing an important game. Do you take the exact same shot again and again? Of course not! Every hole is different and your shots will be too. Just like an actual round, you should alternate between different types of shots at the driving range. Focus on several different targets and rotate them with various distances. This technique known as "random practice" creates and reinforces good habits such as your pre-shot routine. You will get a better feel for shots at different lengths. You'll also pace yourself, so you'll get the most benefit out of your practice. You can even make it into a game; challenge yourself to hit certain targets at specific distances. When you find you're hitting all of them, you'll likely find yourself hitting better shots on the course too.
Finally, when using visual aids, don't forget to focus on your alignment—from the tips of your toes to the end of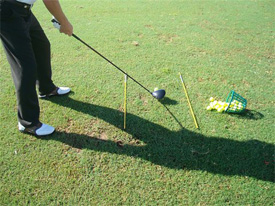 your nose (okay, just from your feet to your shoulders). If you tend to slice or hook the ball, check your alignment to make sure you are properly squared up. Your feet and shoulders should always be parallel to your target; you can check this by using your club. And remember to always pace yourself when you are on the range! Rushing through even a small bucket does not make for a worthwhile, or fun, practice.
Practice can only help your game, so make every trip to the driving range count! In addition to our own tips and tricks, Lost Golf Balls is here to help you step up your game today by providing quality golf balls for less.