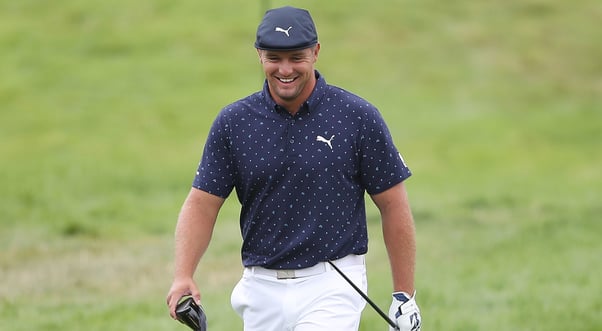 Image Source: Sean M. Haffey/Getty Images
If non-golf fans haven't heard about Bryson DeChambeau (Bridgestone Tour B X) by now, they will certainly get to know him this week.
Golf's mad hatter is picked by many pundits to win the Masters, which runs Thursday to Sunday at Augusta National.
Yes, The Masters in November. It just doesn't sound right.
But that's what COVID-19 has done. It has flipped the calendar in sports, golf being no exception.
After taking a 91-day hiatus from its regular rotation, the PGA Tour revised its schedule and moved the Masters to November.
So, with most of the American sports leagues done for the season, the Masters finds itself at a unique time of the year and in history.
Since the tour's resumption, no one has garnered more attention – positively and negatively – than DeChambeau, a polarizing figure who quite likely is the heir apparent to Tiger Woods (Bridgestone Tour B XS) in terms of power off the tee. He can drive it straight and long, and he has really improved his putting, the one area of his game that was weaker than the others.
We have seen DeChambeau make ridiculously embarrassing shots this year, notably in the Memorial Tournament, when he recorded a 10 on a par five. But he has learned from the mistakes he made and has become a first-time winner of a major with a facile victory in the U.S. Open.
Everyone who follows golf knows all about the revolutionary DeChambeau, who has combined muscle and physics to make him unstoppable at times. Now the global sports world will hear how DeChambeau bulked up his body significantly during the layoff and increased his club-head speed to collectively give him an advantage over others. The fact DeChambeau has a brilliant mind that works like a calculus with every shot has at times been parodied. But it works for him, so it's hard to argue with the results.
Is he a genius? Well, in some ways he is, in particular when it comes to nutritional science. How it correlates to results is like a formula you learn in algebra. Whoever thought golf would be about the square root of pie?
All the average sports fan knew about DeChambeau before all of this was that he wore a poor-boy hat that made him look like the late Payne Stewart.
DeChambeau is hoping the things he has done can have a positive effect on golf. If there are skeptics – and there all – positive results such as a win in the Masters will force those in doubt to take notice.
Brooks Koepka (Titleist Pro V1x) preceded DeChambeau in terms of size and brute strength to come from out of nowhere to win majors. But he has been bothered by injuries during the last year. If he is 100 percent healthy, he can play up to DeChambeau's power off of the tee. He might even use his own psychology to try and mentally derail DeChambeau. He tried to do it this year in the U.S. Open, but DeChambeau was just too good.
There will be many people hoping to see Woods do something special, but he has not played well since the resumption of the PGA Tour and has laboured through his various health issues. He was supposed to play in last week's Houston Open, but skipped it. The one significant advantage he has is knowledge of the course, so he can shape his shots knowing the terrain. In the end, I don't think it's enough to make up for the fact he simply can't hit it far enough or straight enough off of the tee to match up his younger opponents.
Tiger was once the young lion that roared and won the 2019 Masters in storybook fashion. You can never truly rule him out, but that is more sentiment and emotion than logic.
As an aside, Woods announced this week he has extended his relationship with Bridgestone Golf. I've said it before and will say it again, Bridgestone jumped on Woods when Nike dropped out of the golf ball business and it was a shrewd move. Tiger was struggling, but he bounced back to greatness and since that time many premier PGA players have joined the Bridgestone stable, none more prominent than DeChambeau.
If DeChambeau is the logical pick to win, a lot of people will be pointing to Dustin Johnson (TaylorMade TP5x) to wear the coveted green jacked when Sunday's final round is concluded. Johnson has played well for the most part this year and comes into the Masters ranked number one in the world. He cannot be overlooked, nor can Jon Rahm (TaylorMade TP5), who is ranked second.
And Rahm is my pick to win. He finished fourth last year, and were it not for an errant shot on the 15th hole last year he might have won. He is playing solidly and there's no reason he can't win the Masters this year as long as he keeps his emotions in check and his tee shots straight.