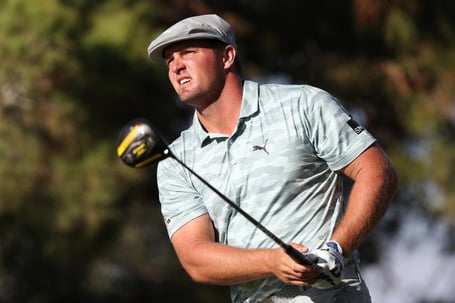 Image Source: Golf Digest
A year ago Bryson DeChambeau (Bridgestone Tour B X) came to the Masters boasting about his ability to drive the greens, but ended up driving out of Augusta National with a non-descript 34th overall finish.
This year, he is not nearly as pompous having been humbled – maybe even humiliated – by his poor performance.
With so many story lines heading into the 2021 Masters – and I will address a few of them – the big question is whether or not DeChambeau will have a better understanding of what he needs to do to win or at the very least contend.
It says here he will do that and win. The one constant about DeChambeau is his mental approach, which I think is more important to him than his physical prowess. Yes, he can drive the ball 350-400 yards, but he needs to play within himself and not get silly. There's been instances since DeChambeau returned from the PGA's 91-day COVID-19 layoff last year in which he became the center of attention. He talked about the protein-rich diet he did during the layoff to bulk up considerably – and one look at him it was easy to notice he had become the equivalent of a middle linebacker dressed in golf gear. He also talked about understanding distances and calculating them with his own formulas.
He backed up what he talked about with an easy six-stroke victory in the U.S. Open, his first major. He silenced everyone who criticized him or doubted him, both in and out of the golf world.
In a word, DeChambeau is a disruptor. He claims he wants to change the game for the better, but to have a platform he needs to perform. A month ago he won the Arnold Palmer Invitational with a stellar performance to outlast gritty veteran Lee Westwood (Titleist Pro V1x). Beating the best golfers in the world in a tournament that always attracts a stellar field, DeChambeau further underlined his emergence as an impact player.
While he failed to make it beyond two rounds in the WGC-Dell Match Play two weeks ago, that was not a true indication of where he is at heading into the Masters. Stroke play is considerably different than match. Plus, he's been good at bouncing back once he's been eliminated early in tournaments in the last 12 months.
Undoubtedly he has spent the time since the Match Play tournament devising a strategy he hopes will lead to victory in the Masters. I would expect some of the strategy involves thinking of ways to keep his powerful drives in the fairways by altering his club selection and keeping his driver in the bag at times and going with a three-metal, hybrid or iron.
Some other interesting nuggets going into the Masters:
Can reigning champion Dustin Johnson (TaylorMade TP5x) repeat? He has not been playing well in recent months, whereas he was the dominant player heading into the Masters when it was played last year in October.
Can Jordan Spieth (Titleist Pro V1x) continue his recent run of steady play that culminated with a win last week in the Valero Texas Open? He looks to be back to his old form and he knows the course well having won on it six years ago as a 21-year-old. If he can display the same consistency there is no reason he can't be a major contender in the Masters, but I wonder if mentally and physically he hasn't drained his battery and suffers a letdown.
Can Rory McIlroy (TaylorMade TP5x) finally win the Masters to complete his personal Grand Slam? He's changed swing coaches in recent weeks, knowing his game had fallen precipitously from the years in which he had the complete package. Sometimes such a move can take weeks before finally seeing results.
Can the drama that unfolded when Justin Thomas (Titleist Pro V1x) won the Players Championship a month ago only a few weeks after his grandfather died continue in the Masters? He's one of the best in the world and if he's got a guiding light it could result in an even bigger win.
Can Brooks Koepka (Titleist Pro V1x) recover from recent knee surgery to be a factor in the Masters? He admitted this week he will be hobbling in the tournament returning so quickly. He is stubborn at times – and this is classic example – but he is also a dominant player who can turn it on. He seemingly came out of nowhere to win the Waste Management Phoenix Open with an eagle after a brilliant shot from the bunker on the second-last hole.
Can Westwood (Titleist Pro V1x) continue his comeback year? It's been fun seeing the 47-year-old hold his own against players nearly half his age.
Can all the new young bucks make a dent? Collin Morikawa (TP5), Max Homa (Titleist Pro V1), Billy Horschel (Titleist Pro V1) and Scottie Scheffler (Titleist Pro V1) have had some solid results this year, so a victory by one of them would not be a surprise.
Can Cameron Smith (Titleist Pro V1x) win the Masters after placing second in the tournament last fall? He's been a factor in the Masters posting top-five finishes in two of his last three times in the tournament. He is only 28 and the sky is the limit for this Aussie?
Can Xander Schauffele (Callaway Chrome Soft X) break my heart by winning? The Xand Man is my favorite player on the PGA Tour, but he's broken my heart several times in which I picked him to win. I am backing off from Xander in the Masters, preferring to assess his talent objectively. If he wins, I will not kick myself, but rather admit his time had come.