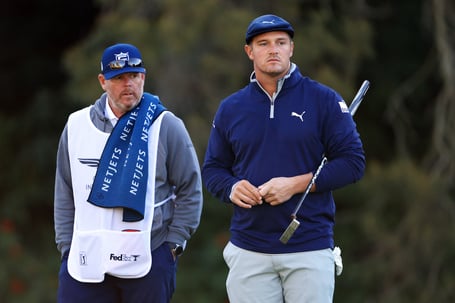 Image Source: Getty Images
A few years ago while at the Canadian Open, I walked up to Fluff Cowan, the caddie for Jim Furyk (Callaway Chrome Soft), to ask if he would do an interview. Twice he said, very succinctly, "no," and I left it at that.
Cowan became famous as the caddie for Tiger Woods (Bridgestone Tour B XS) and, aside for working with the greatest golfer of his generation, his moustache made him stand out.
Normally, caddies are somewhat interesting, but more often than not do not draw attention to themselves unless it's for the wrong reason – an example being having too many clubs in the bag and thus penalizing the person for whom he works.
So when it was announced last week that Tim Tucker had quit working with Bryson DeChambeau (Bridgestone Tour B X) before the start of the Rocket Mortgage Classic, in which Bryson had been the defending champion and pre-tournament favorite, it caused quite a reaction in the golf world and, to a certain extent the sports world. Tucker became famous or infamous, depending on your viewpoint, for running interference for DeChambeau when a cameraman for the Golf Channel was filming him after he teed off following a five-over par on the previous hole. Tucker came across as a type of bodyguard for DeChambeau.
Bryson became the center of attention after the PGA returned from a 91-day layoff because of COVID with his bulked-up body and 350-yard bombs off the tee. But beyond that, he won the U.S. Open, his first major, and the hype machine went into overdrive. It amplified when he won the Arnold Palmer Invitational six tournaments later.
He has been terribly inconsistent since, including failing to make the cut at the Rocket Mortgage. What was interesting is that during the tournament, a commercial of DeChambeau and Tucker was featured on the TV broadcast. I can't remember the last time I'd seen a TV commercial with a golfer and his caddie. It stood out even more because of the split between the two. I can only guess the commercial had been shot because DeChambeau was the defending champion. DeChambeau has been featured in various commercials since his return because of his rocket rise, pardon the pun, after the PGA returned full-time. His victories made him a legitimate object for lending his name and brand to products.
There's been all kinds of stories why the split happened, in particular so close to the start of the tournament, including one report from Ian Rapoport of the NFL Network that DeChambeau had been verbally abusive to Tucker for some time. Anyone who has watched the PGA tour would say that the split was not surprising, only that it happened the day before the Rocket Mortgage started. Tucker has been shlepping DeChambeau's bag and working overtime after rounds for his demanding client. It's said caddies make 10 percent of the earnings for the golfers for whom they work. I'm guessing Tucker received bonuses, such as the money from the TV commercial and, possibly, wins by DeChambeau. Suffice to say, Tucker earned his pay for all the time he's put in with DeChambeau.
DeChambeau's agent Brett Falkoff publicly stated this is not the first time DeChambeau and Tucker have split and that it doesn't mean they won't work again.
"They had a good run and they mutually agreed to go their separate ways," Falkoff said in a statement. "Everything runs its course. Tim was getting tired and Bryson was getting tired. In any relationship, they run their course and that's what happened here."
DeChambeau employed Cobra Golf's tour operations manager for the Rocket Mortgage. It will be interesting who replaces Tucker, particularly leading up to The British Open next week at the famous Royal St. George's Golf Course.
MICKELSON'S LEGITIMATE BEEF: When a local story surfaced in a Detroit newspaper last week about $500,000 Phil Mickelson (Callaway Chrome Soft X) had been owed stemming from a bet he made with a bookie in 2007, he reacted angrily, saying he would not return to the event again. In his mind, it had nothing to do with the tournament and he hadn't done anything wrong. So what was the purpose of the story? As a journalist, I can only say the writer felt the need to write it because Mickelson was playing in Detroit. The story, written in painstaking detail, would have had no relevance otherwise.
Mickelson has become one of the biggest promoters of the game in recent years, especially with his organization of matches for charities involving high-profile sports stars such as Tom Brady, Peyton Manning and, most recently, Aaron Rodgers. He's become one of those feel-good stories for a sport hard hit by COVID and having lost Woods indefinitely because of a car accident. The fact Mickelson prevailed in the PGA Championship last month at the age of 50, the oldest person to win a major, added to his legacy.
All considered, he did not see this coming and, therefore, reacted emotionally. But a day later, he softened his stance saying he would return to the Detroit tournament if 50,000 people signed a petition saying they would do an act of kindness. As of this week, it is nearing 15,000. Phil and his wife, Amy, have also donated $100,000 to Detroit's Children's Foundation. I applaud Phil for that.
As I've stated before, I'm a member of the Phil Mickelson Facebook Fan Club. Overall, he's had an interesting career. He's a public figure and as such his life is out in the open or in some cases things in his private life have come to the surface.
Everyone knows Phil likes to bet, that's no secret, but what happened 14 years ago bears nothing to what he is doing now or in the future. The fact he turned a negative story into a positive one speaks well of his character.