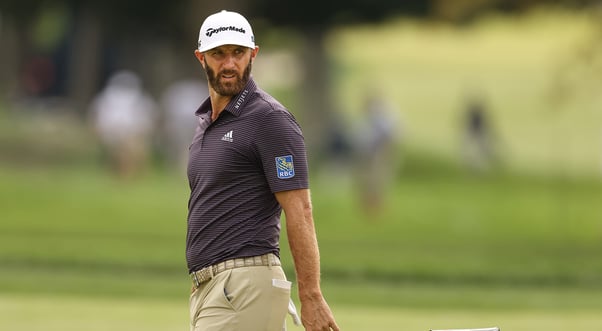 For the most part, the PGA Tour has managed to avoid COVID-19, unlike most professional sports leagues, but some recent incidents are proof that it's hard to totally escape one of the most lethal viruses in the history of the world.
Just this week it was announced that Dustin Johnson (TaylorMade TP5x) tested positive and would miss this week's CJ Cup in Las Vegas. Tony Finau (Titleist Pro V1) had to withdraw from the Shriners Hospitals For Children Open. Both rookie sensation Scottie Scheffler (Titleist Pro V1) and Sam Horsfield (Pro V1x) had to withdraw from the U.S. Open.
The fact it is Johnson, the world number-one ranked player, makes his particular case noteworthy. Johnson has been able to beat the competition for the most part since the tour resumed in June following a 91-day break because of the virus. How ironic that the one opponent that put a stop in his splendid season was the virus.
For the most part, the fact he has been hit by it now instead of a month from now when the Masters begins, makes this a minor setback for Johnson and the PGA Tour. If Johnson had been forced to withdraw from the Masters, the timing would have been awful. Remember when Johnson had to withdraw from the 2017 Masters after slipping down some stairs the night before and injuring his back. He was the world's top-ranked player then and it took him several months to gradually physically get over the injury.
The PGA has done just about everything it can possibly due to create a protective environment for its players with daily testing and limiting access of fans – though some have found some creative ways to watch tournaments in person.
Too many sports leagues have seen games cancelled because of the virus. It's quite a different playing field – literally – for golfers versus say football and baseball players in which large groups of players congregate in defined spaces.
So unless there's a breakout of some sort, the PGA should be able to resume this unorthodox season through to the Masters in November. And doesn't the Masters in November sound kind of weird?
BROOKS IS BACK: When Brooks Koepka (Titleist Pro V1x) decided to take a break from tournament play in the summer because of his ailing left knee, he opted against surgery – and the Masters certainly had a lot to do with that. If the majors had been completed in July, he could have had the surgery and rehabbed for the 2020-2021 season. But the shift of the Masters from April to November certainly had to factor in Koepka's decision. It is simply too big of a tournament for the uber competitive Koepka to pass up. He played for weeks this season in obvious discomfort, but refused to use it as an excuse.
It will be interesting to see how he holds up physically this week and on the road to the Masters.
SALUTE TO MY FATHER: Lewy Body Dementia, the same disease that contributed to the death of Sam Simpson, the father of Webb Simpson (Titleist Pro V1) in 2017, played a similar role in the death of my father, Louis Lefkowitz. He passed away on October 2 at the age of 90.
The disease began to affect his walking and speech, although it was believed to be Parkinson's at the time. Subsequent analysis determined it was Lewy Body, which has aspects of Parkinson's. Lewy Body is the same disease that led comedian Robin Williams to take his life. Up until my father's diagnosis, no one in our family had heard of Lewy Body Dementia.
It was painful watching my father slide so rapidly, and sad to see the disease change him from kind and gentle to angry and violent. He really started to show debilitating physical signs in late April, including hallucinations. That's a feature of Lewy Body.
He was hospitalized on June 24 and never left the hospital, while waiting for a transfer to a long-term health care facility.
My mother, Myrna, brother Elliott, and my son, Ben, were fortunate to see my father in his final days because the doctors determined he didn't have long to live and allowed more than one visitor to see him.
While COVID-19 has claimed the lives of countless people around the world and limited access to hospitalized patients, my family was living in our own bubble seeing my father suffer.
My father-in-law Don Lloyd passed away at age 92 on June 19 as a result of various causes. His funeral was three days later, the same day my father was admitted into hospital. My wife, Jane, and I had a chance to see Don six days before he passed. My mother-in-law, Louise, and my wife's second-oldest brother, Stephen, also only had one chance to see my father-in-law while he was in hospital for several weeks. COVID-19 restrictions were the reason.
It has not been a good year for my family and my wife's, but life moves on and hopefully my father and father-in-law are in much better places, free of infirmity.