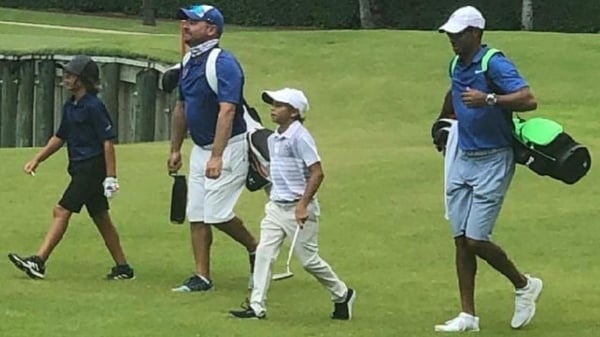 Some passing thoughts on the PGA Tour heading into the FedExCup playoffs this week:
So Charlie Woods, the son of Tiger Woods (Bridgestone Tour B XS), is showing signs he might become like his father.
The news last week that the 11-year-old shot a three-under par to win the nine-hole U.S. Kids Golf event at Hammock Creek in Palm City, Florida by five strokes is quite interesting. If his father was a phenom, could the son be just as talented?
The big issue will be how he handles the mental pressure of being compared to his father every day. If he weren't playing golf, it wouldn't be such an issue. But surely the expectations will be huge. The mental side of the game is often more difficult than the physical, but nobody has shouldered more pressure in golf in the last 20 years than Tiger and that's how he will help his son the most if he decides to pursue the sport on a long-term basis. You never know with kids that age, but why wouldn't Charlie want to be like his dad. It's a special bond, similar to the one Tiger had with his father, who groomed him at a young age to be a star.
And yet I think of Jack (Jackie) Nicklaus II, son of the legendary Golden Bear. He had some success in the pro ranks after graduating from University of North Carolina, but nothing remotely close to what his father accomplished. After five or so years on the pro circuit, he turned his focus to designing golf courses and has become quite profound at it. One can only imagine the pressure he was facing growing up with the same name as a legend.
At least Charlie Woods doesn't have the exact same name as his father, nickname or not. But clearly everyone in golf – and to a certain extend the sports world – knows who he is now. Remember the embrace he had with his father after Tiger won the 2019 Masters? That was a moment etched in time. Who knew then the youngster was following in his famous father's footsteps?