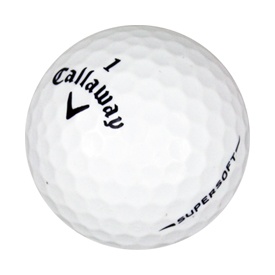 Review: Callaway Supersoft
These days, it's hard to golf without seeing certain brands of golf balls lying around the course. A primary example is Callaway, which is absolutely one of the best-known names in golf balls. Callaway offers a wide array of balls and materials for golfers of all levels and experience.
What Callaway says
Callaway is quick to note that these golf balls are among their most popular, and with good reason. Their website specifically states that the ball combines the needs of all golfers to go as far and as accurately as possible. The technical specifications include the following:
A HyperElastic SoftFast core to give golfers a soft feel while also increasing the ball speed. The core is different from many other balls on the market today as it's larger with a thin cover.
The cover is a hybrid model, which combines a slew of features: A soft feel, durability, long distance, and enhanced wedge control. The wedge control item is particularly noteworthy, as this is not a feature often advertised when discussing golf balls.
The ball is a two-piece cover. The cover uses a Hex Aerodynamics pattern, which ensures a combination of distance and control. Furthermore, Callaway coated the cover with Paraloid, a new chemical that Callaway developed in conjunction with Dow Chemical. This chemical enhances the ball's soft feel and is unquestionably a major benefit.
The Callaway Supersoft comes in many colors: white, yellow, matte red, matte orange, matte green, and matte pink.
Callaway's website and marketing material position this ball for overall value, not for premium quality. To be clear, this isn't a bad thing. Most golfers don't need a three- or four-piece cover that allows them to play professionally. However, it's important to understand the positioning of the ball in the golf market. The Callaway Supersoft is a value ball for regular play, not high-level competitions.
What the experts and other reviewers say
Given its value proposition, this ball is clearly performing extremely well. Reviewers noted that the cover's large core and two-piece nature don't limit the balls' performance. Furthermore, the fact that this ball is firmly in the "value" category should not give you the impression that it is ineffective. Quite the opposite: The ball performs extremely well and comes with excellent technology that allows for highly improved accuracy.
Most reviewers found the ball goes long, and golfers should get the distance they need out of it. It has low spin and goes straight, meaning that golfers who can perform with high accuracy should expect the ball to go where they want it to. On the other hand, if you are a golfer who is more challenged when it comes to accuracy, you may find that the Supersoft is ideal, as it generally goes exactly where you want it.
The core of the ball is low compression. This low compression makes the ball great if you have a slow swing speed, as you can still get the distance you need.
Potential concerns
Golfers who need height may find the ball wanting, and there may be better options. This lack of lift may make the ball more challenging for beginners or individuals with shorter drives looking to get more lift from a ball.
Individuals with a faster swing speed may find challenges with the Callaway Supersoft. The low compression of the ball makes it ideal for slow swing speeds but more problematic for golfers with a faster speed.
Two-piece covers do have some durability concerns. Despite Callaway's advertisements, some reviewers noted the ball could get scuffed and damaged relatively easily, potentially meaning golfers need to use a new ball quicker than they would like. Fortunately, the ball's solid value means this is a relatively affordable proposition.
While the ball suits the needs of mid or high-level handicaps, low-handicaps may struggle with this ball. The ball is not designed with that skill level in mind.
Final verdict
There are a few golfers who will unquestionably benefit from a Supersoft. Golfers with a mid or high handicap, golfers who want a good ball with great value, and low-swing golfers will all benefit from using the Supersoft.
At Lostgolfballs, we're here to help, and we have an array of Callaway Supersoft balls available. They come in wide varieties, including a 48-ball bucket, a 96-ball bucket, and more. Interested in more golfing merchandise, including other mint and near mint options? Check out our website to see how we can help fulfill your golfing needs.