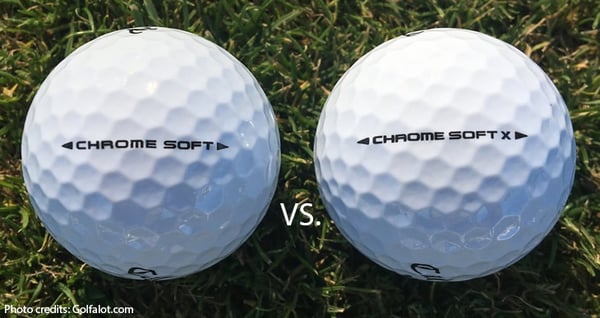 When it comes to golf balls, Callaway is considered one of the best manufacturers. They're known for creating a line of golf balls that are pro quality - but can also be used by golfers suffering from too much slice or hook.
The Callaway Chrome Soft and the Chrome Soft X golf balls are no exception. These balls have completely changed the game when it comes to trajectory and speed. Discover the biggest differences between these two exceptional golf balls.
Differences Between Chrome Soft and Chrome Soft X
When it comes to performance, there aren't too many differences between the Chrome Soft and the Chrome Soft X. Yet, the Chrome Soft X handles so much differently from the Soft that it's important to understand the few differences between them.
About the Chrome Soft Golf Ball
Callaway considers its Chrome Soft Ball to be, "The ball that changed the ball." Some of the advantages of the Chrome Soft Ball are that it's a tour level ball, it's softer and it has less spin. All of that, and it comes at a pretty reasonable price. For most golfers, this could be the perfect ball. Then why did Callaway create the Chrome Soft X?
About the Chrome Soft X Golf Ball
Some golfers simply want more control. The Chrome Soft X Ball offers all of the benefits of the Chrome Soft, yet this ball's spin increases, offering that level of control that some golfers require. The biggest downside to the Soft X is that it isn't ideal for golfers with too much slice. The Chrome Soft X was pretty much created for more experienced players that don't need to worry about curing a hook.
Core and Technical Differences
The Chrome Soft X has a Dual SoftFast core and is encased in a urethane cover that's thinner than the Chrome Soft's. It's also slightly larger than the Soft. This is how the ball gains a faster speed and more spin.
The Chrome feels softer than the Chrome Soft X too. According to Callaway, "Chrome Soft X will have a firmer feel, more workability and a more piercing trajectory."
Which Professional Golf Players Use Chrome Soft or Chrome Soft X?
Even some of the biggest names in golf use the Chrome Soft or the Chrome Soft X golf balls - including Phil Mickelson and Sergio Garcia, who has even stated, "This ball is crazy. It's on another level." Here are some of the other pro testimonials, according to Callaway.
"I've never seen a ball go this far and spin this much." - Phil Mickelson
"This ball does what it needs to do every time." - Daniel Berger
"I came to Callaway to play the ball." - Xander Schauffele
"I can build the rest of my equipment around that ball." - Aaron Wise
"I love them." - Maverick McNealy
Where You Can Buy Chrome Soft and Chrome Soft X Golf Balls
You can save 50% to 80% off retail prices by buying the Chrome Soft Ball and the Chrome Soft Ball X at LostGolfBalls.com. Lost Golf Balls is one of the biggest recycled golf ball companies in the world.
We clean, sort and sell recycled and used golf balls worldwide. Millions of golf players have already been playing with our recycled golf balls. Why buy new when you can save money and get the same quality ball by buying our recycled ones?
Source List: