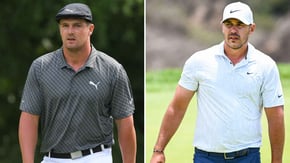 Image Source: Getty Images
It's time to give thanks to Bryson DeChambeau (Bridgestone Tour B X) and Brooks Koepka (Titleist Pro V1x) for putting their differences aside and agreeing to play together for charity the day after Thanksgiving.
The two foes will go head-to-head on November 26 at Wynn Golf Club in Las Vegas in a 12-hole dual that will be produced by Turner Sports and televised on TNT and simulcast on various other networks. It will be the firth edition of The Match for charity. It began with Phil Mickelson (Callaway Chrome Soft X) and Tiger Woods (Bridgestone Tour B XS), with Lefty doing everything he could to cajole Tiger into some fun banter. Whether it was the purse of $9 million or Tiger not feeling comfortable in that element – after all, the two players were not exactly buddies at that point – he didn't let down his guard. The fact the tournament went 22 holes and was finished in near darkness with Lefty winning, well, if turned out to be good.
The format was expanded after that to feature four players in a pro-am with football legends Peyton Manning and Tom Brady, who famously split his pants during the match and made two unbelievable shots after struggling mightily on the first six holes. He holed out from about 100 yards on the seventh hole in what was clearly the shot of the day and made for far greater TV interest than the one the year before. The next two editions were played in a similar type format with star athletes from different sports. DeChambeau participated in it last year.
For the general public, the Match V won't mean that much. I don't think Bryson and Brooks are that well known in the overall pantheon of sports, but for golf fans who have followed the feud it is exciting.
Why exactly they are only playing 12 holes has not been fully explained, although one writer suggested Bryson wanted to play 18 and Brooks didn't want to play at all.
Whoever brokered the deal – and let's be honest the two stars will be paid handsomely because there is no reason to do it for free – deserves credit. The 2021-22 PGA season has begun and it's going to take awhile to produce drama anything close to the Tour Championship and then the Ryder Cup. Many of the top players are using this time to take a break.
Bryson suggested before the Ryder Cup "something fun" was in the works, but didn't reveal what. He was tipping the match with Brooks. They shook hands and hugged briefly playing for Team USA after throttling Team Europe. For a brief moment it signaled the bitter feud had ended. Look, these two had been talking verbal shots at one another for some time, and some Koepka fans started taunting Bryson by saying "Nice shot, Brooksie." When it reached a boiling point, the PGA intervened and instituted rules for fan behaviour. So maybe this match is happening for a greater purpose, although if you take the gentlemanly aspect of golf out of it isn't it more fun when top players are feuding? If it were pro wrestling, it would be two heels showing their utter contempt for one another.
Say what you want about Bryson, but he is doing everything he can to create interest in golf, sometimes for the right reasons, sometimes otherwise. He is truly a different dude, marching to his own beat, with all the things he does to get himself mentally and physically prepared. He approaches every round like a combination scientist and nutritionist. When he performs well, it's a thing of beauty, but when he doesn't it reveals a side of him that isn't exactly likable. He approaches every shot like it's supposed to go exactly as he has calculated.
By contrast, Brooks hasn't gone out of his way to make golf more appealing to the masses that don't follow it. And that's fine. Sometimes he comes across as perceiving himself as being better than others, saying he only cares about winning Majors. But that works for him and he's been a proven winner.
Do I think this latest version of The Match will produce great golf? I doubt it. But at least it will be something to watch during this quiet time of the PGA Tour season.