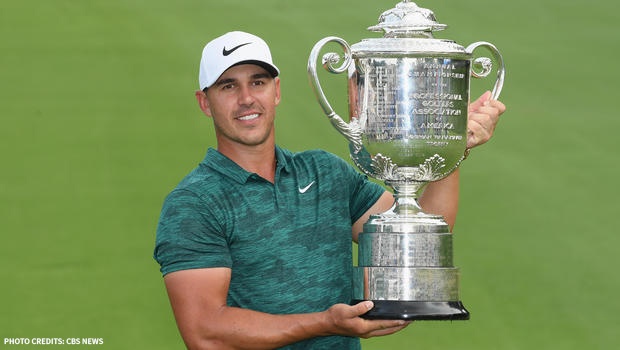 The 2018 PGA Championship reaffirmed a young golfer with star potential, Brooks Koepka (Titleist Pro V1x) and a veteran, Tiger Woods (Bridgestone Tour B XS), whose star appeal is still strong.
Koepka, who won the tournament, the second major this season for him and his third overall in less than 18 months, has everything. He can hit it long and straight off the tee and is solid with his putter. Clearly he is the type of player who is capable of stepping up his game and finishing strongly. In the second round of the tournament at Bellerive Country Club in St. Louis, he shot a seven-under par 63, trying the course record. He wasn't the only one to do it, but he was the only to continue that torrid pace, finishing 15-under par in rounds two through four and 16-under-par overall, two better than Woods, who trailed him by four strokes at the start of the round.
The maturity of the 28-year-old Koepka is something to behold. There are others who are similarly talented – Jordan Spieth (Titleist Pro V1x), Justin Thomas (Titleist Pro V1x) and Dustin Johnson (TaylorMade TP5x), to name a few of the new breed of young titans – but Koepka plays within himself, rarely displaying emotion, even when making a bad shot. That was something he rarely did in the tournament, again mainly because his distance and accuracy off of the tee.
Koepka has a physique, notably biceps, which make him look like a tight end. He is listed at 6-foot, 186 pounds, but he looks much bigger.
Koepka has come back this season from off-season wrist surgery and what he has done this year is simply incredible. Is he playing at peak performance or can he get even better? Time will tell, but he is creating quite a buzz in the golf world and the international sports world.
Koepka in some ways reminds me off Woods early in his career, when he routinely launched drives so far, opponents were playing catch up. And his all-around game was so majestic that he could make up ground no matter how far back he was in the standings. Opponents didn't just play the course; they had to be aware of Tiger.
Similar to Koepka, Tiger was built solidly – and still is – one of the first to really push himself for brute strength. As his body started to break down, in many ways because of the way he torque himself, it was like a powerful car that simply couldn't function at its optimal performance anymore.
It took a lot to rebuild Tiger.
His second-place finish, which he punctuated with a birdie and patented celebratory clenched fist, was a blast from the past; a reminiscent of his younger days when he was winning regularly or putting up a good fight.
I've maintained all season long that Tiger won't win a major simply because the power game that he played 20 years ago, is no longer an edge. Younger players such as Koepka can launch it just as long and create opportunities with their short game and seal it with birdies.
That was something no one could match when Tiger was in his prime.
But aside from a few misses – namely an eagle attempt that turned into a par on the 17th hole in the third round and an errant tee shot on the same hole the following day – Woods played solidly, finishing 10-under par on the final two rounds.
Woods had shown flashes of his former self this year, but had trouble maintaining that torrid pace on the final round. It was speculated on the Golf Channel by David Duval (TaylorMade TP5x), that Woods was running on fumes because of the workload he's put in this year following his fourth back surgery. Well, Woods showed he still had something left in the tank.
If he wins a tournament this season, it will be quite the accomplishment. The 42-year-old has played in 14 tournaments this year, made the cut in 12, has two seconds and five top-10 finishes. He is ranked 20th in the FedEx Cup points list and 51st on the Official World Golf Ranking. He last played this many tournaments five years ago, winning five of 16, finishing second once and eight top-10 finishes.
After all the physical injuries he's endured since then, no one could have ever predicted he could come close to his form, let alone play this many tournaments.
So maybe he isn't the Tiger of old. Maybe this is an older Tiger version. But if the golf world needed something to stimulate an audience that he ignited 20 years ago, his return to prominence may be the antidote. There are new golf fans who may know Woods only by reputation, but there's an audience that preceded them by two decades who are certainly aware of his presence and what he did to create a buzz watching him in person or on the television. Tiger was must-see viewing, and his amazing performance in the 2018 PGA Championship only underlined what people already knew: he is some kind of athlete. Had he won the tournament, it would have been one of the greatest comebacks in sports history. In a way it was, just lacking the victory.
When Woods walked over to the scorers' table, he crossed over a bridge and was applauded by an appreciative audience. No one captivated the crowd quite like Tiger. As he waved to the admiring audience, it was almost like watching a Pope. Such is the connection he has managed to cultivate throughout his career.
At the start of the season, I wondered if anybody would care about Woods making a return to competitive golf if he wasn't anything like his former self. Well, the interest in Tiger is still strong.
Someday a film will be made about his life and it will tell the story of a great leader who literally came to a crashing halt and whose darkest secrets were revealed. But like the Phoenix he rose from the ashes.
Tiger – and calling him by his nickname is one of the many elements that separate him from the crowd – was reality TV before it became commonplace. He was destination entertainment, sometimes for character faults that tainted his greatness. But this vintage version of Tiger is basically about one thing – competing hard for victory.
Hopefully Tiger will be around to make another stab at a major next year. With his back and the fact he needed to soak in a tub of ice before the tournament began to reduce inflammation, there is nothing certain about his future. The fact he made it back to competitive golf was an accomplishment. The fact he almost won a major goes beyond that.
The Tiger Woods version 2018 is just as exciting as the Tiger Woods version 1998. This renaissance is once again making history.