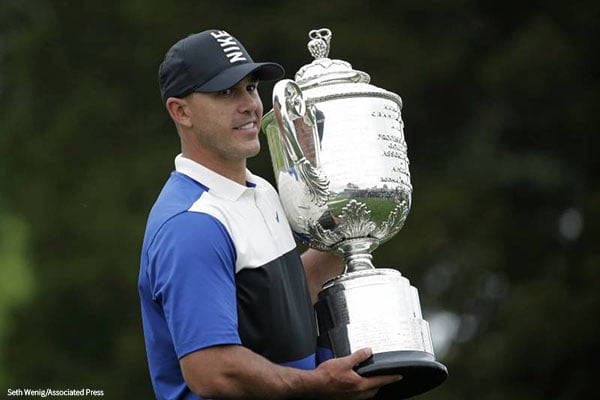 Brooks Koepka (Titleist Pro V1x) continues to claim the mantelpiece as the pre-eminent player on the PGA Tour.
With the defense of his PGA Championship, the 29-year-old has eclipsed others such as Jordan Spieth (Titleist Pro V1x), Dustin Johnson (TaylorMade TP5x), Justin Thomas (Titleist Pro V1x), Rory McIlroy (TaylorMade TP5x), Justin Rose (TaylorMade TP5) and Francesco Molinari (Titleist Pro V1x).
He is now tied with Jack Nicklaus, Arnold Palmer, Ben Hogan and Tiger Woods (Bridgestone Tour B XS) with four major victories in less than two years.
His title defense was a wire-to-wire victory, and even though it only ended with a two-shot win over Johnson after starting the final round seven shots ahead of the pack, it was impressive, to say the least.
After seeing his lead shrink to as little as one with four consecutive bogeys on the back nine and Johnson making a charge while the fans shouted "D.J., D.J." Koepka looked concerned but never totally rattled. He was also battling the winds that made the Bethpage Black course a real challenge in the final two hours of Sunday's final round.
But ultimately Keopka held steady to hold off his good buddy Johnson, who shot a one-under-par 69, by two shots.
With each round, Koepka's scores escalated, starting with a course-record seven-under par 63 on the opening 18, to 65 in the second round, 70 in his third round and a final round 74. He went four-over par in the last 36 holes, but it was his 12-under opening 36 holes that provided him with a cushion.
It's true that you can't win a tournament in the opening round, but you can lose it.
He said afterward that the final round was stressful and he could hear the DJ chants. He was asked what he thought of the New York crowd?
"What do you expect when you are half-choking (the tournament) away?" he said.
It was not totally surprising his scores dwindled from the first 18 holes to the last. He is an amazing player, but he is not a machine. Heading into the final round, he had to stay focused because for the most part he was not being challenged and that forced him to psychologically approach each shot as if he was playing from behind. Ultimately it was the gusty winds that became his biggest nemesis, and not just for him but for the majority of the players.
I was not surprised he won. Koepka was my pick going into the tournament.
With all the hype on Tiger, who failed to make the cut and may have been bothered by recurring back issues that have limited his practice time, Koepka was not even considered the favorite. Perhaps the hype on Woods was too much, notwithstanding his win in the Masters. But there were three others, including Koepka and Johnson, who were only a shot back.
The big question going forward is whether the sports world will recognize Koepka for all he has done in the last two years? Remember the focus that was on Spieth when he emerged as the newest star winning the Masters and PGA Championship in 2015 and then recorded that unforgettable victory in the 2017 Open after going on a run of birdies on the 14th hole following a bogey on the 13th? He looked to be unstoppable, only to go on a terrible run of bad luck in 2018. He finished in a three-way tie for third in the PGA Championship and looks to be rounding back into form. I predicted a huge tournament for him because he's had some tough luck this year, although he showed signs of returning to form.
He has made the cut in 11 of 14 tournaments this year, but this was the first time he finished in the top-10 and the first time in the top-three. He is slated to play this week in the Charles Schwab Challenge at the Colonial Country Club in Fort Worth, Texas and I am predicting a victory. The signs are all there that after failing to qualify for the FedEx Cup Tour Championship last year by finishing one spot out of the top-40 in points, he should be back this year. Yes, it's a long ways away and right now he is 91st on the list after beginning last week at 150, but I feel he just needed a little bit of luck to improve his confidence.
I worry about Woods and whether the issues he had at the PGA Championship were a sign that his success in the last year and a half may be coming to an end because of his physical health. He needs to be in peak performance physically and mentally because Koepka is just too good right now. He is aiming for a third straight U.S. Open win in three weeks. The U.S. Open, with its traditional crazy greens, poses all kinds of difficulties, but Koepka has mastered it the last two years.