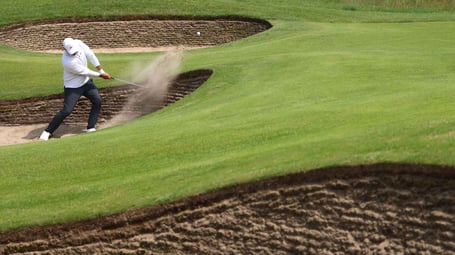 Image Source: Getty Images
With England smarting from its loss in the final of EURO2020, I'm going out on a limb and say an Englishman will do something big in The Open Championship at Royal St. George's Golf Course.
And it just might be Tyrrell Hatton (Titleist Pro V1x). He checks off many of my boxes. He's 10th on the Official World Golf Rankings. He has played solidly on the European Tour this year. He's 29 years old and many of the wins this year on the PGA Tour have been by players about 30 and under. And he plays a Titleist ball, which is the ball used by more winners than any brand. He tuned up for this tying for 18th last week in the Scottish Open.
Here's a look at the headliners:
The likely favorite is Jon Rahm (Callaway Chrome Soft X), who won his first major in this year's U.S. Open and had been torching the field in his previous tournament before forced to withdraw because of COVID. He might be the best player now on the PGA Tour.
Jordan Spieth (Titleist Pro V1x) has had a turnaround season and he's a previous winner with an epic victory in 2017, featuring one of the most amazing shots you will ever see. He's enjoying a marvelous career revival, physically and mentally. He's given himself a long rest since finishing 19th in the U.S. Open a month ago. He has purposely focused on this tournament and, unless he's already peaked, he will be as dangerous as ever. I wouldn't be surprised if he and Rahm are battling it out in the final pair on Sunday.
Brooks Koepka (Titleist Pro V1x) has a win and two seconds this year in 15 tournaments. He was second in the PGA Championship and tied for fourth in the U.S. Open. He has figured out his body and what he needs to do to be competitive when it matters.
Viktor Hovland (Titleist Pro V1). He has shown that he is clearly one of the 20-somethings who is poised to be a star. He tuned up for this winning the Golfclub Munchen Eichenried in Germany three weeks ago. The native of Norway is seventh in the FedExCup rankings and 14th on the World Golf Rankings. He's made the cut in 17 if 19 tournaments this season and has posted a win, two seconds, two thirds and six-top finishes. He's also demonstrated tremendous maturity under pressure. If I was to do away with my win one for England fairy-tale story, Hovland would be the one I'd go with to do something big.
If the golf gods are kind they will shine on Louis Oosthuizen (Titleist Pro V1). He has fought brilliantly this season and has just come up short, notably in a tough beat in the U.S. Open. He has made the cut in 15 of 16 tournaments, so clearly he's figured something out about his game. The 38-year-old South African has three seconds, one third and six top-10 finishes.
And then there's Lee Westwood (Titleist Pro V1), who was the talk early in the season with back-to-back second-place finishes in the Arnold Palmer Invitational and The Players Championship. He's fallen off the radar since, but you know there will be plenty of support for the 48-year-old Englishman.
Not to forget two obvious names, Rory McIlroy (TaylorMade TP5x), and Bryson DeChambeau (Bridgestone Tour B X). I'm not sure in which trajectory McIlroy is going. He seemed to have found his game with a big win this year in the Wells Fargo Championship, his first in more than two years, but hasn't done much since. DeChambeau, even with a new caddie, is not suited to this type of course because his driving is too erratic and he'll need to make some adjustments or end up playing from some brutal lies.
Here's a few other names to consider: Marc Leishman (Callaway Chrome Soft X) has made the cut in 15 of 20 tournaments this season, including six of the last seven.
Matthew Fitzpatrick (Titleist Pro V1x). He is one of those good, young players poised to break through. He should have a good handle on the conditions having experience playing in Europe.