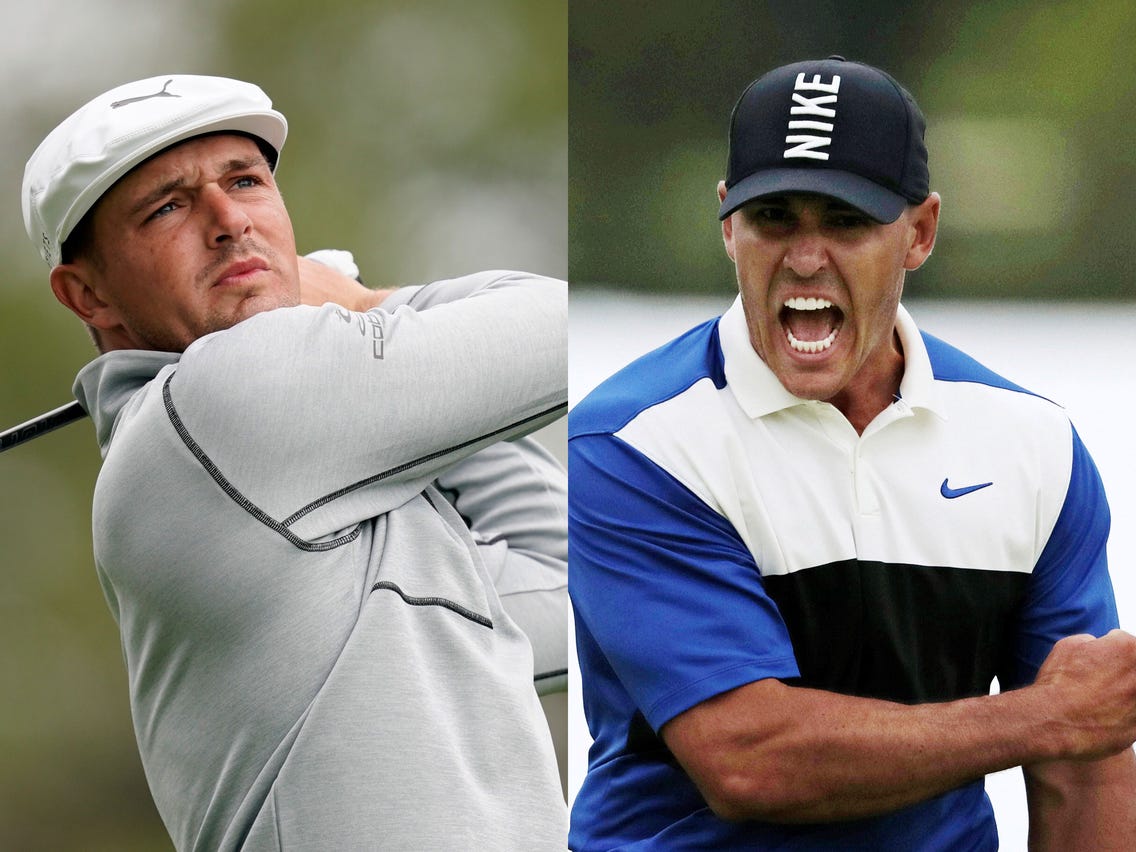 Image Source: Business Insider
The Bryson DeChambeau (Bridgestone Tour B X) and Brooks Koepka (Titleist Pro V1x) verbal spat on social media is great for golf.
The spat began when it was announced DeChambeau would be playing with Aaron Rodgers in the next Phil Mickelson (Callaway Chrome Soft X) Match event for charity, this one on July 6 at The Reserve at Moonlight Basin in Big Sky, Montana. Mickelson will be teaming up again with Tom Brady following their win last year in which the Tampa Bay Buccaneers quarterback made some impressive shots in the rain. As an aside, isn't it interesting how Brady went on to win the Super Bowl and Mickelson won the PGA Championship, becoming the oldest player to win a major?
Following the announcement Rodgers would be paired with DeChambeau, Koepka tweeted to Rodgers, "Sorry bro." DeChambeau replied to Koepka, "It's nice to be living in your head rent free."
That promoted Mickelson to tweet, "I feel like I'm in the middle of something and should step aside, except they want the current PGA Champion."
The reality is, Koepka and DeChambeau are two of the most polarizing players on the PGA Tour, followed closely by Patrick Reed (Titleist Pro V1). They are also talented and winners of some of the biggest tournaments on the PGA Tour in recent history. They will also likely be teammates later this year when a team of American players faces a team of international players in the Presidents Cup, September 19-25 squad at Quail Hollow in South Carolina, site of the recent Wells Fargo Championship won by Rory McIlroy (TaylorMade TP5x).
Golf fans are already wondering how Koepka and DeChambeau will co-exist as teammates if they are selected for Team USA without driving each other crazy, kind of like Felix Unger and Oscar Madison in The Odd Couple. And if you don't get the reference to Felix and Oscar, well, I'm north of 60 years old and dating myself.
Koepka has been the more dominant of the two, winning four majors since 2017. DeChambeau won his first major in 2020. Both are immensely talented and can drive the ball a mile.
Koepka is a player who has been beset with injuries, yet can still make incredible shots when he is physically not his best. He gave Mickelson a good run for the most part in the PGA Championship, losing by two strokes. Mickelson shot one-over par in the last round, while Koepka shot two-over par. DeChambeau shot three-over-par and tied for 38th.
Koepka went into the tournament saying he didn't need to be 100 percent healthy to play well. Sometimes he comes across as cocky when he says things like that or that he doesn't have to win a tournament to prove to himself he did well. It seems as if he sometimes plays in a tournament as a prep for a major without having to prove something to himself or anyone else.
His way of doing things is completely the opposite of DeChambeau, who frets about everything he does in a tournament, from his diet to his practising before and sometimes after playing and his meticulous calculations before pulling out his irons and his putter. Off the tee, he just seems hell bent on hitting it as far as he can, sometimes sacrificing conservatism for distance. With all that is going on in his head, he is dramatically different than Koepka, who doesn't waste nearly as much mental energy.
It's great when sports have rivalries: Muhammad Ali and Joe Frazier in boxing. Larry Bird and Magic Johnson in basketball. Mario Lemieux and Wayne Gretzky in hockey. Golf has had its own rivalries – Jack Nicklaus and Arnold Palmer, and Mickelson and Tiger Woods Woods (Bridgestone Tour B XS). The big difference in each of these examples the players were the two most dominant players in their respective sports. DeChambeau and Koepka are not.
That said, I'd love to see the two go head-to-head in a competition, whether it's one round of 18 holes and a best-of-three over 54 holes. Suffice to say, it would be fun, whether or not the two say one word to each other.