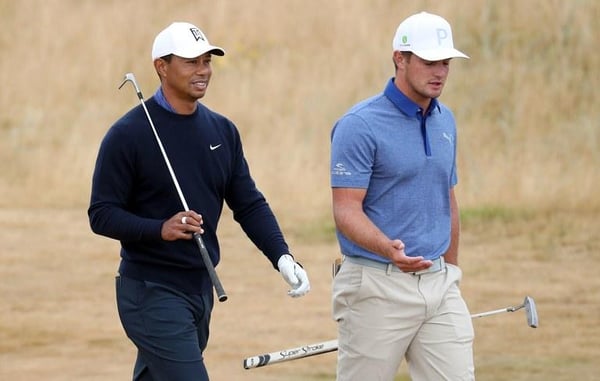 Last weekend I watched the documentary of Tiger Woods (Bridgestone Tour B XS) – Chasing History – and the next day all golf fans witnessed another type of history by Bryson DeChambeau (Bridgestone Tour B X) winning the Rocket Mortgage Classic with a PGA Tour record for driving distance.
Woods and DeChambeau have become linked for some time because they both are clients of Bridgestone, but there is a feeling that DeChambeau is heading in Tiger's direction of becoming the biggest superstar on the PGA Tour because of his long-ball striking, his short game and his putting. Those are the three facets of Woods' game.
At the Rocket Mortgage Classic, DeChambeau had an average driving distance of 350.6 yards, erasing Woods' PGA record of 341.5 in the Open in 2005. The fact it took 15 years for the new record says something about Woods and what he did to become the greatest player of his generation.
One thing Woods did to improve his distance off of the tee was bulk up with weights. Now DeChambeau has copied that. During the 91-day gap between the suspension of the PGA Tour due to COVID-19 and the resumption a month ago, DeChambeau added 20 pounds of bulk with a crazy workout routine and pumping himself full of protein. He started the PGA Tour in 2016 weighing 205.
DeChambeau has a mind and an intellect that is off the charts and in some respects has rubbed golf purists the wrong way. He is all about a scientific approach that is atypical of golfers. Yes, fitness and weight lifting has become an added feature of the sport – three prime examples are Dustin Johnson (TaylorMade TP5x), Brooks Koepka and Rory McIlroy (TaylorMade TP5x) Titleist Pro V1x) – all of whom can drive 340-plus yards.
DeChambeau's biggest change, aside from his body shape, is his chipping and putting. He has managed to improve in each of the four tournaments since the resumption of the PGA Tour. He put it all together at the Rocket Mortgage Classic.
Earlier this week, a betting company made him the favorite to win the three majors this year – the Open has been cancelled for a year. Whether or not that is a sucker's bet to draw in some action, so be it. There are a lot of people jumping on the DeChambeau bandwagon.
DeChambeau can be an oddity – last week in the third round he wore a shirt with a mathematical equation on it and also criticized a TV cameraman for getting too close to him and potentially ruining his brand. Look, he is somewhat of a mad scientist and that type of mindset isn't always welcomed in any walk of life.
Nobody has attracted this much attention in the world of golf – certainly in the last four weeks with most pro sports on hiatus – like DeChambeau. Not Rory, Justin or Koepka, the latter of whom has drawn criticism because he has prioritized winning majors and considers other events tuneups. When Koepka started winning majors with his power and precision, he was the talk of the golf world, but nothing like DeChambeau.
And then there is Woods, currently on his own hiatus. Woods dominated the PGA Tour right from the outset, winning tournaments at a greater than 50 percent clip. And he often won tournaments with no one even remotely close to his score. He blew by others either from the start of a tournament or overcoming them, sometimes with a brilliant final round that capitalized on the falters of those ahead of him.
That was essentially the focus of Chasing History. It was solely about his game, his father and his injuries and nothing about some of the controversial moments of his life that are well-documented. Woods has been on an incredible run in the last two years since he has been able to play free of pain and discomfort. His win in the 2019 Masters represented one of the greatest comebacks in all of sport. He added to his legacy tying the PGA record for tour titles with his 82nd in the Zozo Championship, matching the mark of the legendary Sam Snead. There are still goals Woods is chasing, including Jack Nicklaus' 18 majors. Tiger is sitting at 15.
So, when Tiger returns, likely next week in the Workday Charity Open, the spotlight will shift to him again. He is deserving of that. If as expected DeChambeau is in the tournament, he will be under the microscope unlike ever before. He will have to prove he can be better than Tiger, more so than all the other top-name players in the field. This tournament is slated to include all the stars. With only a week's break, you wonder if DeChambeau will be able to crank it up again or whether he will be gassed.
Whether or not DeChambeau can be the next Tiger Woods, time will tell. I believe the fact Tiger was a force right from the start separates him from DeChambeau. It took Bryson four years to achieve his current level of talent. Tiger had it from the start. I don't believe the two are comparable, but Bryson is brawny and brainy and maybe he'll make up for last time on a consistent basis.