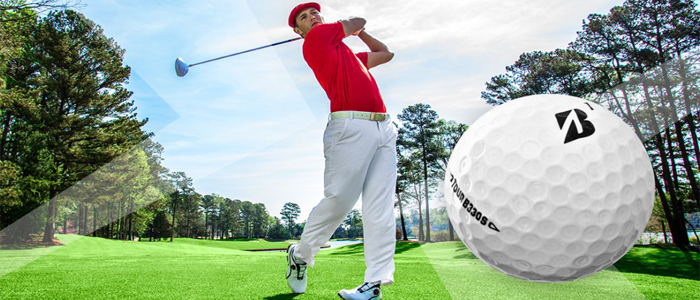 Bryson DeChambeau was all the rage during the first three rounds at Augusta National. One of only five golfers to win the U.S. Amateur and NCAA individual title in the same year – joining Jack Nicklaus, Tiger Woods, Phil Mickelson and Ryan Moore (pretty solid company) – DeChambeau captivated audiences with his unique approach to the game. The physics major is a disciple of Homer Kelly's "The Golfing Machine," uses irons and wedges all the same length, and relies on science to score well. So when he turned pro shortly after The Masters it wasn't much of a shock when he signed with Bridgestone. After all, Bridgestone's golf balls are designed using so much science it'd make Bill Nye jealous.
First off, one look at a Bridgestone golf ball and you'll notice something different: a dimple within a dimple. Aptly named Dual Dimple Technology, the dimple-on-dimple design optimizes aerodynamic and wind performance. Here's how: the inner dimples reduce drag (check out last week's post to learn more about drag) at launch for faster initial velocities resulting in greater carry distances, while the outer dimple promotes a more shallow descent for increased roll. Basically, the brains at Bridgestone designed you a golf ball that will stay in the air longer so you can bomb it past your friends.
Quick trash talk tip: The next time you rip one past your playing partners, ask if they've heard about the new Walmart going in. When they say "no," confidently tell them it's being built between their ball and yours.
Another neat design feature in Bridgestone balls is its seamless cover. Unlike most TOUR-quality golf balls, Bridgestone's two halves fit together like a jigsaw puzzle instead of one line down the middle. Seamless Cover Technology gives Bridgestone balls an advantage in the wind as a non-uniform part line heightens accuracy, distance and trajectory.
Furthermore, Bridgestone has designed a golf ball for all ability levels. From the TOUR B330 (for golfers with swing speeds of 105 mph or more) to the e6 (designed for straighter flight), everyone, including Bryson DeChambeau, can benefit from Bridgestone's bright ideas.
Want to conduct some scientific tests yourself? LostGolfBalls offers a wide variety of Bridgestone golf balls to help you maximize distance. Find the ball best for you HERE.
Also, do you play Bridgestone golf balls? Our team would love to hear your review in the comments section below.

Credit
Image Source: http://blog.golfsmith.com/tour-news/bryson-dechambeau-signs-with-cobra-puma-golf-bridgestone-golf/