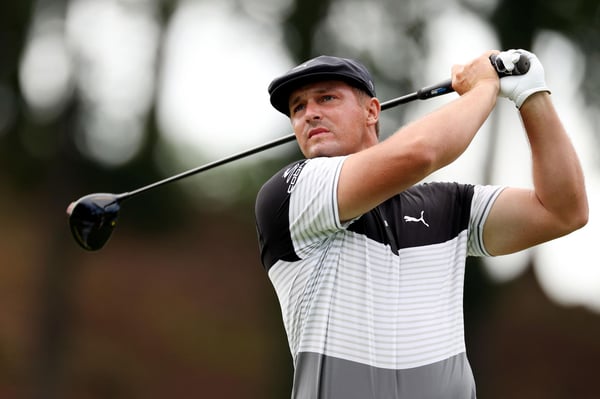 Like many people who have been watching the re-start of the PGA season, I have been intrigued by the new-look Bryson DeChambeau (Bridgestone Tour B X), who looks even bigger than Brooks Koepka (Titleist Pro V1x).
Koepka stood out from the other players on the PGA Tour because of his brawn, in particular his arms and shoulders, and his success in majors certainly could have been a case of the ratio of cause and effect. But DeChambeau is brawnier.
During the time between the cancellation of the second round of the Players Championship because of the COVID-19 outbreak and the PGA's re-start 91 days later with the Charles Schwab Challenge at the Colonial Country Club in Texas, DeChambeau bulked up by 20 pounds. On his Instagram page, he demonstrated some of his strength workouts, which included lifting weights and doing various core exercises. He is, as they say, jacked.
Collectively, he has added 40 pounds since he left college in 2015. On his profile page on the PGA Tour site, he is listed as 6-foot-1, 205 pounds. Somebody should update that because he is now 240. He has told the media he has gone from a medium-shirt size to an extra-large shirt.
He is second overall in driving distance with 320.1 yards, an added distance of 18.8 yards from last year. He is, however, 109th in driving accuracy. Can you imagine what will happen if he improves on that stat?
He has posted top-10 finishes In the first three tournaments since the re-start. He has also been driving the ball further. Collectively, that has made DeChambeau the most-watched and discussed player since the re-start of the PGA Tour. Can you imagine what it would be like if there were spectators in attendance? It would be Mashed Potato Mania.
Everyone loves watching drives, in particular when the players decide to go all-out and blast instead of going conservative with three-woods, sacrificing distance for accuracy. Think about the name Big Bertha, which Callaway unveiled in 1991, and you have a name that accurately describes those drivers with clubheads as big as two fists put together. That's why players such as DeChambeau and Rory McIlroy (TaylorMade TP5) are so popular with their distance off of the tee.
With the PGA Tour being one of the few pro sports leagues that have returned to active competition since the coronavirus outbreak, it has made DeChambeau one of the most-intriguing athletes in all of sports now. He's already somewhat of interesting figure because of his trademark Ascot hat – an homage to Ben Hogan – and his fascination with physics, which he has applied to his clubs. Is DeChambeau a mad scientist? Maybe. Not that there's anything wrong with that – to borrow a Seinfeld line.
PHILLY MICK: Phil Mickelson (Callaway Chrome Soft X), who turned 50 on June 16, had the lead at the halfway point of the Travelers Championship and anyone who is a fan of his (I'm in that category) was rooting for him to maintain that for the final 36 holes. But too many missed shots had him scrambling and that ultimately was his undoing. Mickelson is one of the most popular players on the PGA Tour and has added some personality with his competitions for charity. He does things his own way, including wearing sunglasses in the third round of the Travelers on what seemed to be an otherwise overcast day. When he first started wearing long-sleeve shirts to promote Workday, it seemed a tad odd. But let's be honest, throughout his career, Mickelson has done things his own way. At a time when he could be playing the Champions Tour, Mickelson is showing no signs of leaving the PGA Tour to join the 50-and-over tour.
IN PRAISE OF JUSTIN: Watching Dustin Johnson (TaylorMade TP5x) win the Travelers was a demonstration of how good he is when he gets hot with the putter. He's always been strong off the tee, but putting, particularly short range, has been his undoing at times. But let's be honest, he is truly one of the greats of his generation, having won at least one tournament in 13 consecutive seasons. And how about the shot he took from the edge of the water in the Travelers? With his pants rolled up to his knees and without shoes or socks, he flubbed his shot, seeing the ball roll back down the bank but not nearly as troublesome a lie as the first shot. But he extricated himself from a bad situation with a good third shot and a par-saving fourth shot.