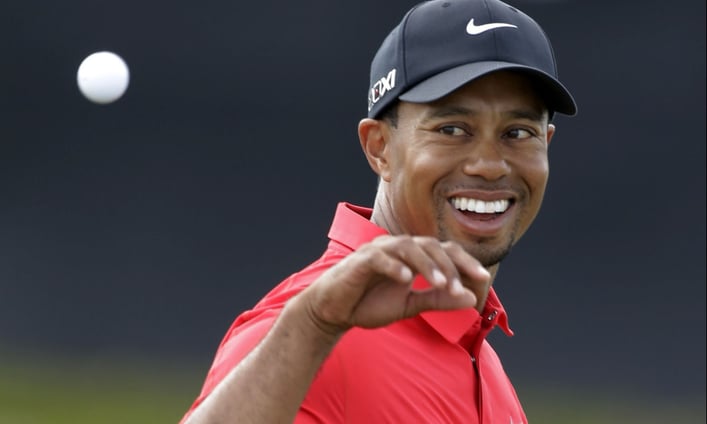 Image Source: Getty Images
With one tournament left to go in the FedExCup playoffs before next week's Tour Championship, it's worth taking a look at some of the interesting story lines heading into this week's BMW Championship.

Assuming he plays – and as of Wednesday when he played in the pro-am and pronounced himself in good shape – all eyes will be on Tiger Woods (Bridgestone Tour B XS). He withdrew after the first round of last week's Northern Trust with an oblique strain, an injury that could take weeks to heal. Any time you are talking about a strain or a sprain, it's far more complicated than a broken bone because there is no definitive timetable for recovery.
He said he was feeling "way, way better" after taking the time off to rest his back, but only played the front nine full out. He took it easy on the back nine, chipping, putting and hitting bunker shots. He knows his body and the damage it would cause if he played the back nine as intensively as the front nine.
Woods is currently sitting 38th overall in FedExCup points and, according to calculations, needs to finish 11th or better in this week's tournament to advance to the Tour Championship, which he won in dramatic fashion last year, only to top that with his Masters win this year.
Notwithstanding that victory, his 15th career major, this season has not played in his favor. Because the PGA condensed the four majors to between April and July, one month shorter than the previous format, Woods did not have ample time to regroup. The new schedule kept the sport in the news, most of it because of Woods' Masters' win, but that was on a course he knew well and was relatively fresh. After that, the aches and pains started to catch up, and he couldn't rely on muscle memory because the other majors were played on courses different from last year. The Masters is the only major played year in and year out on the same course.
Woods played sparingly between majors to give his body a break. We shall see what happens this week. If it weren't for his competitive nature and the fact he won the Tour Championship last year, Woods would likely sit out this tournament.
When Woods plays, it's great for the game and the media coverage it generates, but golf needs to be bigger than one player.
This year's FedExCup playoffs have been reduced from four tournaments to three, which has left little room for error for those chasing a spot in the FedExCup. There have been complaints by many top golfers about the changes made to the overall schedule and the FedExCup to end the season before September when the National Football League garners all the attention. If the PGA listens to the players, surely something has to give going into the 2019-20 schedule, but maybe it's already etched in stone.
This much is certain: With FedEx upping the prize money from $10 million to $15 million for the overall winner, there will still be quality competition for the Tour Championship. Many pundits are speculating it's a fait accompli because Brooks Koepka (Titleist Pro V1x) will head into it almost certainly first overall in FexEd Cup points, which will be a huge advantage because the leader begins the tournament at 10-under, followed by second at eight-under. Giving Koepka a two-shot lead may be just enough to virtually hand him the $15 million bonus. Koepka is a huge star, but hasn't commanded the same attention as Woods. Maybe no one in the current crop of PGA Tour players ever will; certainly none with the combination of talent, charisma and history.
Meanwhile, Jordan Spieth (Titleist Pro V1x) sits 44th overall and is expected to need a top-10 finish to qualify the Tour Championship. Last year he missed qualifying for it by one spot when he finished the playoffs 31st overall. I keep waiting for Spieth to put together four solid rounds. He is so close and maybe he does it this week.
Francesco Molinari (Callaway Chrome Soft X) sits 34th overall. It has been a tough year for last year's Open Championship winner. He was in contention to win this year's Masters until the disastrous 12th hole and finished tied for fifth.
Hideki Matsuyama (Srixon Z-STAR XV) sits 33rd overall. He's another player who I thought would have a quality season and make a run to finish in the top-10 or top-15, but he's been struggling with consistency.
Jason Day (TaylorMade TP5x), who announced this week he will no longer have Steve Williams as his caddie after only six tournaments, has never been able to recover his 2015 form when he was the top player in the world. He sits 50th overall and will need a miracle to make it in the top 30, especially after failing to make the cut last week, but anything is possible.