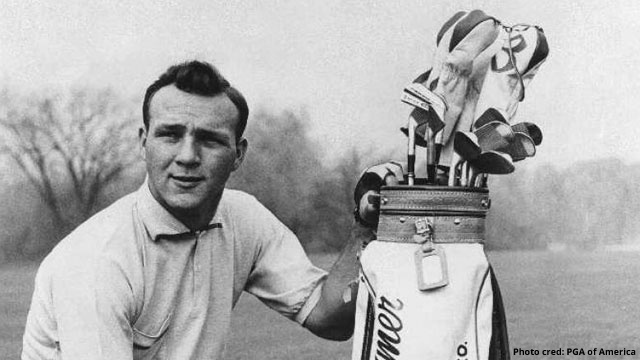 Legendary golfer Arnold Palmer has died, reminding us yet again that the great ones in sports cannot live forever. Mortality does, indeed, have a time limit.
Earlier this year, we mourned the loss of boxer Muhammad Ali and hockey player Gordie Howe, two individuals who helped make their sports great, both with what they did as athletes, but more important what they did as people.
Now we are feeling that aching feeling again following the passing of Arnold Palmer, who died on Sunday at age 87. Maybe he made his mark on golf, but he stitched his way into fabric of all of sports.
He didn't have the most fluid and technically-perfect swings, but he had something that you really couldn't teach – charisma. He connected with the fans, thus creating Arnie's Army, who cheered the man nicknamed The King.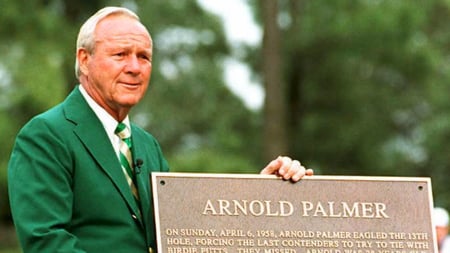 Photo cred: http://www.golfchannel.com/
Palmer won seven Majors, including the Masters every other year beginning in 1958. Overall, he won 62 tournaments on the U.S. Tour and almost $7 million in prize money. He was the first to win $1 million in a season. But stats alone do not truly represent Palmer's imprint on golf specially and sports as a whole.
"We are deeply saddened by the death of Arnold Palmer, golf's greatest ambassador," the United States Golf Association said in a statement. "Arnold Palmer will always be a champion in every sense of the word. He inspired generations to love golf by sharing his competitive spirit, displaying sportsmanship, caring for golfers and golf fans, and serving as a lifelong ambassador for the sport. The game is indeed better because of him and in so many ways will never be the same."
He flourished in an era when televised sports started to grow, and along with Jack Nicklaus helped broaden the scope of golf. Palmer became the working man's hero with his slashing style and demeanor. He didn't just take shots; he was able to make shots, turning the impossible into the possible because he dared to take chances. In many ways he was like a photographer, who saw the game through his own lens and did things that few others would dare – or care – to try.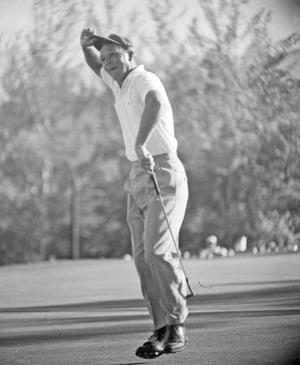 Photo cred: http://www.golfweek.com/
The 1960 U.S. Open is credited as Palmer's greatest moment, trailing Mike Souchak by seven shots going into the final round. Go to Youtube and check out the Telenews footage supplied by the USGA of that final round. It is stunning because Palmer is not even mentioned at the start because he didn't figure to be anywhere near the lead at the finish. But from his first shot, in which he drove the green, Palmer simply took the tournament by storm. He birdied six of the first seven greens, tying the course record for the opening nine holes with a score of 30. It was that kind of day. As Souchak stumbled, Palmer stealthily crept up the leader board. And when it ended, Palmer, who had won the Masters that year, took his cap and threw it in the air in celebration. It was described as the most sensational rally in U.S. Open history.
It was a debut of sorts for Jack Nicklaus, an amateur at the time, who finished two strokes back. He would go on to fashion a great pro, but this was Palmer's day and a chance for his legion of supporters to celebrate. In many ways, that may have been the day when Arnie's Army really started to gain momentum.
Palmer and Nicklaus had one of the greatest rivalries in sports in the '60s and forged a lifelong friendship.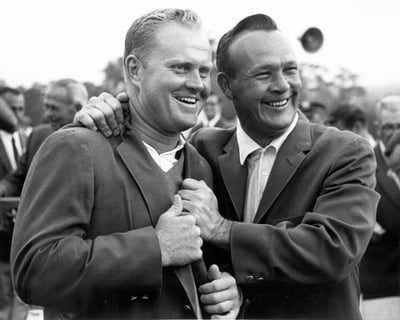 Photo cred: http://www.nicklaus.com/
"We just lost one of the one of the incredible people in the game of golf and in all of sport," Nicklaus said on his Twitter account. "My friend – many people's friend – just wore out. He has always been a fighter and he never gave up on anything. He didn't give up even now. Maybe his body did, but I know Arnold's will and spirit did not. He was more than a golfer; he was an icon. He was a legend."
Beyond just what he did on the course, Palmer became famous for his marketing savvy. He lent his name to almost 300 courses in the world. Only the greats are approached by developers seeking their input into building and designing a signature course. Sports agent Mark McCormack took the Palmer name and created Arnold Palmer Enterprises. One of the most interesting products bearing Palmer's name is an iced tea/lemonade called Half And Half. It is known simply as Arnold Palmer.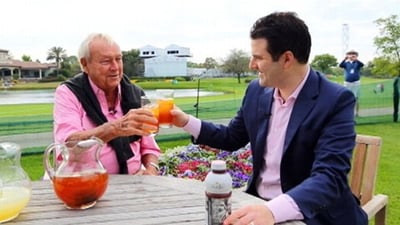 Photo cred: ABC News
"I hope I've contributed to the game, it's been wonderful," Palmer told Frank D'Angelo, whose company D'Angelo Brands, distributes the product in Canada. "I owe everything I have to the game of golf, but also to the people who have supported the game."
Arnold Palmer gave so much to the game; we are grateful for having had the chance to watch him develop into a sensational athlete and mourn his passing. He lived a great life, but we always want our heroes to last forever.
The King is gone but he won't be forgotten.
---
This post was originally published by Knetgolf on September 27, 2016. Knetgolf was acquired by LostGolfBalls.