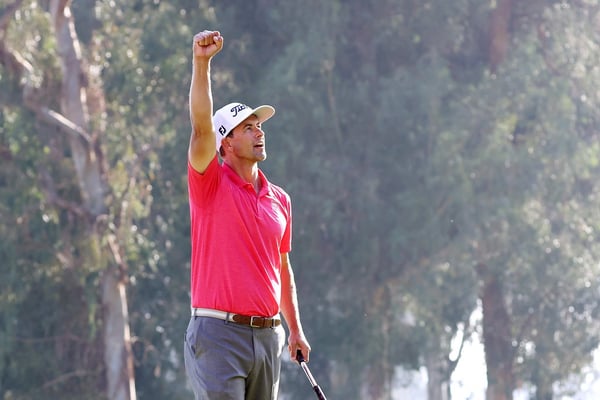 Image Source: Getty Images
It's been awhile since Adam Scott (Titleist Pro V1) ruled the golf world.
His victory in the Genesis Invitational last week was his first on the PGA Tour in almost four years going back to the WGC-Cadillac Championship in March, 2016.
The Aussie made a name for himself winning the 2013 Masters, his only major victory to date, and was the top-ranked golfer in the world for a few months in 2014. He made all 17 cuts and won more than $4 million.
In 2015 he didn't post any top-three finishes and earned only $1.3 million. He rebounded the next season, winning two of 20 tournaments and survived all of the cuts, winning more than $6.4 million.
In 2016, he made all 20 cuts, won twice, finished second twice and won in excess of $6 million. That was also the year the PGA banned anchored putters. Scott uses a long putter, but doesn't anchor it against his body, so clearly the rule change did not affect him.
In 2017, however, he did not finish in the top three in 16 tournaments, and made the cut 13 of 16 times, times. His total earnings were slightly more than $1.6 million. He and his celebrated their second child. Perhaps that's why he had a shortened schedule, playing a few less tournaments.
In 2018, he had a third-place finish in his best result and three top-10 finishes. He made 18 of 21 cuts and earned in excess of $2.2 million.
Last year, he had two seconds – the Farmers Open and Memorial Tournament – in 18 tournaments and made the cut in 14 of them. He earned in excess of $4 million.
His totals this season are five tournaments with one victory. He's made the cut in each and has earnings of almost $2 million.
Now it looks like Adam Scott is back. Is there any reason for the dropoff? When good athletes go into a slump it usually comes down to one thing: confidence. The mental aspect for high-performance athletes means everything.
The numbers clearly indicate his performance levels have been on the rise in recent years. The Genesis Invitational included nine of the top-10 players in the world and he repelled challenges from Matt Kuchar (Bridgestone Tour B X5), Rory McIlroy (TaylorMade TP5x) and Dustin Johnson (TaylorMade TP5x).
When asked about starting to overcome his slump in May, 2018 following a decent outing in the Players Championship, he was quoted as saying: "I have to back it up. I need three or four good weeks in a row now, but you can't have three or four good weeks in a row without the first one."
One factor may be working with Bradley Hughes, who is considered one of the premier coaches at the PGA level.
Scott turns 40 this year and has been told he has to take advantage of his 10 years remaining on the PGA Tour because of the young lions pushing the older players.
"There's far less dominant players in their 40s than there was before," he said after his win. "I've got to make the most of it while I'm out here. It's only going to get harder probably."
GOOD FINISH FOR KANG: Sung Kang (Titleist Pro V1x) finished second in the Genesis Invitational, his best finish since winning the AT&T Byron Nelson last year, which represented his first PGA victory. The native of Korea is annually one of the busiest players on the tour. Last year he played in 27 tournaments, 29 in 2018 and 32 in 2017. He's already played in 11 this year.