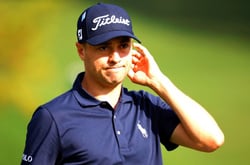 When the world reacted to the car accident of Tiger Woods (Bridgestone Tour B XS), I couldn't help but be moved by the thoughts and comments from his fellow players on the PGA Tour, in particular Justin Thomas (Titleist Pro V1x).
Thomas was clearly emotional when talking to the media before the start of Thursday's WGC Workday Championship at The Concession.
"I'm sick to my stomach," he said. "It hurts to see one of my closest friends get into an accident. Man, I just hope he's all right. I just worry for his kids. I'm sure they will struggle."
It's been an emotional few weeks for Thomas. Early Sunday morning on February 8 on the final round of the Waste Management Phoenix Open, his paternal grandfather, Paul Thomas, passed away at age 89. Justin decided to complete the tournament in which he was clearly in contention starting the round at 14-under par, shooting a 64 and a 65 the previous two days after opening with a 70, but posted a score of 1-over par and finished tied for 13th. He had a strained look on his face throughout the day. Whatever he was feeling was unknown because he didn't speak to the media afterward. His father, Mike, was there and embraced his son while walking to the scorer's tent.
Justin posted a tribute to his grandfather on Instagram a day later.
"Heaven got a good one yesterday," he wrote. "Wish you were still here to tell me how many putts I missed on days like yesterday. Nobody's voice would make me happier when I would hear it over the phone. Will love you and miss you, GP."
He skipped the AT&T Pebble Beach tournament the next week and returned for the Genesis Invitational but failed to make the cut. If he was struggling emotionally and mentally, that would have been understandable, although there were several notable stars who didn't qualify for the final 36 holes, including Rory McIlroy (TaylorMade TP5x), Bryson DeChambeau (Bridgestone Tour B XS), Bubba Watson (Titleist Pro V1x), Hideki Matsuyama (Srixon Z-Star XV) and Gary Woodland (Bridgestone Tour B X). The windy conditions, especially in the third round in which play was suspended for four hours and forced a carryover to Sunday, and the crazy greens played mind games with all the competitors. So, even the ones that made it through to the final were surviving on desperation and luck. Dustin Johnson (TaylorMade TP5x) never got untracked and was probably glad to leave.
Thomas wasn't even around to see Woods make the trophy presentation to Max Homa (Titleist Pro V1), who idolized Tiger growing up. Homa created a lifelong memory winning on his home course. It couldn't have worked out any better for Homa.
And then less than 48 hours the sports world and, to an even great extent, the world was stunned by Woods' accident. Who knows if he will ever golf again because of the severe leg injuries he suffered?
Thomas had a solid second round in the WGC Workday Championship and is in red figures. If he wins, it will surely be emotional, likely the most of any tournament he's even won, something to dedicate to his grandfather and his close friend.