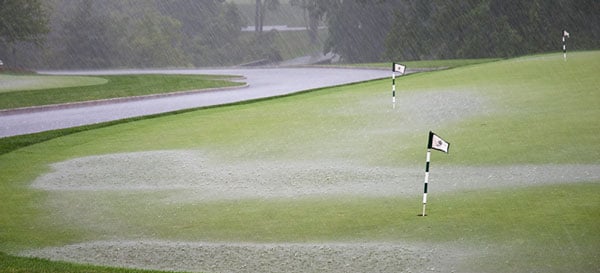 A funny thing happened to me on the way to a golf game a few days ago – it had to be called off because of rain. In one of the hottest and driest summers on record, I just happened to pick a day in which it rained.
On the one hand, I felt disappointed because if you're a golfer there's nothing worse than getting excited about getting out on the course, only to find out rain ruins it.
As bad as I felt about having to take a rain check, I also felt good because I have to believe it has been a trying season for golf course operators, who have probably had to work extra hard to prevent their courses from drying up. There's only so much sprinkling you can do.
Golf course operators are very particular about the management and upkeep of their property. It is a daily job that is often a balancing act to make their members happy, while also having to deal with things out of their control.
There can be situations in which there is too much rain or not enough of it.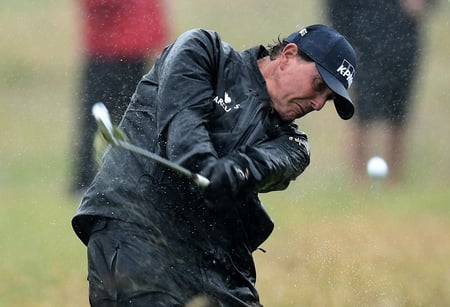 Photo cred: http://www.golfdigest.com/
It's been an interesting season on the men's and ladies' professional circuit in terms of how rain has played a factor. In the British Open, players had to play through rain and wind on the second day which is par for the course – pun intended – when it comes to that particular tournament. Players at the elite level are mentally prepared to deal with this situation, particularly in the British Open.
The U.S. Open became more about the weather, specifically the rain. Many players hadn't even completed their second round of play on Saturday, forcing a compacted schedule for the weekend. So, many players didn't even know at the start of Saturday play whether they would even make the cut. And those who did had to turn around and play a full 18 holes.
Some people love nothing more than to play as many as 36 holes in one day, but it's one thing to do it for fun; it's quite another thing to do it when there's huge money at stake, particularly in a major.
Back in 2009, I was planning to go with my son to watch the final round of the Canadian Open at Glen Abbey because we had been given tickets, but we decided against it because rain started to come down in heavy sheets. I was trying to imagine what was happening at the Abbey, only a 45-minute drive from my home, thinking what the conditions would be like for not only the golfers, but the fans, too.
Mike Weir had an incredibly funny line.
"Instead of reading the green, you have to read the current," he said.
The final day had to be postponed and moved to the next day.
That's the good thing about life on the pro tour: The tournament officials will do everything possible to make the course playable. But if rain makes it unsafe or compromises the players' ability, the round can be made up the following day.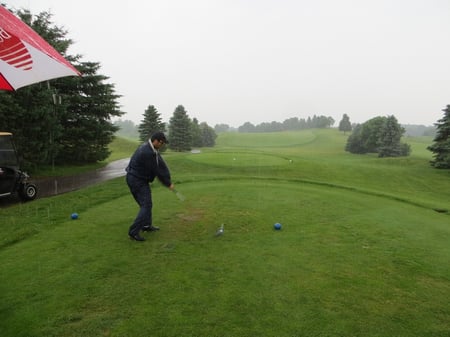 Photo cred: http://kristaziogolf.blogspot.com/
There's another thing about rain: It can totally change the way the game is played. If a course is neatly manicured and the greens as slick as a billboard table, it can make it awfully difficult to hold a ball. But if there is enough moisture in the ground, players know the ball will not have much of a bounce factor. As always, it makes for an interesting decision when it comes to club selection.
Purely from watching it on TV, it makes it far more interesting to see the players trying to overcome the elements. Then again, if you picture yourself in the same situation, how comfortable would you feel?
Round One of the Canadian Women's Open last week had to be delayed by almost three hours because of rain. Some of the players had just come from playing at the 2016 Summer Olympics in Rio de Janeiro, in which rain really wasn't a factor (ironically it poured during the closing ceremonies).
So, in summation, a little bit of rain is not a bad thing for golf courses, particularly this summer which will be remembered for being one of the driest on record. Too much can ruin a day of golf, which just happened to be my experience. I just had to laugh about it all. Any golf course operators that had to rearrange their schedules because of the rain, either pushing back start times or simply offering rain checks, were probably overjoyed. More than likely they had been doing a rain dance and had their prayers answered.
---
This post was originally published by Knetgolf on August 31, 2016. Knetgolf was acquired by LostGolfBalls.