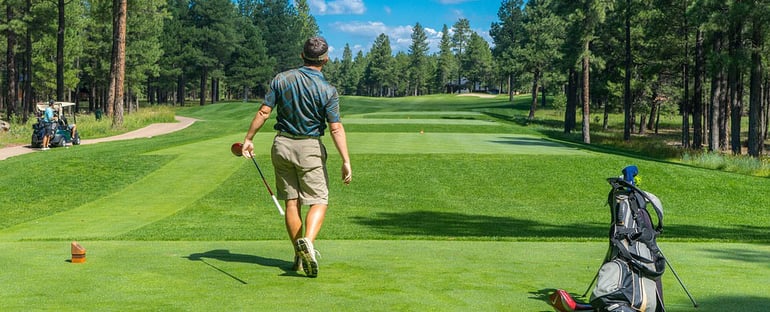 If 2017 told us anything about the world of golf, it was that pro golfers can get just as wild and crazy as basketball players. Check out five of the wildest (and most serious) golf trends expected to change up the game in 2018.
Glow-in-the-Dark Golf Balls
One of the quirkiest-sounding trends of 2018 seems more like something that would be a hit at the mini golf putting course down the street, rather than at a professional course. Yet glow-in-the-dark golf balls offer more benefits than one might first imagine.
These balls offer players the opportunity to play at dusk and in the dark. Golf is no longer simply a sport that is pigeonholed to daytime play. Of course, you'll also need a course that promotes this type of nighttime activity with glow-in-the-dark flags. Luckily, sand traps practically glow in the dark on their own at night.
Srixon Fourth Generation Q-Star
In all seriousness, 2018 will bring plenty of opportunities to get more precise about your golf game, too. One way golfers are already taking their game to the next level is with the Srixon Fourth Generation Q-Star ball that premiered at the PGA show in Las Vegas back in 2017.
According to Golf News Net, "The next generation of Q-Star features a lower-compression Energetic Gradient Growth core, which has variable stiffness and firmness to deliver the proper feel and distance control for each shot type. A more efficient 338 Aerodynamic Speed Dimple pattern has been designed to offer more control and predictability in the wind."
Although not completely new to 2018, this ball is still expected to trend throughout the year. Click here to review user feedbacks or buy Srixon Q-Star.
Wild Child Golf Shoes
Golf shoes are also expected to get a little wilder in 2018. In fact, 2017 also taught us that golfers can get just as freaky with their shoes as basketball players can.
Both Michelle Wie and Lexi Thompson let their American flags fly at the Solheim Cup last year with patriotic shoes.
On the men's side, Air Jordans are expected to enter the golf scene (although whether or not they dominate golf as much as basketball is yet to be seen).
Golf Tech
You can't talk about golf trends without talking about the tech that continues to transform the game each year. From swing analyzers to wearable tech, 2017 allowed us to take the game one step further. Artificial intelligence even made an appearance on the course in May 2017.
This year, experts say you should watch out for smartphone apps to enhance your game. You may not see robots replacing caddies this year, but your app might well be taking over a few of your caddy's responsibilities.
Cardiovascular Golf
Golf has developed a bit of a reputation for being a non-cardiovascular sport over the years. After all, the amount of movement required to play a round of golf doesn't provide the cardiovascular benefits that a sport like basketball might provide.

The New York Times even reported that "Golf doesn't provide much of a workout. Especially if you use a cart to transport yourself around the course." Even walking offers substantially more cardiovascular benefits than golf.
Yet 2018 might change all of that. This year, golf that incorporates more cardiovascular activity is supposed to be a big fad on courses all over the United States.