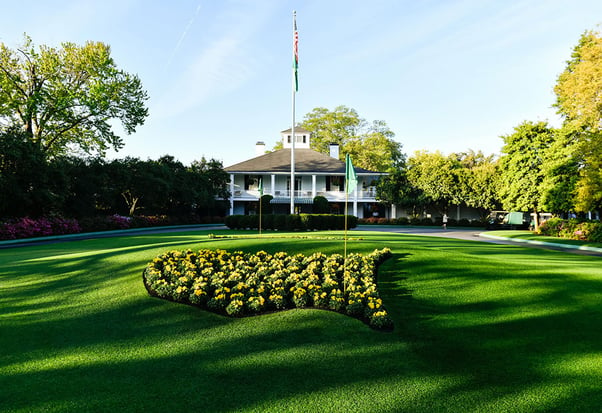 Image Source: Augusta.com
Befitting the crazy world of sports and golf in particular this year, the 2020 Masters has played out in a way that no one expected. Mother Nature, in the form of rain, delayed the opening round and effectively created a situation in which the cut won't be known until Saturday morning when all the golfers have finished playing 36 holes.
The projected cut was expected to be even par – in other years it has been about two-over-par – because of a series of things. Augusta National isn't baring its teeth as in past years when the tournament is played in April and the course and the greens are largely unforgiving. Because of the rain, balls have generally landed in place without much rolling. Essentially that means the players could "stick" their shots without losing them because the balls picked up speed.
Fifty-year-old Phil Mickelson (Callaway Chrome Soft X), who began playing the Champions Tour this year, is turning back the clock. The three-time Masters winner is five-under-par through the first 36 holes and that's rather impressive.
Tiger Woods (Bridgestone Tour B XS) is at four-under-par with eight holes still remaining in his second round. Barring the unexpected, Tiger will make the cut to at least have a chance to defend his memorable and emotional victory last year. Will he win it again? It will be really hard because the top players going into the tournament are hovering at the top.
Even 63-year-old Bernhard Langer (Titleist Pro V1), winner of the Masters in 1985 and 1993, has made it through at three-under-par.
Bryson DeChambeau (Bridgestone Tour B X) enters Saturday one-over-par with six holes to play. Imagine if he didn't make the cut? Aside from being a major embarrassment, it will prove that being able to drive the ball 350-plus yards doesn't mean anything if it isn't straight and luck isn't on your side. DeChambeau played poorly in the opening round, but still scraped together a two-under-par score. He felt he could improve upon that on Friday, but was largely struggling and scuffling.
I believe Bryson is the most negatively-impacted player in the tournament because his whole routine – eating, practicing, filling up with protein shakes and energy snacks – has been thrown out of kilter because of the rain delay. Mentally he is struggling with confidence. Look, DeChambeau has changed the game with his power and theories on diet and exercise, but it all comes down to shots. When Champion Tour players such as Langer and Mickelson have survived the cut and 47-year-old Lee Westwood (Titleist Pro V1x), playing in his 19th Masters, has a two-under-par score after 13 holes, it tells you that Augusta National this year isn't about long bombs off the tee. It's limiting mistakes.
World number one Dustin Johnson (TaylorMade TP5x), who entered the tournament as one of the favorites, is in a four-way tie for first at nine-under-par. Included in that group is Justin Thomas (Titleist Pro V1x), ranked third in the world. Mexico's Abraham Ancer (Titleist Pro V1x) and South Africa's Cameron Smith (Titleist Pro V1x) round out the group.
World number two Jon Rahm (TaylorMade TP5) is one shot back at eight-under-par with six holes to play in his second round. I picked Rahm to win the tournament in my blog earlier this week.
Rory McIlroy (TaylorMade TP5x) carded a six-under-par in his second round to enter the weekend at three-under-par. At various stages in the first two rounds, he looked hopelessly frustrated, but he started to put it together on the back nine. Sentimentally, there are many people who will be cheering for him to win. The Masters is the only major he hasn't won. And given the fact he became a father this year for the first time, winning the tournament would be extra special. It would also create an ending for the ages.
The Masters, being played for the first time and possibly only time in November and without any crowds, has transpired into exactly what everyone had hoped for – something totally different. It has had plenty of excitement.
There are still many holes to be played and if the course dries up, the conditions will be much more difficult. This year's Masters could turn into one of the most interesting of all.