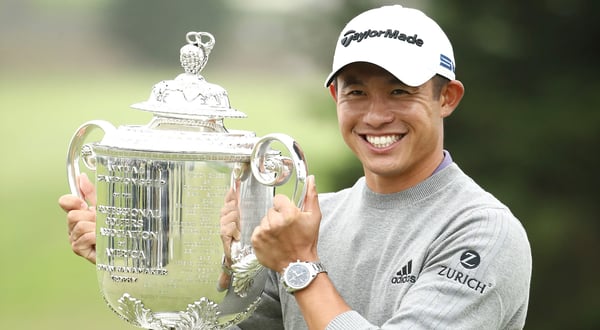 In this crazy world of sports turned upside down by the coronavirus, the golf world couldn't be happier by how things have evolved for its sport, particularly the PGA Tour.
Criticized for its initial decision to continue the Players Championship after the first round, PGA Commissioner Jay Monahan reversed his thought process and put the tour on indefinite hold and then rejigged the schedule.
Put on hold for 91 days, the PGA Tour has done everything right in its return, placing a priority on safety for players and fans, and ultimately resuming play without incident. Compared to some other sports, notably Major League Baseball, the PGA has shown what can be done with some careful planning.
And perhaps the golfing gods have rewarded the PGA with some fascinating finishes in the tournaments that have taken place since the resumption of the tour, none more so than the PGA Championship, the first major of the season.
All the big stars were there, 20 somethings and 40 somethings, 50 if you include Phil Mickelson (Chrome Soft X). Tiger Woods (Bridgestone Tour B XS) is still the drawing card and he managed to survive the cut, but his putting failed him in the third round. Still, he is a battler.
At one point, seven players were tied for the lead midway on the final back nine of the tournament at TPC Harding Park in San Francisco. It is quite likely there has never been that many tied at one time in any notable tournament, certainly in a major. So diehard Tiger fans had to be disappointed he wasn't in the hunt, but true fans of the sport had to be overjoyed seeing the developments in the final few holes. It was only on the 16th hole when eventual winner Collin Morikawa (TaylorMade TP5) drove the green and recorded an eagle with an eight-foot putt that there was some separation. The drive was one for the ages. No individual has been more impactful on the PGA Tour since its resumption than Morikawa. He is one of several recent graduates from the National Collegiate Athletic Association to make the leap to the pros and record immediate success. The fact he won his first major in only his second try at the tender age of 23 says something about his talent. He became the third youngest to win the tournament since it became stroke play in 1958. He has a classic swing and can still drive the ball 300-plus yards. Is he the next Tiger? I think it's way too early to say because there is so much talent on the PGA Tour. Tiger dominated his competition. This current generation isn't nearly as separated by one player.
A few other thoughts:
My tournament pick, Xander Schauffele (Chrome Soft X) finished tied for 10th. I kept hoping for a miracle on the final day. He shot a three-under. Darn it.
Bryson DeChambeau (Bridgestone Tour B X) made a run of it, finishing tied for fourth with a final round of four-under. He kept his drives in the fairway, and with a little bit of luck on his putts, he could have won it. After his third round was completed, he said in an interview he hoped people would try to understand what he is doing for the game. I get how some people, even on the tour, think he's a mad scientist. But he is an interesting guy. And he has some competition for the longest drives on tour, principally Cameron Champ (Srixon Z-Star). If Champ ever wins a major, you just know the headline will be Cameron Is The Champ.
Matthew Wolff (TaylorMade TP5), who finished in a five-way tie for fourth, has one of the funkiest body movements before and during his swings. It is the complete opposite of Murikawa in terms of perfect technique. But if it works – and so far it has early in his pro career – you can't argue with it. It was amusing how Sir Nick Faldo used the line Hungry Like The Wolf, the song by Duran Duran, to reference Wolff while he was in contention. Wonder how many people who weren't born in the '80s picked up on his reference? I did and thought it wasn't bad.
I thought it was poor form when Brooks Koepka (Titleist Pro V1x), looking to win his third consecutive PGA Championship, said Dustin Johnson (TaylorMade TP5x), who had the lead going into the final round, wouldn't win because he has only won one major. Rory McIlroy (TaylorMade TP5) was particularly put off by the remark. He was not alone in that thinking. Johnson is one of the greatest players of his generation, with a win on the PGA tour in 13 consecutive years. He's a future Hall of Famer who will not be judged on what he did or didn't do in majors. I actually thought Koepka and Johnson were buddies who worked out together. Perhaps Koepka can say it because of what he's done in majors. If there is such a thing as bulletin board material in golf, that was it. I think with that one remark he has taken over from Bryson as the number one bad guy on the PGA Tour. By the way, Bryson's initials are BAD. Insert your own comment.
Mickelson was quite impressive when he joined the broadcast on Saturday after his round. His was on point with some of his descriptions and his jokes, one of which went completely over Faldo's head. Don't think Phil is ready to retire from professional golf, even at age 50, because he still has game. He created The Match and The Match II, both of which were a success, and that speaks wonders about his creativity on and off the course. And I love his expression "would've been a tasty one" to describe some golden opportunities.