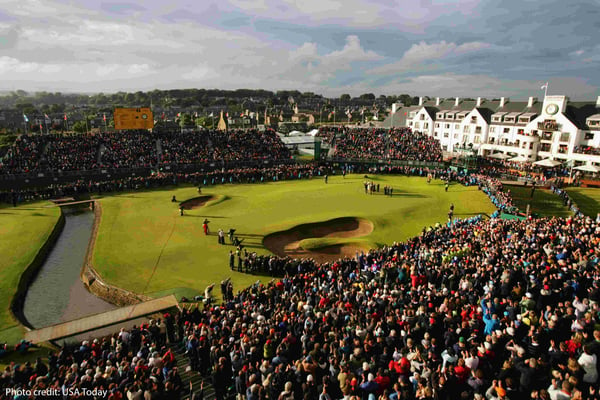 Okay, here we go again.
The British Open – or The Open for you traditionalists – starts Thursday in Scotland at Carnoustie, the eighth time the course dubbed Carnasty has played host to the tournament and expect some craziness.
That's what the Open is – a test for the golfers against the elements – wind, rain, cold and possibly a combination of all three at the same time.
All that is known ahead of time, and the golfers will accept that.
It's not going to be as nutty as it is at the U.S. Open, where the United States Golf Association deliberately sets up the course to make it tough for the golfers to make par.
Think back to what happened a few weeks ago.
The Open will attract the best in the game. Yes, Tiger Woods (Bridgestone TourB XS) is back in the tournament and he feels good about his chances. As I've repeatedly stated, he has done exceptionally well in his return playing full-time, but I don't believe he will win a Major – not this year anyway, especially when there are only two left. I still think he will win a tournament when the field isn't as loaded with the best in the game. Look, if he wins, watch out – it's the story of the year in sports. Yes, LeBron James' move from Cleveland to Los Angeles is big. And, yes, Cristiano Ronaldo's move from Real Madrid to Juventus is also big.
But is there any athlete on the planet who has a bigger profile than Tiger? You don't have to be a golf fan to appreciate his star status.
I'll leave the basketball and soccer purists to agree to disagree with my thoughts.
But back to The Open.
As usual, Dustin Johnson (TaylorMade TP5x) is pegged as the favorite. Given that he's top-ranked player in the world, that is understandable. After the putting hell he went through at the U.S. Open, the British Open probably won't be daunting.
That said, I don't like picking the obvious choice to win.
And I don't pick the players I liked in the previous Major, so automatically that excludes Rickie Fowler (Titleist Pro V1) and Tommy Fleetwood (Titleist Pro V1x). Oh, but the Englishman was close in the U.S. Open with that sizzling final round and I'm sure the Brit will get lots of attention playing close to his geographical home.
As for Phil Mickelson (Callaway Chrome Soft X), sorry. Bad karma has been hounding him too much of late.
I know Rory McIlroy (TaylorMade TP5x) will also get attention, and he's already proven himself in this tournament, along with Justin Rose (TaylorMade TP5x), Jason Day (TaylorMade TP5x) and Justin Thomas (Titleist Pro V1x).
Jordan Spieth (Titleist Pro V1x) is the defending champion, but he's been going through a season of hell.
Brooks Koepka (Titleist Pro V1x) is the hot choice based on the way he played to win the U.S. Open again, so if you're looking for the now golfer, he's it.
But I'm going shopping as I usually do and here are my three picks: England's Paul Casey (Titleist Pro V1) and Ian Poulter (Titleist Pro V1x), and Sweden's Alex Noren (Callaway Chrome Soft X). If either Casey or Poulter wins, they will be immediately knighted. Okay, I'm joking, but it would be huge if it happened. With Casey, I am breaking one of my rules to not pick someone I have picked previously to win a Major in the same year. I had him winning the Masters and I was feeling good until he blew up in the third round, although he did finish strongly in the final round. It was too little, too late for me. He has one win, one second and five top-10 finishes this year and has made the cut in 12 of 13 tournaments. He is ranked 12th in the FedEx Cup standings.
Poulter has really turned around his game this season because he's healthy and motivated. He has won one tournament this season and has three top-10 finishes. He has made the cut in 11 of 13 tournaments and is ranked 34th on the FedEx Cup standings. Hey, at the very least he'll have the best hair in the tournament, notwithstanding Fleetwood.
Noren has played in 12 events this year and has made the cut in 10. He has a second, two thirds and three top-10 finishes. He hasn't done much in his last four tournaments, missing the cut twice and finishing 17th and 25th respectively in his last two, which is the reason I'm placing him below the other two. He's currently 31st on the FedEx Cup rankings.
As usual, I wish you well on your picks and hope that mine do well, in particular the Brits. If it's Fleetwood, well, I guess I was a tournament too early.