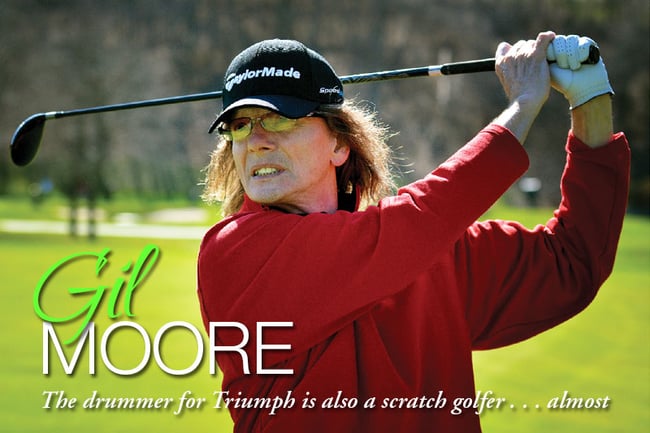 Many famous musicians also happen to be avid golfers.
Probably the most famous one of all is Alice Cooper, who wrote about it in his book: Alice Cooper, Golf Monster: A Rock 'n' Roller's Life and 12 Steps to Becoming a Golf Addict.
Some other high-profile musicians include: Kenny G., Justin Timberlake, Snoop Dogg and Adam Levine.
To try to understand what it is about the game of golf that attracts musicians, I asked Gil Moore, who was the drummer for Triumph, a Canadian-based rock and roll band that hit it big in the U.S., beginning in Texas in the mid-70s and went on to play in some major international gigs, including the US Festival in California in 1983. Triumph was part of Heavy Metal Day that included acts such as Judas Priest, Quiet Riot, Ozzy Osbourne, Scorpion, Van Halen and Motley Crue.
Moore, now 59, retired from his full-time career as a musician in the 90s to concentrate on his sound and recording company, Metalworks. The Mississauga, Ontario, Canada-based studio has attracted some of the best musicians in the world, including the likes of Drake, Lil Wayne, Katy Perry, Jonas Brothers, Bruce Springsteen, Guns And Roses, Rush, Tina Turner and Christina Aguilera, to name a few.
Moore played golf growing up, abandoned it to pursue his musical career, and embraced the game again when Triumph started to tour on a full-time basis in his mid-20s.
"Because of the stress of the road, I started to play again just to kind of get away from Triumph," he says. "It really serves that purpose, even today. I play to get away from Metalworks and all the hubbub and the intensity of the music and entertainment business. That's what it was for me. That's what does it.
"For musicians, it's almost the antithesis of what (everyday people) would think. You get out there and it really takes you away from this intense business and it gets you into an environment that is the complete opposite to the one you're accustomed to. I think there's really a connection (between musicians and golf), there's no doubt about it, especially in rock…It's funny how life goes full circle. When I was a kid, one of the reasons I quit playing was because all the guys I was hanging around with in my band were growing our hair long and stuff, which was not really cool at the country clubs back then. Now I feel like musicians get special treatment. Everywhere I go, especially if I'm playing with a bunch of (other musicians), we get great treatment because the guys running the pro shop or the clubhouse are great music fans."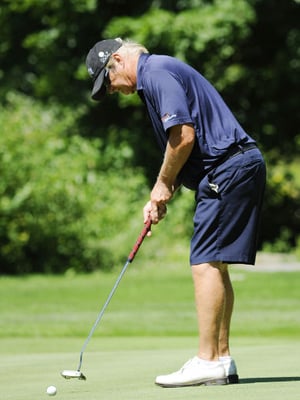 Tom Cochrane focusing on sinking a putt.
Photo Cred: CLIFFORD SKARSTEDT/PETERBOROUGH EXAMINER/QMI AGENCY
Once a year, he and Tom Cochrane, famous for his song Life Is A Highway, and Rush guitarist Alex Lifeson go away on a golf vacation. They have played on some of the most famous courses throughout the world.
So how good is Moore?
"Everyone calls me a scratch golfer. The number of scratch golfers is few and far between," he says. "Scratch essentially means you have a zero handicap. My handicap vacillates. It's never been lower than three and never been higher than six, and most of the time it's between four and five. To be scratch or zero, that's a phenomenal accomplishment. I'd love to be scratch, but I'm not."
He developed his game studying golf books, in particular one his father purchased for him, the Ben Hogan bible Five Lessons: The Fundamentals Of Golf.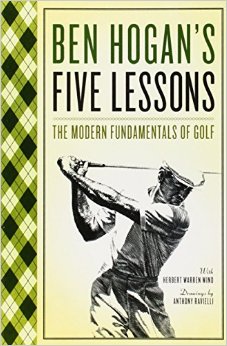 "I don't think there's a golf pro in the world that hasn't read that book from cover to cover," he says. "My Dad inscribed it, 'Consult Ben often. Ben can be your best friend on the golf course, Love Dad.'
"To whatever that level was, I was a natural. I just figured it out by reading Ben Hogan's book and swinging the club, and that was it. Look at Bubba Watson, he's one of the best golfers in the world and he doesn't have a swing coach."
---
This post was originally published by Knetgolf on August 9, 2016. Knetgolf was acquired by LostGolfBalls.