It was about six o'clock in the morning. The sun had not yet risen, but there were already a thousand people in line. In the darkness of jittery anticipation, the headlights of a bus rounded the corner. It had come to take the crowd of avid golf fans, including the winner of a pair of two-day tickets, to the big tents and an immaculate course–the Valhalla Golf Club in Louisville, Kentucky for the 2014 PGA Championship.

Our famous sweepstakes has awarded great prizes such as a new TaylorMade SLDR driver and three wood and a pair of Sunday passes to the Masters Tournament. Today though was Bill's turn. A few days shy of his birthday, he won a pair two-day tickets to the PGA Championship, the season's last major.
Bill made the nearly 400-mile trip to Louisville from Missouri with his stepson Jacob, a 16-year old high school golfer to see their first round of professional golf in person. Bill's only experience was watching the first day of practice for a professional golf tournament in 1993. Even with trips to the World Series and playoff football games under his belt, Bill assures his experience at the PGA to be the best event he had ever been to.
With only two days to get the full scope of the tournament, Bill and Jacob devised a plan to stick to the back nine on day one and the front nine on day two. At one hole they were just six rows from the teebox. Bill and Jacob were awestruck watching golf super stars such as Tiger Woods, Phil Mickelson, Rory Mcllory, Tom Watson, Thomas Bjorn, and Kevin Stadler. After the excitement on Thursday, they couldn't help but play a quick round of golf near the hotel.
On Friday, they woke up to a relentless rainstorm, but they didn't let that rain on their parade. No, they seized the opportunity to walk every hole of the front nine while it was free of people and enjoyed first row position at the practice range and the putting green.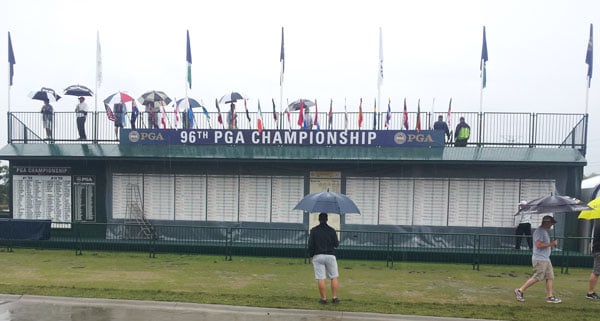 At Valhalla, three holes caught Bill's eye in particular: thirteen, sixteen, and seventeen. The famous thirteenth hole, "The Island," is signature to the course and features an island green on the rocks. The sixteenth hole, "Down the Stretch," is the longest par-4, and number seventeen involves a steep hill, earning itself the nickname "No Mercy." When it comes to favorite players, Bill and Jacob were impressed by Tiger Woods. To them, he was the pinnacle of both mental and physical athleticism. However, Woods, Bjorn, and Stadler all showed they were still human with missed shots. Bill and Jacob were surprised to hear "nice shot" from player to player every now-and-then, and Ricky Fowler even fist-bumped Phil Mickelson.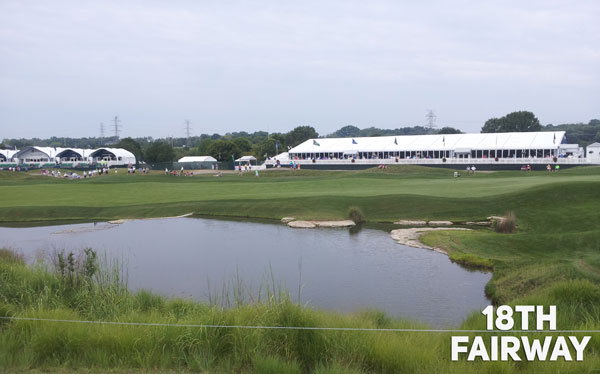 What was Bill's best piece of advice to anyone who might be attending a future major event? Come up with a plan ahead of time and stick to it. That way, you will not get tired from wandering around, avoid the crowds, and make the most out of your experience.
Today, Bill's favorite golf ball is the Titleist Velocity because it is good around the green with only two pieces, and he is also a fan of Callaway. He trusts his personal golfing experience on the course to Lost Golf Balls. It doesn't rain golf balls here (per se), but we do have the 2014 Titleist Velocity and many others in stock now.
Summary
Just a few days before his birthday, Bill of Missouri won a trip to the 2014 PGA Championship courtesy of a Lost Golf Balls sweepstakes—what he called the "best birthday present ever." Gift yourself and the environment with a recycled golf ball.