We've always believed at Lost Golf Balls that starting every hole with a new ball is nonsensical, not to mention expensive. We've been passionately using our recycled golf balls for years (here's a link to some of our personal favorites) and never noticed a difference between the recycled and new. However, not everyone believes this, so we wanted empirical data to back it up.
We put them to the test. We sent some of our best-selling golf balls to an independent testing facility to have them compared to brand new ones.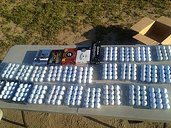 They were tested with two of the best-selling clubs, a Taylor Made™ R9™ driver and a Ping™ G20™ seven-iron. The tests were conducted at an industry-leading facility using a Robotic Golf Swing Device and a TrackMan Launch Monitor®. The driver was dialed-in at 95 mph and the seven-iron at 83 mph, both industry-research standards for an average golfer. Eight different models of Lost Golf Balls recycled golf balls, rated 5A or 4A, were tested ten times each against their fresh-out-of-the-box counterparts.
The testing took place in San Diego. So, the weather was pretty much perfect: Mid 60's, sunny, and wind that ranged from 0-14 mph, with each shot taken directly into it. Of course, we, golfers, only wish every round was played in this kind of weather, but it did provide a consistent environment for our testing.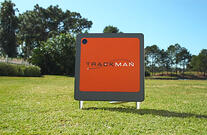 The results? Just what we had figured. The data collected at this independent, industry-leading facility led us to conclude that there was very little difference, if any, between brand new, out-of-the-box golf balls and the recycled ones that had passed our rigorous quality standards. In fact, some even had more distance.
Click here to view testing results!
We can't speak for anyone else, but it has been proven to us that the recycled golf balls we sell at Lost Golf Balls consistently perform at the level of brand new ones. We believe it is our quality control check points (video) and our self-controlled annual supply of over 40,000,000 of the best-of-the-best in recycled golf balls that allow us to do this and make us an industry leader.
Above all though, beyond the data and processes, it's our brand promise that we believe in most. We take pride in everything we do and are passionate about golf. We respect the game and would never want to deliver anything but the best to our fellow golfers. That's always been our promise and what we've been doing all along, but now we have the independent research to prove it
Check out the top-quality and always in-stock selection of Lost Golf Balls and save money without losing performance.