Golf balls. Millions and millions and millions of golf balls…
Lost Golf Balls sorts around 40,000,000 golf balls a year. How do we do this, you ask? Easy. We kidnap PGA professionals from golf courses around the country and force them to sort, inspect, and hand-shine each and every golf ball.
They work 24 hours-a-day, 7 days a week surviving on an I.V. of sugar, caffeine, and water until they eventually lose their minds. If they work too slowly, we force them to watch Charles Barkley's golf swing (https://www.youtube.com/watch?v=NxLkEPb5DzI) over and over again for an hour. It usually only takes one "session" for them to learn their lesson.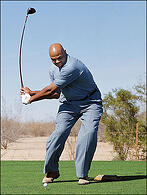 None of this is true. We actually have a very sophisticated system for sorting, inspecting, and choosing only the finest quality golf balls. It takes a team of very dedicated, hard-working people to make it all happen.
To start, each golf ball is cleaned using our proprietary cleaning process and then spends a day drying in a bin with around 23,000 of its closest friends.
Once that step is complete, multiple batches of golf balls are put into groupings; some with as many as 200,000. This is where the hand-sorting process begins. Hand-sorting gives us very precise control over what golf balls make it out of our sorting area, to our packaging center, onto our website, and then into your bag. And we are very picky.
Each specimen goes into one of twenty-six categories. Once 600 golf balls of a general category have been accumulated, they are then transferred to our Octopus Sorting station. Here, the golf balls are sorted into even more specific categories. After this stage, they take a journey, via tube, to a crate to be sorted yet again.
It is during this granular sorting step that we separate the golf balls by brand, model, and quality. For example, what came in as an anonymous white speck among a huge heap of 200,000 other anonymous white specks is now a AAAA Titleist NXT Tour 2012. It's quite amazing, really. But it's our process and our people which make the difference.
The sorting takes place from 7:00 a.m. to 3:30 p.m. five days a week. During that time, we sort approximately 367 golf balls a minute. That means we sort about 22,000 an hour and around 165,000 (our employees get an hour lunch) every single working day. The most golf balls we've sorted in a single day is 220,000.
If Titleist Pro V1's are what you're looking for, Lost Golf Balls has a special place for those. Of our sixteen sorters, four of them work specifically on Pro V1's. We sort around 25,000 of them a day and they make up around 15% of our total inventory. Now you know why we have such outstanding quality and selection when it comes to the number one ball in golf.
The sorting process we've just described may seem quite complex. It is, actually. But it has to be.
There is no other way to ensure that we provide our fellow golfers with nothing but the top-quality, brand name golf balls they've come to expect from Lost Golf Balls.