Updated 2/28/17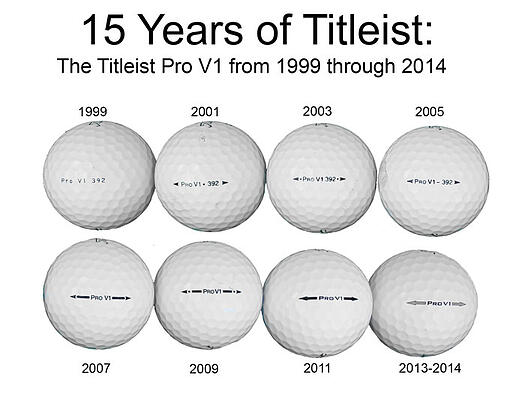 SUMMARY: The history and technology of the Titleist ProV1—and how to know whether it's the right ball for your game.
A vast majority of the golfing population knows the Titleist Pro V1 is the number one ball in golf.
Heck, even some non-golfers know about the Pro V1. Maybe that's because they hear their significant others talk about golf all day long—but that's neither here nor there. (And, as you already know, the LostGolfBalls customer service team is heavy on Titleist Pro V1 fans.)
So you've heard about it, and you wonder: How does this ball factor into my game—or should it?
The History of the Pro V1
In 1932, Phil W. Young was playing a round of golf when he missed a well stroked putt during the course of play. A graduate of the Massachusetts Institute of Technology, Paul used science and, more specifically, a dentist's x-ray machine, to get to the bottom of the errant putt. He came to find out that the core was not properly centered. Soon after this discovery, he partnered with three other men to found the Acushnet Process Company. Three years later, it introduced its first golf ball, branded Titleist.
While technology and golf boomed in the '90s, manufacturers scrambled for the next big thing. At that time, you had balata and wound golf balls with liquid centers for performance and control to aid the above average player. In addition, there were two-piece solid core golf balls for distance and durability for the weekend warrior. Engineers at Titleist began to try to meld these two golf-ball worlds together!
After many years and countless prototypes, one model kept rising to the top with PGA Tour professionals at the Acushnet, Massachusetts, testing facility. In the summer of 2000, one hundred Tour professionals were given the ball to sample on the range and during practice rounds. The feedback: Titleist had hit on something that no one had seen before.
In the fall of 2000, Titleist officially introduced the ball and forty-seven players leaped at the opportunity to put it in play. They called the ball "ProV1;" the "Pro" stands for "professional," the "V" stands for "veneer," and the numeral 1 signifies its standing as the first of its kind. Using the new Titleist ball, Billy Andrade, ranked 159th on the Tour at the time, won the Invensys Classic in Las Vegas.
The landscape of golf was forever changed.
Check Out The Pro V1 Page Below