A ladybug on your golf club, a four-leaf clover in the rough, and a horseshoe-shaped green. Would you take these as signs of good things to come on the course? How much luck is there really behind these 5 incredible shots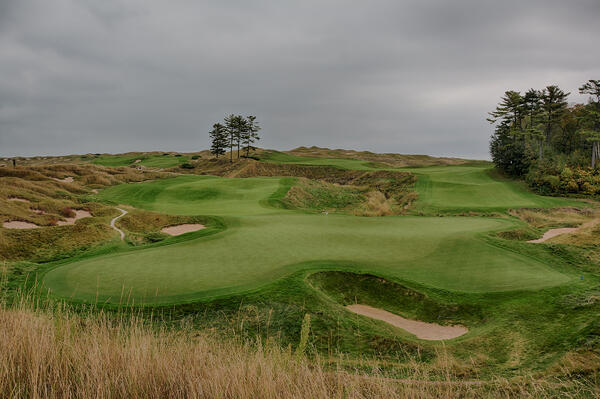 Image Source: http://breakingeighty.com
You may have a "lucky" club, listen to the same songs on your way to a round, or keep a lucky charm in your golf pants pocket. As in almost all sports, there are rituals and superstitions in the world of golf that just might have you feeling lucky.
How to Get Luck on Your Side
Be careful; you could be channeling misfortune before you even take a swing! According to tradition, it starts with your equipment. For example, it's bad luck to change your mind and go for another club if you have already taken one out of your bag. Likewise, white tees can be bad luck because they look like out-of-bound stakes. And don't even think about using a red tee: the color red can be a symbol of failure. (Don't worry, we have a variety of other colored tees available.)
Just to be safe, it might be a good idea to play with a non-white ball as well. Better to pick one from the rainbow of colored balls out there. Pay attention to the number too, not just the color. A #3 ball will improve your chances of a birdie and a #1 an ace. A ball with a low number will, of course, result in a low number of shots. Even ball markings, from smiley faces to stars, are thought by some to have an effect on the outcome of a round.
When it comes to the actual gameplay, some golfers believe that starting a round before noon is bad luck. They also say to always line up the number on the ball with the hole, and never introduce a new ball halfway through a round. Moreover, it's not a good idea to carry a spare ball in your pocket; it can set you up to lose the one you're using! Finally, tap the cup with the ball as you take it out of a hole for better luck in sinking another one.
Lucky Stars?
If you're hoping the good luck of the professionals can rub off on you, read ahead. Tiger Woods famously wears a red shirt for the final round of a tournament—ever since 1996. Why? Because his mother told him to. According to her, it's his "power color". Rickie Fowler wears orange from head to toe on the final day of his events, and Lee Trevino never uses yellow tees because he believes yellow is the color of cowardice.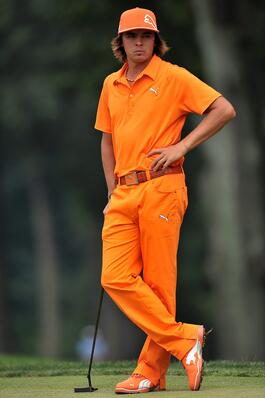 Image Source: http://www.rightonpar.com
Oddly enough, to increase his odds, 18-time major championship winner Jack Nicklaus would never use his own tees on par 3's— he'd always find one to use (we knew finding golf gear was the way to go!). He also always kept three coins in his pocket. Talk about a lucky penny.
Can your luck run out?
Former world #1 Ernie Els throws away his ball after a birdie because he believes all balls can only have one birdie. That's right, he believes that all their luck has been used up. That means as a result of his 259 birdies last year, he threw out just as many balls!
It's a rule of thumb to never use a found ball on the same round it was found on. And while we don't believe that all the magic has been used up in our Lost Golf Balls just yet, we do believe they were found for a reason. Good luck!
Is golf a game of skill or luck—or both? The world of golf has its own rituals and superstitions, even the professionals believe. Don't leave your golf ball up to chance! Leave it to Lost Golf Balls.