While the average male golfer is capable of a maximum drive just over 300 yards, top hitters like Dustin Johnson and Tiger Woods routinely exceed 350 yards in their PGA prime. Last year's winner of the Masters Tournament, Bubba Watson, currently holds the record for the longest drive in a PGA Tour event at an extraordinary 424 yards.
Most professionals will tell you that form, flexibility and technique are the key factors in maximizing your drive—but we all know that the right equipment matched with the right player plays a pretty significant role too. So, what are your favorite pros playing right now? We've matched nine of golf's elite players with their respective go-to ball and driver below:
1.) Rickie Fowler: Titleist Pro V1X, Cobra Fly Z+ (10 Degrees)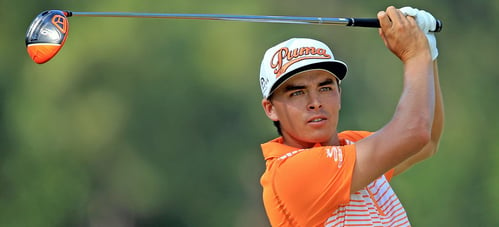 Image Source: http://nolayingup.com/
The Titleist Pro V1X, a favorite among golfers of all skill levels, is noted for its combination of high launch and low spin for consistent flight and extraordinary distance. Cobra's Fly Z+ Driver exemplifies state-of-the-art design with the industry's first front-to-back adjustable weight technology, offering players the ability to change their driver's center of gravity and adjust their flight path. The result? Maximum distance without the need for adjusting your swing.
2.) Phil Mickelson: Callaway Chrome Soft, Callaway Big Bertha 815 Black Diamond (8.5 Degrees)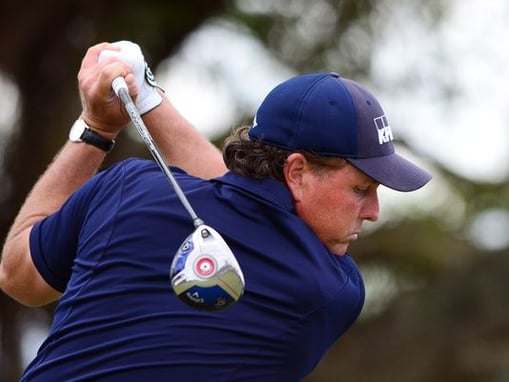 Image Source: http://www.azcentral.com/

The Chrome Soft ball is distinguished by its one-of-a-kind SoftFast Core technology with low compression and a Tour Urethane Cover—all designed to deliver both improved feel and distance. Callaway's Big Bertha 815 Black Diamond is a great pair, offering ultra low spin for maximized distance.

3.) Bubba Watson: Titleist Pro V1X, Ping G30 (9 Degrees)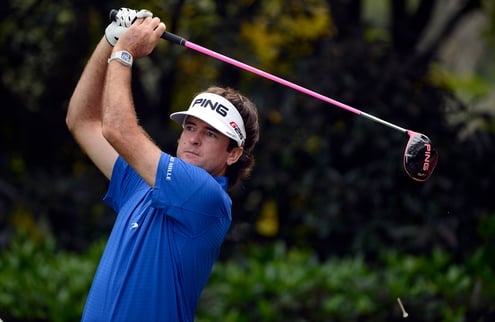 Image Source: http://www.asiantour.com/

Masters champ Watson favors the classic Titleist Pro V1X, like Fowler, but prefers to pair it with Ping's G30 driver—designed to optimize face deflection for greater clubhead speed and ball velocity in addition to consistently longer drives.
4.) Roy Mcilroy: Nike RZN Black, Nike Vapor Pro (8.5 Degrees)

Image Source:: http://www.belfasttelegraph.co.uk/

Also favored by Tiger Woods, Nike's RZN Black golf ball features an advanced interlocking RZN Core, which allows for a quicker energy transfer between layers that results in faster ball speeds and longer distance. The Vapor Pro is a great driver to match the RZN Black, designed with cutting-edge sports technology to achieve greater precision, faster ball speed and a powerful trajectory for both longer and straighter shots.
5.) Dustin Johnson: TaylorMade Tour Preferred X, TaylorMade SLDR (10.5 Degrees)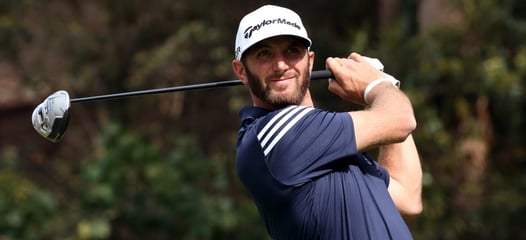 Image Source:: http://www.back9network.com/

The Tour Preferred X models are designed with the input of PGA players like Johnson, offering similar performance off the tee and around the green. The ball is also outfitted with revolutionary a Seemless LDP® 322 Dimple Pattern that promotes penetrating flight for extra distance into the wind. TaylorMade's SLDR is made for a high launch angle, lower spin-rate and faster ball speed—all culminating in longer and straighter drives.
6.) Patrick Reed: Callaway SR3, Callaway Big Bertha Alpha 815 Double Black Diamond (8.5 Degrees)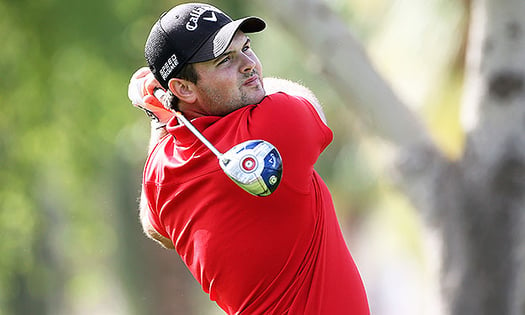 Image Source: http://www.pgatour.com/

Like Mickelson, Reed is partial to Callaway's Big Bertha Alpha 815 Double Black Diamond driver—a Tour favorite—but prefers to pair his with the SR3 ball, which combines optimized aerodynamics for 105+ mph swing speeds with superior control and spin separation.
7.) Tiger Woods: Nike RZN Black, Nike Vapor Speed Prototype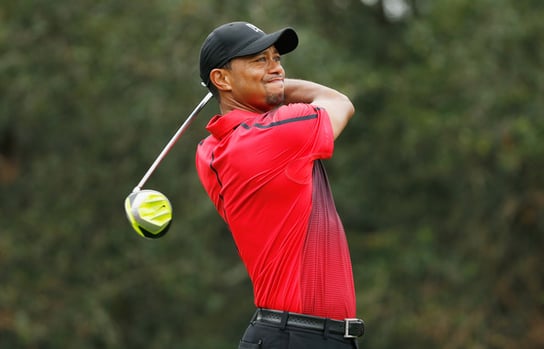 Image Source: http://www.kicksonfire.com/

Woods pairs his RZN Black with a customized prototype of Nike's Vapor Speed driver. "Tiger's Club"—as its quickly come to be known—is designed for a bit more spin than other Vapor models, as well as for high launch and maximum distance.
8.) Karrie Webb: Bridgestone Tour B330 RX, Ping G25 (8.5 Degrees)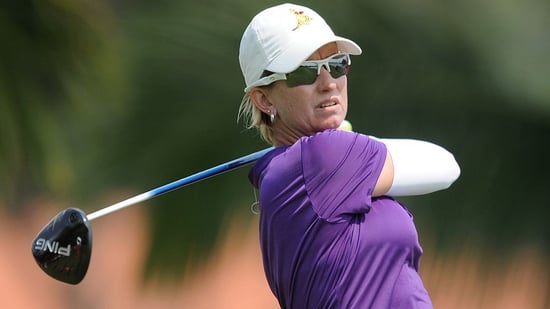 Image Source: http://www.foxsports.com/

The Bridgestone Tour B330 RX is optimized to maximize distance for swing speeds below 105 mph, featuring Hydro Core Technology and Bridgestone's patented 330 Dual Dimple Urethane cover. The Ping G25 is an ideal driver for players of various skill levels, distinguished by a speed-generating shaft and a large, forgiving head that are designed to mutually improve both distance and accuracy off the tee.
9.) Sei Young Kim: Titleist Pro V1, TaylorMade SLDR 460 (9.5 Degrees)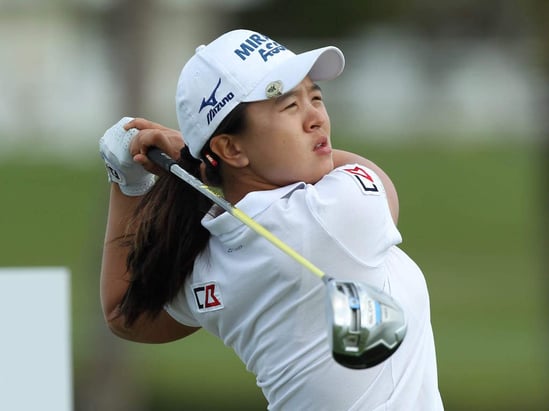 Image Source: http://www.golfwrx.com/

The Titleist Pro V1, like the Pro V1X, is designed to provide outstanding distance but with a softer feel. TaylorMade's SLDR 460 driver is tailor-made (touché) to promote exceptional forgiveness and low spin—resulting in higher launching, straighter drives that go the distance.