It's just you and the golf ball. All your concentration focused on the white, dimpled sphere (perhaps it's even a Pro V1) awaiting the perfect impact. The impact that feels like nothing at all, yet launches the ball on a majestic flight. You watch triumphantly as it floats through the air and down to meet its destiny. It's a feeling only a golfer can understand.
Sometimes, however, things don't go quite as planned. The ball, for reasons often enigmatic, has its own ideas. And no amount of begging and pleading can control it. No amount of vitriol aimed at the entire history of golf and everyone and everything having to do with it can save it.
The lost golf ball: the bane of any golfer's existence. New words find their genesis because of it. Insults not heard in years are hurled at it. The profanity-laced tirades it causes are nothing less than the poetry of a tortured soul.
But whoever thinks about the ball? Sinking to a watery demise or lost somewhere in the rough. It's swallowed up by a course with an insatiable appetite. But, no courses are hungrier than these six. They feed on golf balls like sharks on a blood-lust fueled feeding frenzy. We've already met the Six Great Kid-Friendly Golf Courses, but you may want to cover their eyes this time.
Pine Valley Golf Club
The first is Pine Valley. It is exclusively private (so private they don't even have a website) and that might be a good thing. Designed by George Arthur Crump in 1913, it might as well have been crafted by the devil himself. This diabolical course contains no consecutive parallel holes nor two that play in same the direction, and you can't see any other hole than the one you're on. Your entire bag is needed to blindly battle this fiendish foe.
(Note: no official website for Pine Valley, but this website seems the best alternative; also, not to be confused with Pine Valley Country Club)
The Ocean Course at Kiawah Island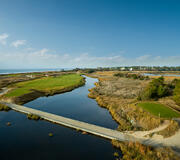 Don't let the scenery fool you. The Ocean Course has the highest US course rating at a staggering 79.7. Even the best scratch golfers would have to play the round of their life to make par. If they're lucky. This course only sees about 26,000 rounds a year. A year after the Ryder Cup was contested the lake in front of the 17th hole was dredged and over 34,000 golf balls were recovered.
Whistling Straits (Straits Course)
Lake Michigan creates the "whistling" of the Straits Course. Perhaps Pete Dye's Magnum Opus, it has hole names like Shipwreck, Down and Dirty, Widow's Watch, and Pinched Nerve. The 18th hole is cleverly, and fittingly, named Dyeabolic.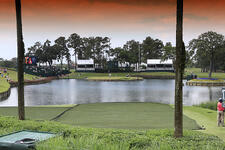 TPC Sawgrass
The water surrounding the famous "Island Green" at TPC Sawgrass is an aquatic golf ball graveyard. At a mere 132 yards, more than 100,000 shots a year end with a splash, followed by a slow sink to the bottom. At the 2007 Players Championship, 50 golf balls found this devious moat. In a single round.
Ko'olau Golf Club
Sometimes the most beautiful can be the most dangerous. The breathtaking course at Ko'olau Golf Club on O'ahu Island in Hawaii once boasted a slope rating of 162. Then the USGA capped slope ratings at 155, so they were forced to make it easier. Now it has a single-round record of 63…lost golf balls.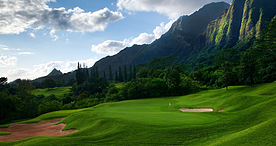 Pelican Lakes Golf & Country Club
Compared to the others on this list, Pelican Lakes is a relative unknown. It is, though, surrounded by 5 lakes and has more shoreline than any course in the United States. Nothing more need be said.
These golf courses are the behemoths. They don't care about your skill or experience. They are callous and cold-blooded and want nothing more than to devour your golf ball.
However, every course enjoys a golf ball now and then. Doesn't matter the difficulty or how many water hazards. And it's often not your fault. You can't help it that the wind changed direction or a bug got in your eye. Why blame yourself? There's no reason for it.
Plus, you can always take solace in knowing that, thanks to Lost Golf Balls, less of your money has vanished. And remember, the ball isn't really lost, it's just a favor waiting to happen. Maybe some of your fellow golfers have already done you a favor. Or a couple dozen.