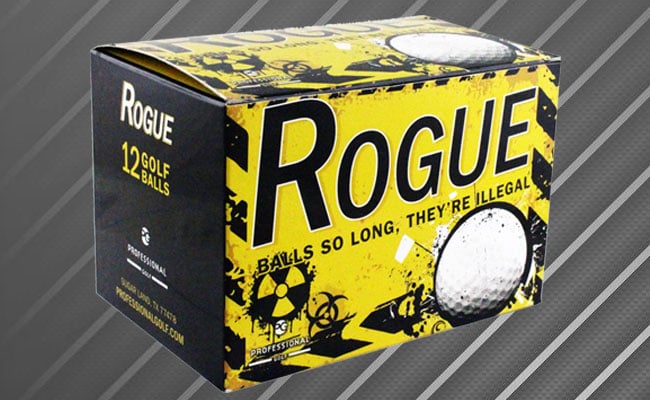 I bet you did not know that illegal golf balls, or non-conforming golf balls were even a thing. The good news is, the good folks at LostGolfBalls and PG Professional Golf have teamed up to design the world's best illegal golf ball.
The best illegal golf balls are the ones that get the most distance and also play well around the greens. Many illegal golf balls over the years have made big claims about the distance achieved, but have never really addressed the lack of playability, especially around the greens. One critic said, "You will get some great distance off the tee, yet you will have less feel and playability around the green. Illegal golf balls don't let you develop your game."
Gary Krueger, former PGA Tour golfer and his Texas A&M teammate, David Jones, knew they could do better.
Designers Gary Krueger (left) and David Jones (right) enjoy playing their Rogue golf ball.
After two years of development and testing, the Rogue golf ball emerged. "Perfect in every sense for the amateur golfer and ideal for the golfer looking to add distance while not sacrificing performance or playability. That is what we have accomplished and what we cannot wait to pass on to the golfing public," says Mr. Krueger.
So what makes the Rogue golf ball outperform all other illegal golf balls? "Well, without giving away all the secrets," says co-designer David Jones, "Rogue golf balls feature a high energy core and aerodynamic dimple design that leads to more carry, more roll and maximum distance. Golfers that use it are elated at the extra distance but they also praise its playability. Rogue balls have a great feel, hold the greens well and perform consistently," Mr. Jones added.
Illegal or non-conforming golf balls have become all the rage in 2016 and the market share is expected to only increase as golfers age and diminishing distance becomes a major concern.
Try them today as quantities are indeed limited (for real) and the price is well below the regular industry and retail price.