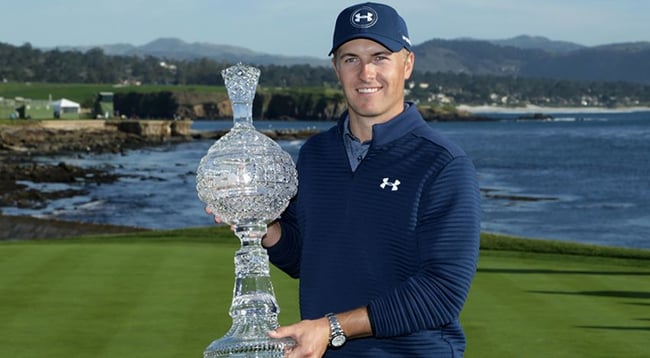 Image Credit: PGA Tour
Some random thoughts for the golf world:
Jordan Spieth looks be to be back in form from two years ago after a somewhat disappointing season in 2016.
His four-stroke win in the Pebble Beach Pro-Am was stunning, if only because he came into Sunday's final round with a resounding six-shot lead and essentially had to play cautiously or, according to his caddie's suggestion, "boring golf."
Spieth said he hates playing boring golf, but stuck to the plan. It was a good example of course management and not doing something crazy and letting the tournament slip away.
But there was a memorable moment in his round of two-under-par on the last day. On the 17th hole, he drained a 20-footer with his Titleist Pro V1x.

The 23-year-old now has nine PGA tour wins, the second-youngest in the modern generation to do so. Only Tiger Woods did it quicker. He's had top-10 finishes in each of the four PGA events he's played this season and finished in the top three in three of them.
The PGA has had a steady flow of players under-30 win tournaments this year, which bodes well for the future.
JT LOOKS GOOD: Entertainer Justin Timberlake had some fun at the Pebble Beach tournament, but he also made some incredible shots.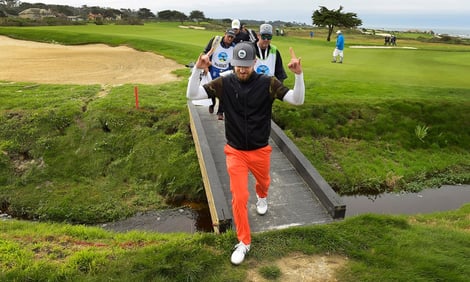 Image Credit: Golfweek
Last Friday, he did a video that was filmed and which he downloaded to his Instagram account. He practiced a chip on the driving range, aiming at his caddie, who caught the ball with his cap. Both player and caddie demonstrated good form.
The video has had more than two million views.
The day after the video was shot, Timberlake went out and made two incredible chip shots and nearly had a hole-in-one.
Timberlake has a single-digit handicap. He and his parents own a public course in his home town of Memphis. His father taught him to play, but he also took lessons from Butch Harmon.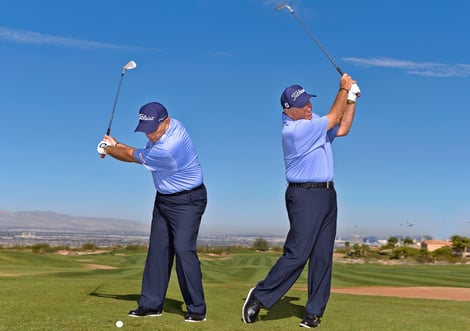 Image Credit: Golf Digest
This onetime star of the boy-band NSYNC is a guy who gets it on an entertainment level. If you've ever seen some of the hilarious things he and his buddy Jimmy Fallon do, including a litany of sketches they did on Saturday Night Live, you can't help but laugh.
A few years ago, Fallon posted a photo on his Instagram account of a golf ball with J. Timberlake on it. "Now when I hit them into the woods, I can find them. Or not." Timberlake replied: "So funny, @jimmyfallon. I was just telling someone how my name was on your balls."
Fallon is an avid golfer.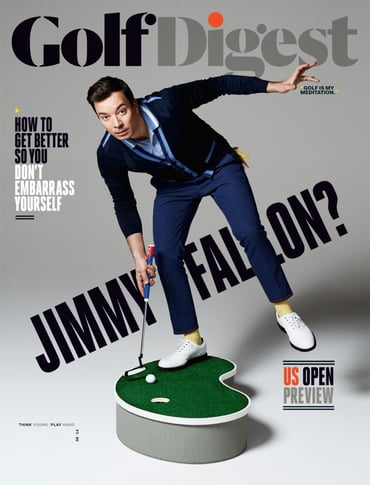 AND SPEAKING OF FUN: The Pebble Beach and Phoenix Open have shown how much golf can connect with the fans if the sport does things a little different. Fans come to watch great shots, but they also want to have fun and be entertained. Seeing some stars from sports and entertainment playing in the Pro-Am allows fans to watch celebrities doing something out of their comfort zone, while paired with the pro golfers. While the pros are trying to win and are using the Pebble Beach tournament as one of the key preps on the road to the Masters, they are relaxed, too. On the one hand, these elite golfers are incredibly serious, and rightfully so, because of all the implications at stake – money, FedEx points, automatic entry into tournaments, etc. On the other hand, the golfers enjoy playing with the celebrities, many of whom are extremely competitive or, at the very least, entertaining (as I noted in a blog about Bill Murray).
I like that some tournaments are inherently built in with entertainment, such as the Phoenix Open, notably the par-three, 16th hole. With the stadium seating and the addition this year of corporate boxes, this tournament has become destination entertainment.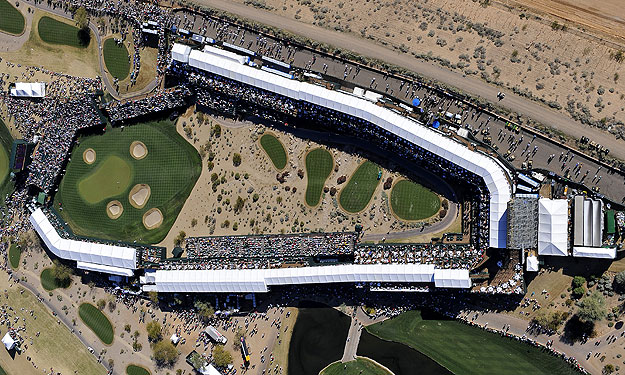 Image Credit: PGA Tour
At the Phoenix Open, Canadian MacKenzie Hughes, who has won a tournament this year in his rookie season, donned a Toronto Maple Leafs' jersey with the number 34 and name of Toronto Maple Leafs' sensation Auston Matthews, the first pick overall in the 2016 National Hockey League Draft. Matthews is a native of Arizona. It was a nice touch by Hughes because Matthews is putting Arizona hockey on the map, and Hughes is raising the profile of Canadian golfers.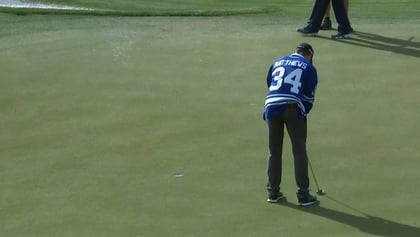 Image Credit: CBC
The Phoenix Open had another amusing moment when rising star Andrew (Beef) Johnston, who might have the greatest nickname in the game next to Bubba Watson, tossed out T-shirts with the logo of one of his sponsors, Arby's.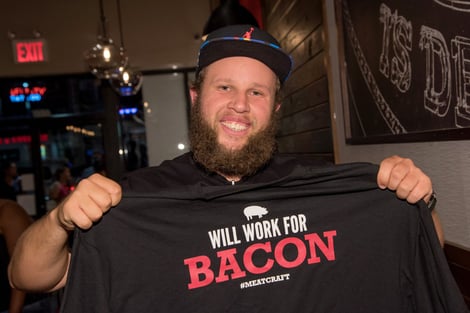 Image Credit: The Sun
These kinds of things are cool and it would be so much more exciting if the game did more of this to engage the audience beyond just what they see and experience, either in person or watching on TV.
It's nice to see the game pull back the layers and have fun with some of its tournaments.