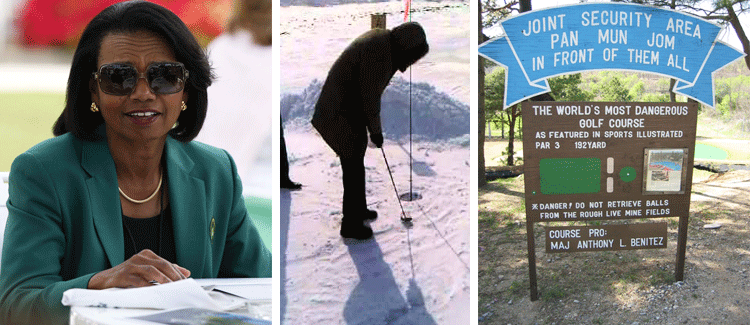 Courses in strange and even treacherous locales, odd rules at one of the sport's finest clubs, and other curious tales--there is no shortage of trivia in this crazy world of golf.
Crazy Rules at the Augusta National Club
* No women used to be allowed to be a member. That's right. Augusta previously never had a female member in its entire history and only allowed African American members beginning in 1990. Until 2012, when Condoleessa Rice, a former Secretary of State, and Darla Moore, a South Carolina Financier, became the first two women to be admitted into Augusta National. What lucky ladies!
* There are no membership applications. You can't apply. You must be nominated by a member. The total number of members stays around the 300 mark and there are no new initiations unless a current member quits or dies.
* Don't talk about wanting to be a member. That will slow the process. Bill Gates was shut out for years because he talked about his desire to be a member publicly. He finally made it in 2002 and landed a membership.
* Caddies must wear white jumpsuits.
* Phones and cameras are forbidden. They will be confiscated by security.
* Finally, forget about autographs from your favorite golfers and, whatever you do, do not wear your hat backward.
Unusual Golf Courses
Video Souce:https://www.youtube.com/watch?v=SHwuzTXKhb0
* There is a nine-hole golf tournament played on sea ice--The Toonik Tyme Festival in Nunavut. It features parka-clad golfers hitting fluorescent balls and sports temperatures in the -50° range.
* In Limpopo, South Africa, you will discover the Extreme 19th at Legend Golf & Safari Resort. Only accessible by helicopter, there is a tee shot that is 400 meters above the ground on a mountain names Hanglip. This is the toughest par-3 on the planet.
* If you enjoy living dangerously, you will love the Camp Bonifas course near a military base in North Korea, close to the heavily fortified South Korean border. It is surrounded on three sides by minefields.
* They say it's a thrill to play the 70-foot elevated hillside tees of the Himalayan Golf Club in Western Nepal. It offers mountainous views and interesting wildlife.
* Finally, the La Jenny Golf Course in Aquitaine, France, is one of the only courses where the game can be enjoyed au naturel. That's in the buff for us regular folks. Bring plenty of sunscreen!
Odd Facts About Golf
* The Scots claim they came up with the idea of golf over 500 years ago The Chinese don't agree and claim they played a similar game as long ago as 943 AD.
* A Welsh family consisting of a father, mother, and son each made a hole-in-one over three days on a course in Wales. The odds of this happening have been calculated at least 10,000,000:1.
* Nobby Owens of Encino, California, apparently would go to great lengths to get in a game. In fact, he once used the Concorde to play18 holes of golf in Los Angeles, New York, and London in the same day.
Golf is an interesting sport with a deep heritage. It is a game of mental strength and rare skills. It is also a game that yields interesting facts and unusual trivia.
---
Outbound link:
http://www.businessinsider.com/weird-rules-augusta-national-2011-4?op=1
---
Sources:
http://foursum.com/otd/25-unconventional-different-strange-golf-courses/
http://www.lonepinepublishing.com/cat/9781897277256
http://ncwtv.com/nn/heres-condoleezza-rice-in-her-green-jacket-at-augusta-816/
https://www.youtube.com/watch?v=kS3zu_MG54k
http://www.teetimes.info/around-the-world/adrenaline-tour-1-camp-bonifas-golf-club/