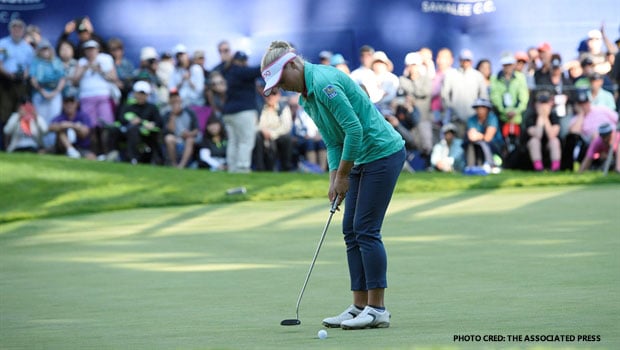 Every golfer dreams of scoring a hole-in-one. No matter whether you play professionally or recreationally, it's exciting to ace a hole.
At this year's KPMG Women's PGA Championship, 18-year-old Brooke Henderson aced the par-3 13th hole from 152 yards with a 7-iron. It was the fourth of her career. She won the tournament, too, in a playoff against Lydia Ko. It was quite a week for the Canadian phenom, ranked number four in the world at the start of the week.
Henderson won a car with hole-in-one – specifically a Kia K900 – which was a prize available for any player who aced that hole. She gave the car to her elder sister, Brittany, who caddies for her.
"All year, I have walked up on the practice rounds and said, 'See that car, if I get it, it's yours,'" she revealed. "I didn't say it this week, but she ends up getting it."
She gets a hole-in-one and wins the whole tournament? Wow!
At this year's Masters, there were several hole-in-ones, although there were no prizes available. The Masters is exciting enough because of its history, but throw in a hole-in-one or a few in this case and it just ramped up the entertainment.
It's always fun to see a hole-in-one, even more so when there is video evidence of it.
When it happens among club members, it is often only the foursome or however many people are in the group that can verify a hole-in-one. Some clubs want to be notified of it to record it for posterity.
Often in charity golf tournaments, there are prizes such as cars, barbecues, trips and the like for scoring a hole-in-one. But put a car on the line and it can totally affect a player's psychology and swing stroke. Golf is more of a mental game than a physical one, and the possibility of winning a car can wreak havoc.
According to Golf Digest, which has compiled data for 30 years, there are approximately 150,000 hole-in-ones per year from an estimated 490 million rounds. From 1983-2003, there were 631 aces on the PGA tour. Furthermore, it is estimated the odds of a pro golfer scoring a hole in one is 2,500-1. For a low handicap, it is 5,000-1. For an amateur, it is 12,500-1. The odds of two amateurs playing in a foursome recording a hole-in-one on the same day on the same hole are 26 million to one. The odds of two amateurs recording a hole-in-one on the same round is 1,300,000 to one. The odds are lower because most courses have three or four par-threes, so even if two members of the group don't have a hole-in-one on the same hole, it might happen that they have aces on separate holes.
Pro Mancil Davis, known as The King of Aces, has the record for most hole-in-ones with 51. He had eight in one year and recorded his first ace at age 11. His longest ace is 379 yards.
Tiger Woods recorded his first age at age six. Michelle Wie had her first one at age 12.
The longest reported ace by a man is Mike Cream's 517 yards at Green Valley Ranch in Denver, Colorado in 2002. The longest recorded ace by a woman is Marie Robie's 393-yard hole in one at Furnace Brook Course in Wollaston, Massachusetts in 1949.
The youngest person to record an ace is Jack Paine, who at age 3 in 2001 drained a hole in one from 65 yards.
The eldest is Ellise McLean, who recorded the feat at age 12 in 2007 from 100 yards.
You're never too old or too young to score an ace, but you've got to be lucky!
---
This post was originally published by Knetgolf on June 15, 2016. Knetgolf was acquired by LostGolfBalls.