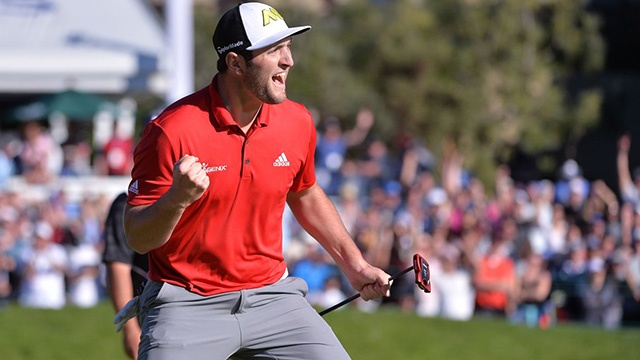 Image Credit: PGA
As Jon Rahm made a 60-foot putt from off the fringe to register an eagle on the final hole of the Farmers Insurance Open – a shot that would lead to his first PGA Tour victor – did you notice the brand name of the ball? It was a TaylorMade TP5x.
The shot will be replayed over and over because while it is early in the season, it stands out as best so far on the PGA Tour. It will be the kind of shot that will cement Rahm's legacy in the same way Tiger Woods' miraculous chip shot on the 16th hole in the 2005 Masters. Granted, the ball didn't drop into the cup with the same drama as Woods', but the significance was important nonetheless.
For a 22-year-old in his rookie season and playing in only his fifth PGA Tournament, well, that's what makes this shot even that much more incredible.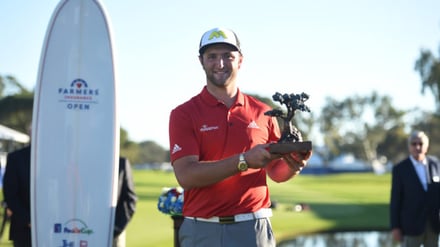 Image Credit: Times of San Diego
Plenty of golf will be played over the course of the year, but this will be one of the shots that will be replayed many times over. It might even become the shot of the year. You never know.
Rahm was the top-ranked college player for the last two seasons. TaylorMade-adidas made a commitment to Rahm to him that was announced in June, 2016.
Following his win, the website golfweek.com revealed what was in his bag: driver: TaylorMade M2 '17 (10.5 degrees), with Aldila Tour Green 75 TX shaft; Fairway Woods: TaylorMade M1 '17 (15 degrees), with Aldila Tour Green 75 TX shaft; (19 degrees), with Graphite Design Tour AD DI 8X shaft; irons: TaylorMade Tour Preferred UDI (4), P750 Tour Proto (5-PW), with Project X 6.5 shafts; wedges: TaylorMade Milled Grind (52, 56, 60 degrees), with Project X 6.5 shafts; putter: TaylorMade Tour Spider Red; ball: TaylorMade TP5x.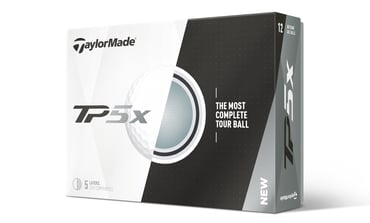 Image Credit: Golf Punk HQ
What's in a player's bag, particularly after a victory, is important. When it's a breakout rookie, it's even that much more noteworthy.
TaylorMade made a commitment to Rahm in June, 2016, the significance of which was underlined in winning his first PGA tournament.
"I got to a point in my life where I needed to try all the products to know which one fit me the most, and throughout the year I've been playing with all different clubs," Rahm said in a media release issued by TaylorMade at the time the deal was struck. "I've been switching wedges, switching drivers, switching woods – at one point in my room I had way too many golf clubs with all the sets. I tried TaylorMade and I was really impressed with the driver, I really liked the driver. I felt like TaylorMade products could make me the best player I can be, so that's why I chose to go with them."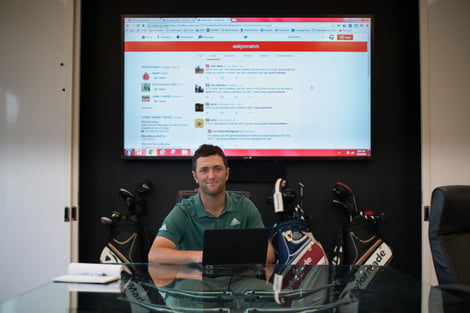 Image Credit: TaylorMade Golf
Talk about a quick return on investment. That one shot alone should have the people at TaylorMade extremely buoyant about the commitment to Rahm. No financial details were revealed in the news – that is often the case – but you have to know it is now a win-win situation for the company and the player. Don't be surprised if TaylorMade uses the shot on the 18th hole to pump its equipment and the ball.
The fact the rookie Spaniard beat out a field that included some of the top players in the game is surprising, perhaps even shocking.
A popular betting site did not even have Rahm listed in its posted odds.
Dustin Johnson and Jason Day, the top two betting favorites, didn't even make the cut. Neither did Tiger Woods, competing in his first PGA tournament in more than a year and a half.
But these weren't the only star players who didn't survive for weekend play. Some others of note included Jimmie Walker and Rickie Fowler.
In the overall context of world golf, it's a good thing Rahm won. Firstly, it's always great when a newcomer can pull off a win against the odds. Secondly, he's from Spain, and his countrymen have been yearning for a star since Sergio Garcia burst on to the PGA Tour almost 20 years ago with such a force he was nicknamed El Nino.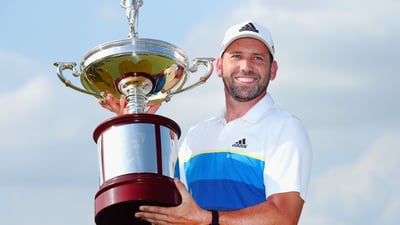 Image Credit: Sporting News
What's interesting about Rahm, as is usually the case if you are looking for a feel-good story beyond just the obvious fact he won, is his background. He came to the U.S. to attend Arizona State on a golf scholarship and didn't know how to speak English. He learned it by reading and, according to the story that is now part of golf folklore, listening to rap music. His coach at Arizona State was Tim Mickelson, brother of Phil, who was in the Farmers Insurance Open field and was not the least bit surprised by Rahm's win. Tim Mickelson is now Rahm's agent and will surely have a lot of offers coming forth.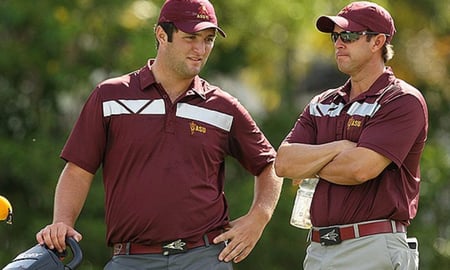 Image Credit: Golfweek
Rahm's win was solidified by a seven-under 65 on the final day, including two eagles, notably that 60-foot putt. The final day there were plenty of players taking aim at the lead, but Rahm's shot basically shut the door on those still on the course. He won by three shots.
That was indeed Rahm tough!
He had played in four previous PGA tournaments and made the cut in each, his best finish tied for 15th. Prior to winning, his earnings totaled $234,393. With the victory, he collected $1.2 million.
Will Rahm go forward and become the next young star in the sport? We shall see. For now, the golf world is talking about Rahm, his red putter, his shot on the 18th and, perhaps, the ball he used to stake his claim in history.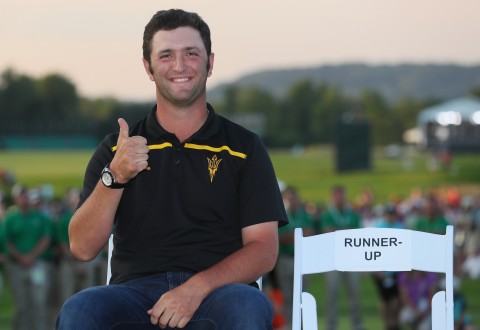 Image Credit: Washington Post
---
We have the precursor 5 piece models from TaylorMade available in our Penta TP/TP5 Mix!