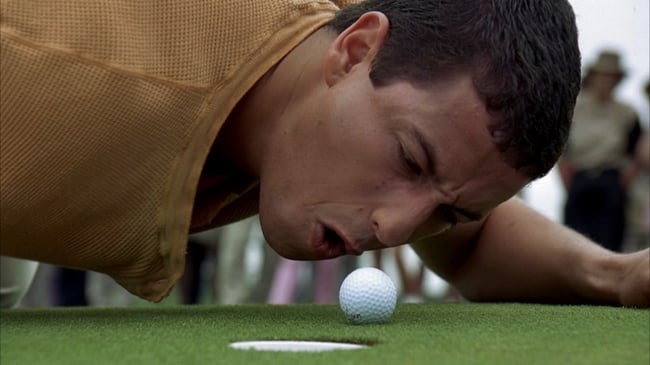 When Happy Gilmore first hit theatres, he amused us with his whacky, profanity laden outbursts and his tendency to break equipment. While the casual observer might write the game of golf off as a stuffy old game, the true golfers among us know that it is a game of passion, and like any passion the emotions associated with the commitment to the game can be a little….tumultuous to say the least. So it's no surprise that some of our favourite (and not so favourite…) pro golfers occasionally take a leaf out of Happy's book and go on mini-rampages when the game doesn't quite go their way. So here they are – ten times the game of golf was "livened" up by pro golfers acting out.
Ouch! Woody Austin, a pro golfer on tour at Hilton Head in 1997 during the Verizon Heritage, beat his head with his golf club after a putt gone bad, and promptly broke his golf club over his own skull. In all honesty, I'm not sure if "thick-headed" in this case is an insult…or a compliment.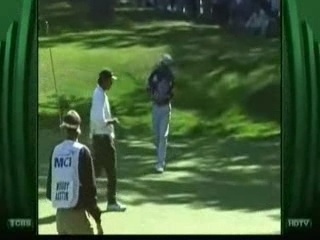 Really Woody, Don't beat yourself up over it. It happens to all of us. Especially me.
During the 2nd round of the Players Championship in 2009, pro-golfer Charley Hoffman decided he was probably better off hitting the ball with his hand. After multiple bad putts, Hoffman became so frustrated that he whipped his putter into one of the water hazards without hardly a backwards glance, sending his caddy scrambling. You can watch a video of it here – and you can definitely see where he's coming from.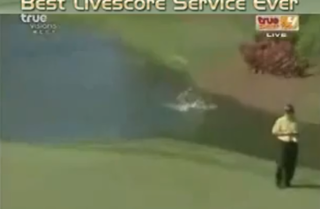 He certainly made a "splash" in the headlines the next day.
Tommy Bolt had a temper that has become the stuff of legend – not only was he known for breaking par, he was known for breaking a lot of clubs. One time during a particularly frustrating round, his caddy suggests a 2-iron – only because that was the last club left in the bag. Multiple warnings, reprimands, fines and suspensions littered his career, but the crowds loved him. He truly was the real-life Happy Gilmore.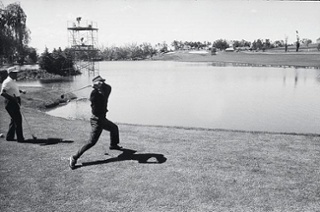 If only my husband was as fond as my tempers as the crowds were of his…
If Colin Montgomerie is playing, you might want to make sure that you're in good shape. During the 2003 British Masters, he heard a camera go off during a tee shot. Still wielding his club, he pursued the poor snapper, berating him and his colleagues and calling them amateurs. That last bad "shot" was the straw that broke the camel's back it seems.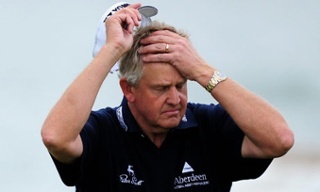 This is not the face of a happy man.
Sergio Garcia has had multiple notable problems with his temper on the green – but one of the most memorable moments had to be during the 2008 US PGA Tour, when he had a bad sand shot. Not one for the subtle nuances of emotion display, Garcia began battering the lip of the bunker repeatedly, sending grass flying and the local birds fleeing.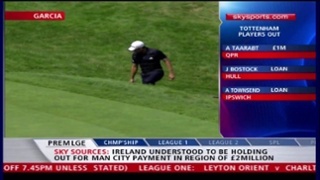 One wonders what the man would accomplish if he was given, say, a baseball bat instead of a golf club.
Tiger Woods might be mostly known now as a womanizer as well as one of the greatest golfers of all time to the average man, but during his heyday Woods was also known as someone who loved to spew profanities on the golf course – to the point where there are entire youtube collaborations based around this man's potty mouth. I have to say, I'm glad that no one is around to film me during those "indelicate moments".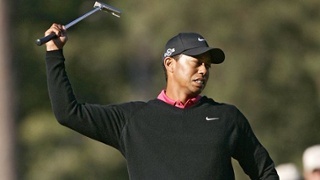 At the 2011 US Open, golfer Henrik Stenson broke his club in anger – right in half and over his knees after a bad round. Fear not, however – the poor club avenged its own self. When he broke it so callously, Stenson injured his hand and had to receive medical attention before playing on.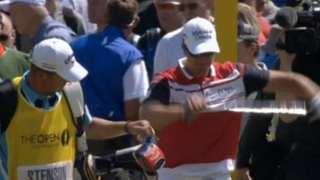 Original Image found
here
.
During the 2008 Australian Open, John "The Wild Thing" Daly lived up to his name when he exploded when a fan took a photo of him as he was about to attempt a shot from out of the rough on the final hole. Daly grabbed the camera and threw it. The camera hit a tree and become so damaged that it was unusable. Unfortunately, he showed no remorse and he received no penalties.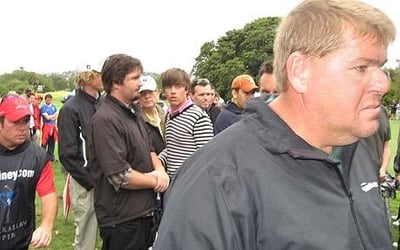 Caught here fleeing the scene of the crime.
During the 2001 Masters, Hennie Otto failed to make the halfway cut. Distraught, he figured the best way to deal with it was to go out into the car park and systematically break every single one of his clubs in half. Unfortunately, the massacre was not caught on film.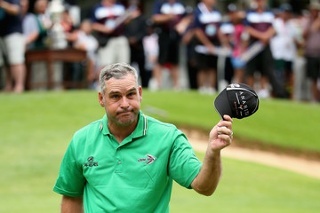 Though I gladly would have paid money to see it.
Sergio Garcia has had so many meltdowns that he's become known as a crybaby, so I couldn't help but include him on this list twice. During the World Match Play Championship in 1999, the then-rookie Garcia slipped and his ball when flying into the trees. An incensed Garcia ripped off his shoe and threw it away. When his manager tossed it back, Garcia kicked the show again, narrowly missing the match referee – a definitive sign that poor playmanship was "afoot".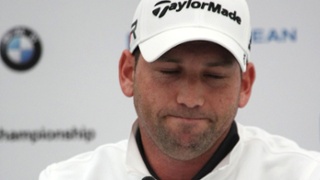 Is he grimacing at my pun, or at another bad shot? Only Garcia knows.
Have you ever witnessed a Happy Gilmore moment? Or, perhaps, have one yourself?
We won't judge you if you have.
---
This post was originally published by Knetgolf on October 26, 2015. Knetgolf was acquired by LostGolfBalls.